Boxberger feels ready for return to bigs
Closer excited to contribute to Rays, confident in bullpen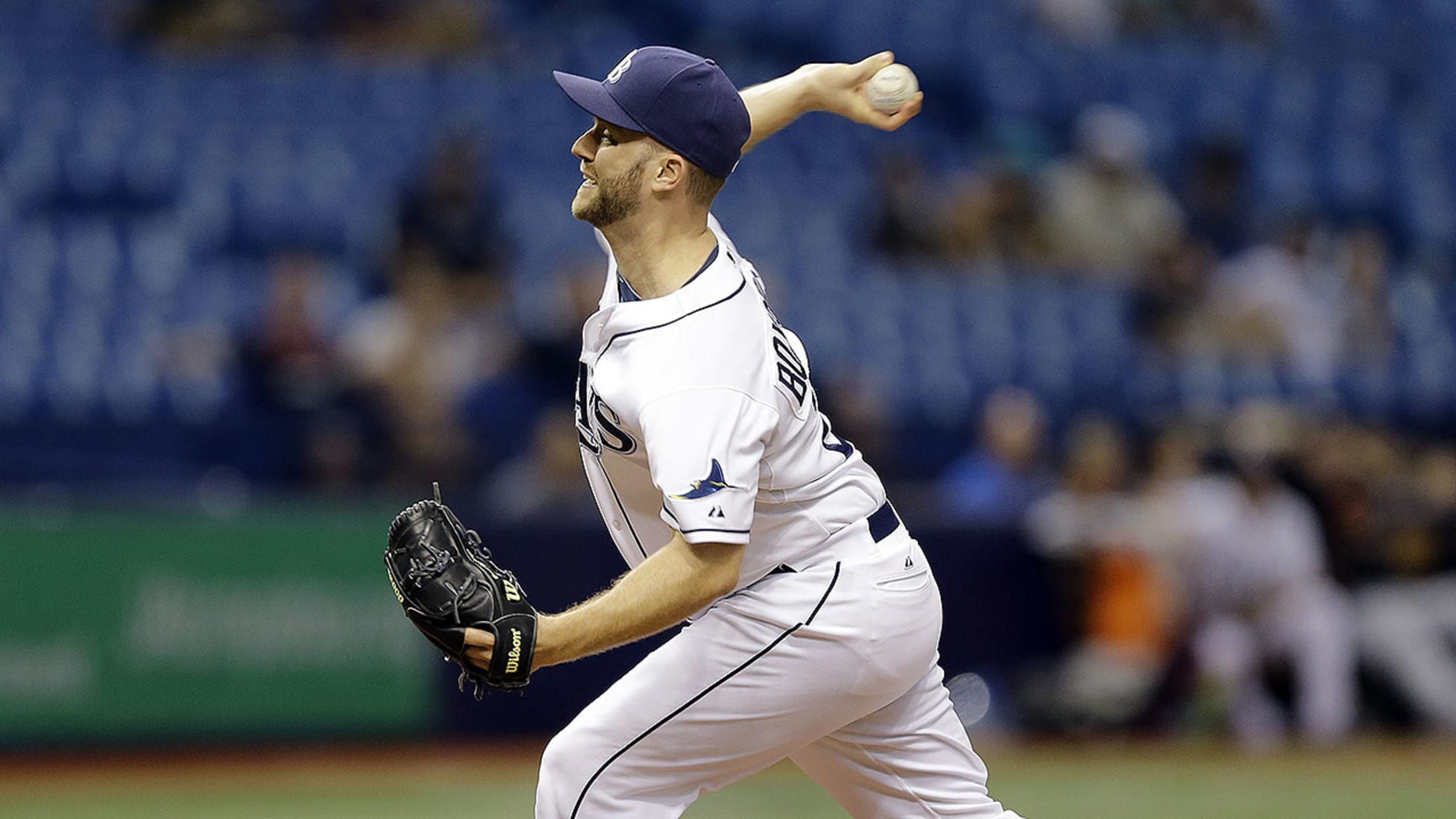 Brad Boxberger had a 3.71 ERA and 41 saves in 2015. (AP)
ST. PETERSBURG -- The Rays' bullpen will be gaining a major piece before it squares off against Kansas City on Monday in the form of All-Star reliever Brad Boxberger.To make room for Boxberger, whom the Rays will activate Monday, Tampa Bay placed reliever Ryan Webb on the 15-day disabled list
ST. PETERSBURG -- The Rays' bullpen will be gaining a major piece before it squares off against Kansas City on Monday in the form of All-Star reliever Brad Boxberger.
To make room for Boxberger, whom the Rays will activate Monday, Tampa Bay placed reliever Ryan Webb on the 15-day disabled list with a right pectoral strain.
"Everything feels 100 percent," Boxberger said. "I feel like I'm where I need [to be] in order to get big league guys out."
Boxberger has been sidelined since Spring Training with a torn adductor brevis muscle that required surgery.
In six rehab appearances, Boxberger pitched 5 1/3 innings with eight strikeouts and two runs allowed. Most recently for Double-A Montgomery, Boxberger turned in two-thirds of a scoreless inning on Friday, his 28th birthday.
Being back with the big league club is a present in itself.
"I'm always itching to get back and playing, starting the season a little bit late," Boxberger said. "I'm ready to get out there and going full blast and catch up with the team and help win some games."
Tampa Bay manager Kevin Cash had previously indicated that he plans to ease Boxberger progressively into the closer role, which is currently occupied by Alex Colome. For his part, Colome has lived up to the closer role, just as Boxberger predicted in March.
The native of the Dominican Republic has converted 12 saves on the year, pitching to a 1.23 ERA in 22 innings over 20 games. He also carries 29 strikeouts and a 0.773 WHIP this year.
"He's done nothing to disprove anything that I or anyone else has said about what he's capable of," Boxberger said. "It's definitely a good feeling for everyone for him or anyone else in the back of the 'pen to get the ball with a lead."
Colome will not be the only one feeling the effects of the change. For instance, Erasmo Ramirez has typically pitched two innings in his appearances and can expect to either pitch just one or see more time off.
"I'm going to go out there and just try and take some of the workload off the guys that have been kind of relied on early on in the season," Boxberger said. "To help reduce their workload and keep everyone fresh and healthy is the main goal."
Whatever Boxberger's workload ends up being, he's confident of what the bullpen can accomplish.
"You can't argue with anyone in the back end of our 'pen right now, giving them the ball with the lead and everything they've done in these first couple months," Boxberger said. "Definitely just want to build on that and keep it going the rest of the year."
Greg Zeck is a contributor to MLB.com based in St. Petersburg.