Nicoll hopes T12 provides 'vehicle' to college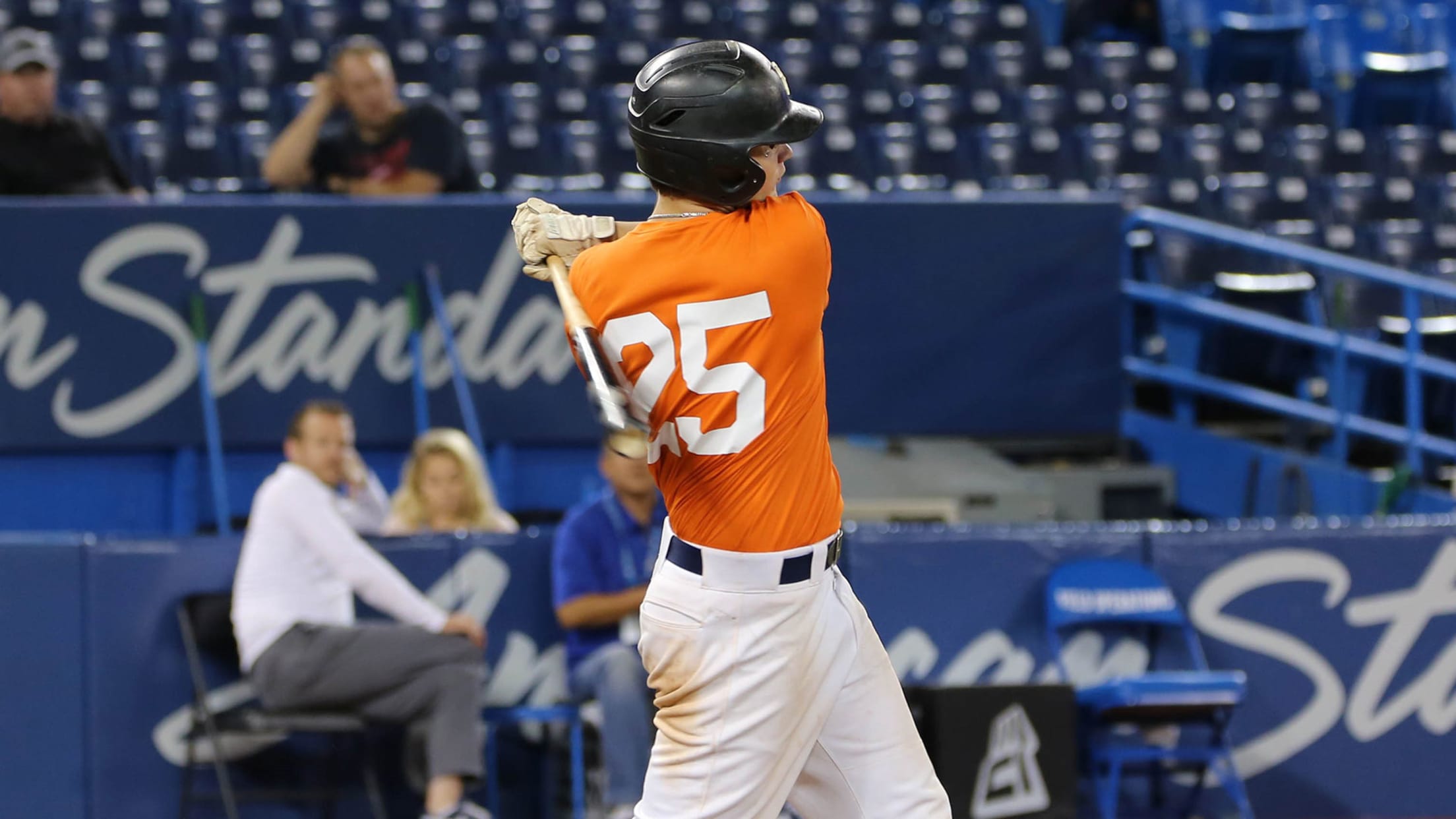 TORONTO -- "This is about as much of a grandparenting as we do," Gene Wray said while holding his iPad up to videotape his grandson Brandon Nicoll's at-bat.Gene and his wife, Linda, made the cross-country trip from Parksville, British Columbia, to the Rogers Centre to see their grandson play in
TORONTO -- "This is about as much of a grandparenting as we do," Gene Wray said while holding his iPad up to videotape his grandson Brandon Nicoll's at-bat.
Gene and his wife, Linda, made the cross-country trip from Parksville, British Columbia, to the Rogers Centre to see their grandson play in his first Tournament 12 showcase.
They're nervous watching him as he stands with the bat over his right shoulder.
"We die every time he goes up," Gene Wray said. "But we never let him see."
Nicoll doesn't see them because he isn't looking for his grandparents. He's just focused on the game and doing whatever he can do to impress the college scouts in attendance.
The 17-year-old outfielder is finishing up his last year at Langley Secondary School in Langley, British Columbia, before he hopes to play collegiate baseball somewhere in the United States. He's hoping his baseball prowess can help finance that education.
"He really would like an education ... and baseball is that vehicle," Wray said.
About 50 percent of the 160 players at this year's T12 event will get some sort of collegiate baseball scholarship, according to an MLB scout. Of those top players, only about 15 will get drafted into a Minor League system and maybe one will ever get into a Major League game.
Cesar Valero crushed some out of the yard today at #T12 Scout Day.

Learn more about the highly touted prospect & T12: https://t.co/HtR0vb0aZo pic.twitter.com/t6chRNoxEx

— Toronto Blue Jays (@BlueJays) September 14, 2018
Wray acknowledges that trying to impress the scouts can be a lot of pressure for a teenager, but if Nicoll is concerned, he doesn't show it.
"I don't feel any nerves," Nicoll said.
In four games at the T12 event, Nicoll has gone 4-for-10 with a walk, one RBI and two runs scored. He added a pair of home runs to left field on scout day that he said "felt nice."
To his grandparents, the home runs meant much more.
"It's hard to explain," Wray said as he rubbed the goose bumps on his arm. "I just want success for him."
Everyone has made sacrifices to help Nicoll pursue his dream. Last year, Nicoll moved away from home to stay with his aunt in Langley when he changed schools. He spent 50 weeks away from his home in Coombs, British Columbia, and he missed it.
"He even admitted to his dad, which is rare, that he was home sick this year," Wray said.
The decision to move away came with Nicoll's decision to focus solely on baseball. He grew up playing every sport, Linda says, but he excelled in hockey and baseball. Eventually, like so many other young Canadian athletes, he was faced with a decision to make.
Blue Jays President and CEO, Mark Shapiro, speaks to players ahead of the first day of #T12 presented by @NewEraCap. pic.twitter.com/eRB62Drmv8

— TBJ Baseball Academy (@BlueJaysAcademy) September 13, 2018
"You sort of have to make a choice of where you want to go because the travelling is unbelievable," Linda Wray said. "The two kids, one is going up island, one is going down island, one is going across to the main land, so let's try to just play one sport this year."
Nicoll says he chose baseball because he felt it was his better sport. He always played on the best local hockey team, but he felt he wasn't among the best players on the team.
"In baseball I always seemed to be one of the better players on the team," Nicoll said.
Whatever the future holds for him, his family says they'll support him.
"We're in our mid-60s, and his other grandma is 92, and she told Gene, she said, I hope I live long enough to see Brandon succeed in what he wants to do." Linda said. "That's all we want."
Aaron Rose is a reporter for MLB.com.