Gonzalez staying home, drafted in 6th round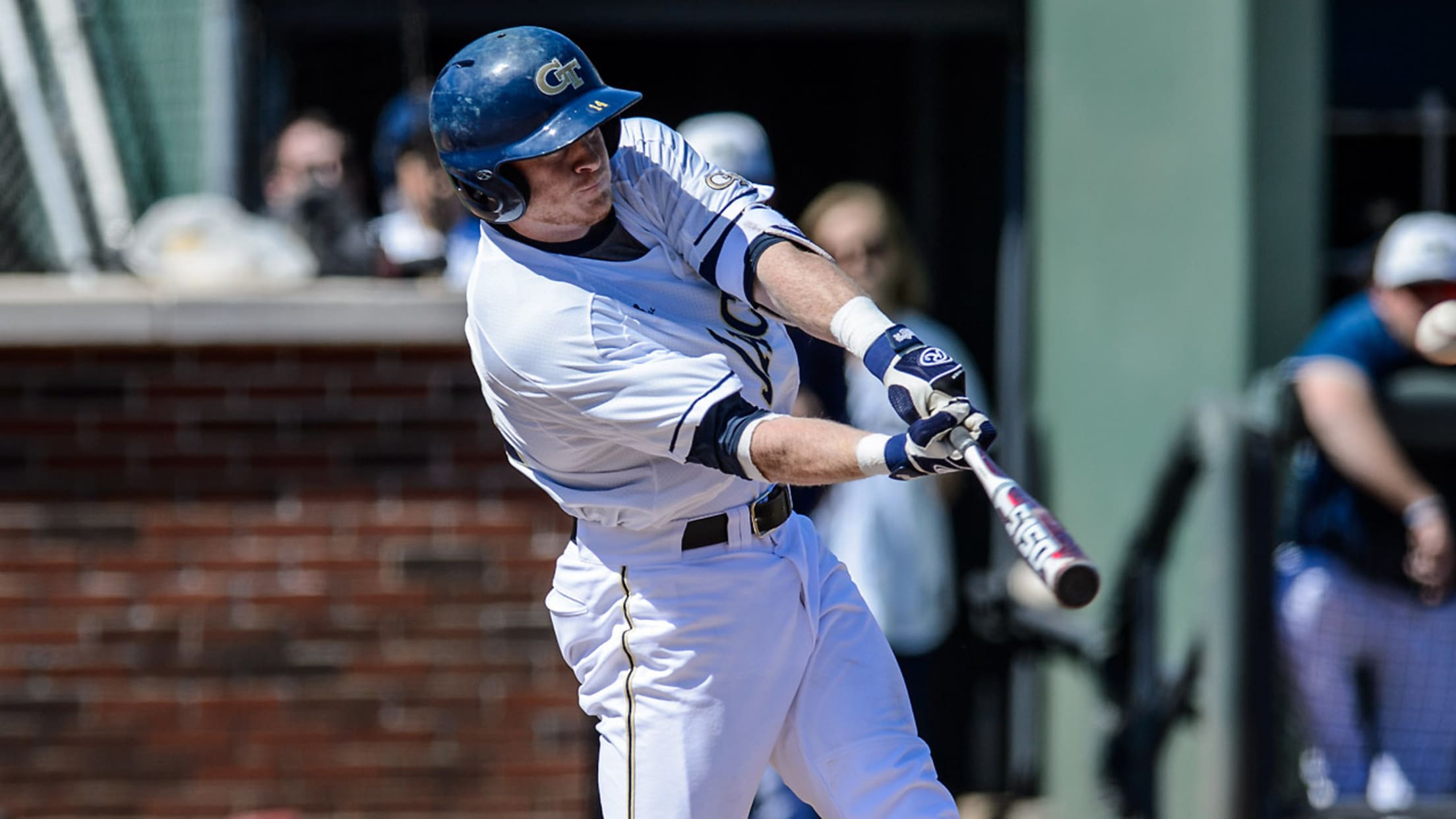 Matthew Gonzalez hit .378 with 11 homers during his senior season. (Georgia Tech)
ATLANTA -- Matt Gonzalez has already experienced the thrill of hitting a key home run against a rival at a stadium that has long housed his favorite Major League team. But the Atlanta resident and Georgia Tech product will now have a chance to experience something even more memorable --
ATLANTA -- Matt Gonzalez has already experienced the thrill of hitting a key home run against a rival at a stadium that has long housed his favorite Major League team. But the Atlanta resident and Georgia Tech product will now have a chance to experience something even more memorable -- the chance to realize his childhood dream of playing for the hometown team that his late grandfather long loved.
"It's a dream come true," Gonzalez said, approximately an hour after the Braves selected him on Friday in the sixth round (169th overall) of the MLB Draft.
Gonzalez considered the Braves his favorite team even as he spent most of his childhood growing up in Florida and Arizona. His family's relocation to Atlanta when he was 13 years old and the fact that he spent the past four years playing for Georgia Tech afforded him an opportunity to gain a stronger connection to the team and make frequent visits to Turner Field.
• Braves pick Harrington in 3rd round
Thus, Gonzalez was obviously thrilled to learn of this selection. But he would have liked to have shared the moment with his grandfather, Jim Harvell, who passed away less than a month ago. Harvell grew up in Atlanta and served as the primary reason his grandson became a Braves fan.
:: Complete 2016 Draft coverage ::
"It's just a really cool thing to know he was a Braves fan and now I get to be a part of the organization," Gonzalez said.
Gonzalez made the most of his recently completed senior season at Georgia Tech, hitting .378 (92 points higher than his 2015 batting average) with 11 home runs. The suburban Atlanta resident stands with Jason Varitek and Victor Menocal, who now serves as an agent for Freddie Freeman and Jason Heyward, as the only players in school history to collect at least 300 hits.
One of the most memorable moments of Gonzalez's collegiate career occurred during a May 17 game against Georgia at Turner Field. The senior gained a lifetime memory when he hit a game-winning, 10th-inning home run against the Bulldogs that night.
"That was a big situation in the game, so I was happy to help us get the win," Gonzalez said. "But now, it seems even cooler."
Matt Gonzalez is staying home.

He's now the Atlanta Braves' newest second baseman. pic.twitter.com/Q6BvXc811C

— Georgia Tech Baseball (@GTBaseball) June 10, 2016
Though Gonzalez spent most of this past season playing the outfield, the Braves drafted him as a second baseman. This certainly didn't bother the Harrison High School graduate, who has long attempted to emulate the versatility provided by his favorite Major League player -- the Marlins' Martin Prado, who became a beloved figure during his days with the Braves.
"He's a great kid and a blue collar player," Braves scouting director Brian Bridges said. "He's got bat speed and strength. We're going to give it a shot. This kid isn't just any senior. He still has a lot of ability."
Mark Bowman has covered the Braves for MLB.com since 2001.