On Truck Day, Braves feeling optimistic
Snitker believes Atlanta is 'a better club' entering Spring Training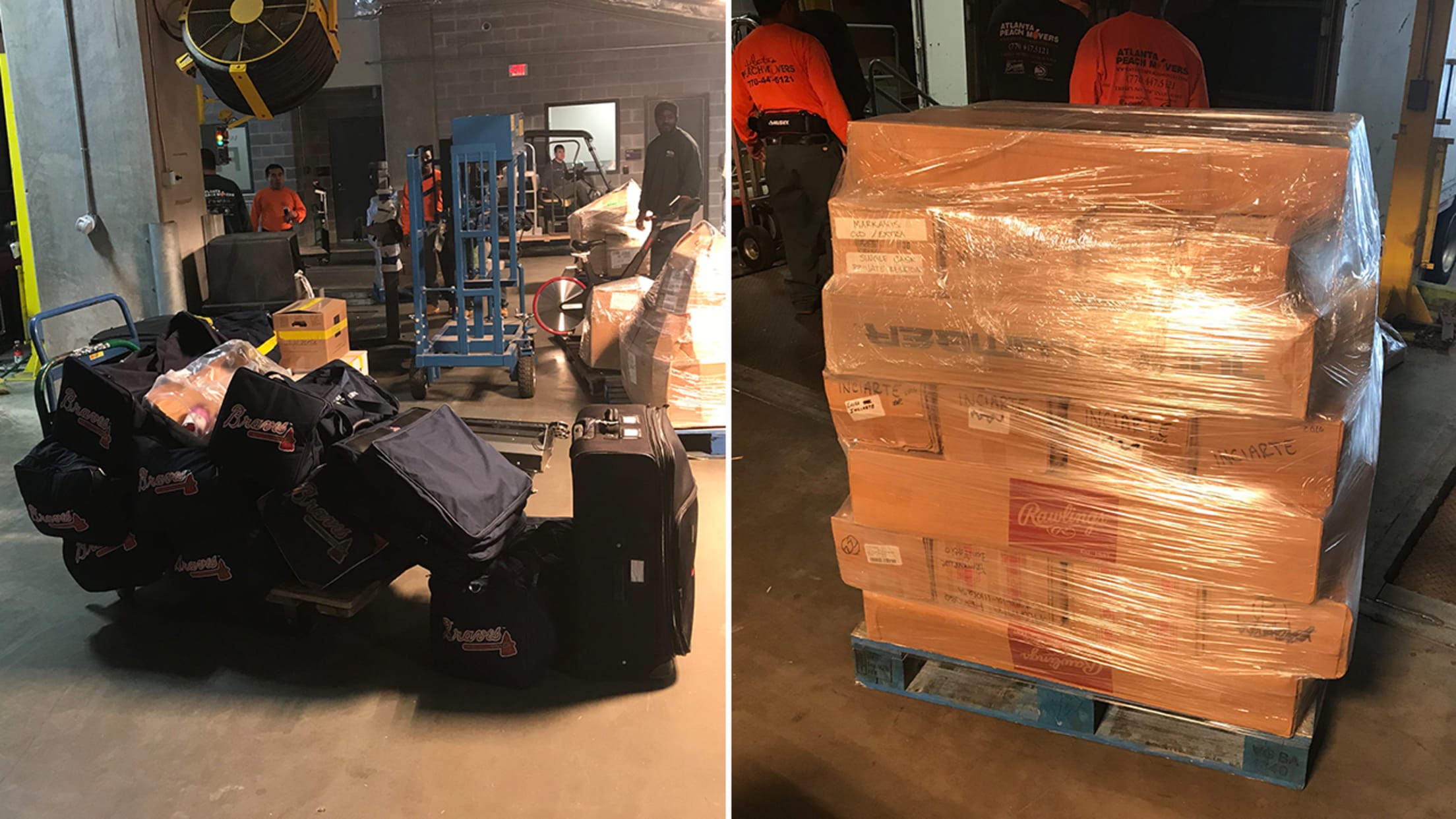 The Braves' Spring Training gear departed for Florida on Tuesday. (Mark Bowman)
ATLANTA -- When Braves pitchers and catchers report to Spring Training next week, they will be surrounded by the equipment and supplies that were stuffed into two moving trucks and sent to Florida on Tuesday.Fulfilling the annual responsibilities of Truck Day, members of the Braves' revamped clubhouse staff were displaying
ATLANTA -- When Braves pitchers and catchers report to Spring Training next week, they will be surrounded by the equipment and supplies that were stuffed into two moving trucks and sent to Florida on Tuesday.
Fulfilling the annual responsibilities of Truck Day, members of the Braves' revamped clubhouse staff were displaying bright smiles as movers loaded the trucks with bats, balls, uniforms, medical supplies and other accessories that will be used by players, coaches and front-office members during Spring Training.
• Spring Training:Info | Tickets | Gear
The only thing not packed on these trucks was the hope that Braves manager Brian Snitker and his players will carry into what will be the fourth season of a rebuilding process. The team has improved its win total in each of the past two seasons, and it approaches this season looking forward to what Ozzie Albies, Ronald Acuna Jr. and other highly touted prospects can bring while spending most of the upcoming year playing alongside Freddie Freeman, Ender Inciarte and other veterans.
"We're a better club just going into it," Snitker said. "We're a better club than we were last year."
It's truck day at @SunTrustPark! Next stop: #BravesST! 🙌 pic.twitter.com/pP0LlRH0oZ

— Atlanta Braves (@Braves) February 6, 2018
Director of equipment and clubhouse services John Holland has certainly grown accustomed to this time of year being filled with optimism. As he enters his 50th season with the club, Holland has wholeheartedly accepted the new role he was given after his predecessor Ben Acree and former director of travel Josh Hall were relieved of their duties on Jan. 8.
:: Spring Training coverage presented by Camping World ::
Holland's move created an opportunity for his longtime assistant, Fred Stone, to be promoted to visiting clubhouse manager. Stone has helped facilitate numerous Truck Days since joining the Braves in 1984. He once again oversaw the long process this year with help from assistant equipment managers Eric Durban and Chris Hunter.
Over the past month, Stone, Durbin and Hunter have spent hours boxing the uniforms, hats, bats, balls, catching gear, medical supplies and nutritional items that will be used as the Braves prepare to use ESPN's Wide World of Sports complex as their Spring Training home for the 21st straight season.
Holland, Stone, Hunter and Durbin were also scheduled to fly to Florida on Tuesday and prep for the unloading process once the trucks arrive in Florida on Wednesday.
Another early arrival to camp will be Jim Lovell, the longtime assistant trainer who has replaced Hall as the director of travel. One of his responsibilities was to secure the lodging that many of the players, coaches and front-office employees use during Spring Training.
Braves pitchers and catchers are scheduled to report to Spring Training on Feb. 13 and hold their first workout the following day. The first full-squad workout will be on Feb. 19, and the first Grapefruit League season game will be played on Feb. 23, when the Braves travel to Port St. Lucie to play the Mets.
Mark Bowman has covered the Braves for MLB.com since 2001.