Young Braves exceeding expectations at plate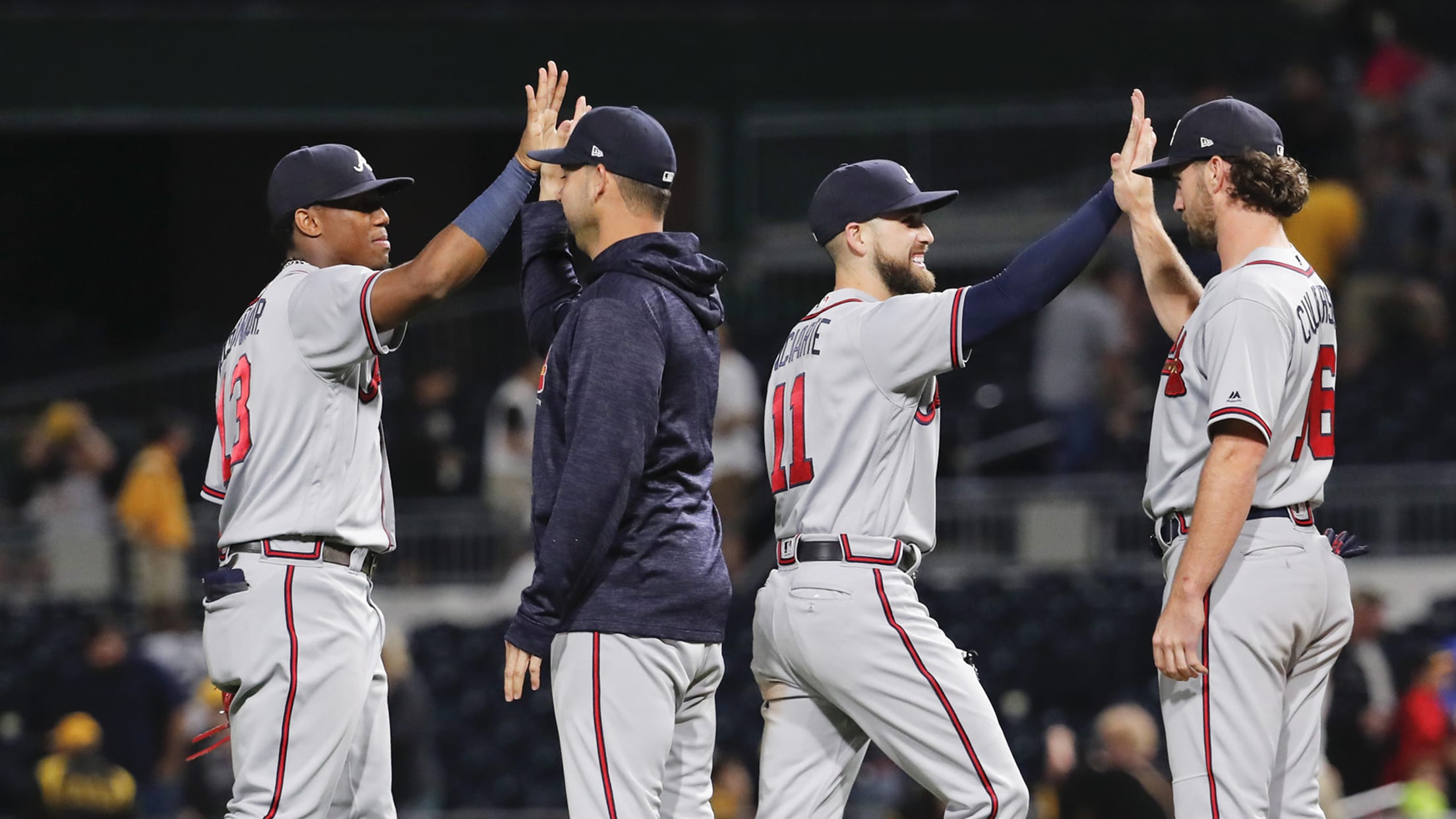 Atlanta Braves' Ender Inciarte (11) celebrates with teammates after they defeated the Pittsburgh Pirates 2-1 in a baseball game Wednesday, Aug. 22, 2018, in Pittsburgh. (AP Photo/Keith Srakocic) (Keith Srakocic/AP)
MIAMI -- There's no question about it -- in order to be a first-place team and earn a shot at postseason contention, your club needs to stuff the offensive stat sheet and put plenty of runs on the board. For the National League East-leading Braves, the numbers don't lie.As of
MIAMI -- There's no question about it -- in order to be a first-place team and earn a shot at postseason contention, your club needs to stuff the offensive stat sheet and put plenty of runs on the board. For the National League East-leading Braves, the numbers don't lie.
As of Wednesday, Atlanta paces the NL in runs (605), hits (1,139), doubles (257) and RBIs (582). The team ranks second behind the Dodgers in total bases (1,861) and the Cubs in batting average (.260), but only by the slimmest of margins.
• This is why the Baby Braves are so impressive
If you would have told Braves manager Brian Snitker that Atlanta would be leading the NL in several integral offensive categories this deep into the season, he probably wouldn't have believed it.
"It's pretty wild," Snitker said on Thursday afternoon, hours before the Braves opened a four-game series with the Marlins in Miami. "We've just had a lot of guys that are having better years than we anticipated coming into this."
Sure, Ronald Acuna Jr. has taken a stronghold of the national spotlight with his unprecedented rookie campaign -- and deservedly so. Acuna launched his 20th home run on Wednesday in the Braves' 2-1 victory over the Pirates, his sixth leadoff homer in just 31 plate appearances in the big leagues.
To Snitker, however, it has been a comprehensive effort to get the Braves to this point, not just the performance of his 20-year-old phenom.
Snitker praised the production of Ozzie Albies, Dansby Swanson and Johan Camargo, emphasizing that although he didn't know what to expect at the beginning of the season, his players have been working hard and the extra hours are paying huge dividends.
"The game planning that they do on a daily basis is different than we have ever done here," Snitker said. "It's just the study and what they go through and how much they prepare -- it's just amazing the work that goes into playing a baseball game."
As for how the Braves did it, Snitker pointed out his team's ability to consistently deliver quality at-bats. Even against the NL's best pitchers, Snitker has grown accustomed to his entire lineup fighting tooth and nail in the box.
"Give credit to the guys on our team," Snitker said. "They grind and don't strike out a lot. I think that's got a lot to do with it. They're not an all-or-nothing team. They put the ball in play, they grind out at-bats. We face really good pitching and grind out at-bats to give ourselves a chance."
Minter available
A.J. Minter hasn't pitched since Saturday due to nagging back stiffness, but Snitker says his closer is set to return to the mound on Thursday, if needed.
"He'll be good to go today. He feels good," Snitker said. "Like I said yesterday, he feels really good. If we'd have gotten locked up in extra innings, I would have thought of using him. But the fact that we could stay away from him was good. He's back out there today."
Suzuki update
After being plunked in the left elbow on Wednesday on a 93.7-mph fastball from Pirates right-hander Clay Holmes, Kurt Suzuki told his manager he'll be back on the field as soon as the team needs him.