Here are Atlanta's Players' Weekend nicknames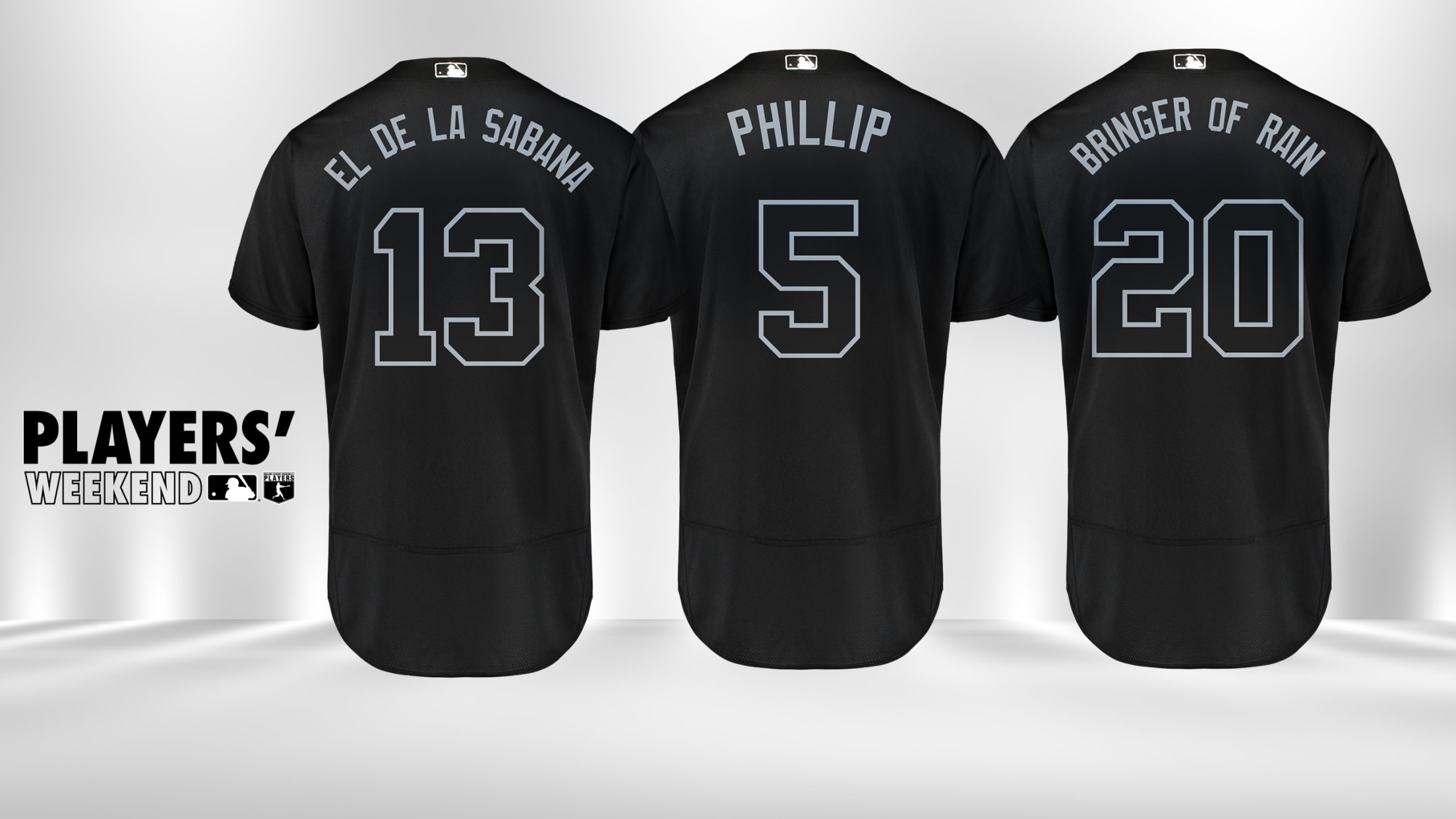 ATLANTA -- Many Braves players will once again take advantage of a chance to honor loved ones or display witty creativity when they place nicknames on the back of their jersey's during Players' Weekend, which will be celebrated Friday through Sunday. Teams will wear monochromatic black or white uniforms during
ATLANTA -- Many Braves players will once again take advantage of a chance to honor loved ones or display witty creativity when they place nicknames on the back of their jersey's during Players' Weekend, which will be celebrated Friday through Sunday.
Teams will wear monochromatic black or white uniforms during Players' Weekend, designed to highlight the various ways players use their jerseys and various equipment -- including bats, spikes, batting gloves, wristbands, compression sleeves and catcher's equipment -- to showcase their passions, backgrounds and interests.
• Every team's Players' Weekend nicknames
Here are the meanings behind some of the nicknames the Braves will wear during next weekend's series against the Mets at Citi Field:
Ronald Acuña Jr.: "EL DE LA SABANA"
This translates to "from Sabana" in Spanish, which is the region in Venezuela where Acuna was raised.
Ozzie Albies: "BOLLY (PRAYER HANDS EMOJI)"
Albies will don the nickname of his late father Osgarry Albies, who died of heart attack in 2013, just a few months before Ozzie left Curacao to begin his professional career with the Braves.
Jerry Blevins: "JER-RY JER-RY JER-RY"
A Seinfeld reference.
Charlie Culberson: "A.C.E.S."
Culberson will don the first letter of the names of his three children (Ace, Collins, Everly) and his wife (Sarah).
Josh Donaldson: "BRINGER OF RAIN"
This is the Twitter handle the former American League MVP adopted a few years ago while watching "Spartacus: Blood and Sand," a series that aired on STARZ.
Julio Teheran: "EL CABALLO DE OLAYA"
"The Horse of Olay," in Spanish, Teheran explained the origins of the moniker.
"In Latin America, the horse is the good player," he said. "So that's why I decided to go with the horse, because that is what they call me back home. They said, 'Everybody here calls you that and that is how we know you.'"
Tyler Flowers: "MMBB"
This is a tribute to Flowers' four children: Mia, Madi, Brantley and Beckham.
Freddie Freeman: "PHILLIP"
Freeman will continue his tradition of placing a family member's name on his jersey. This year, he'll recognize his brother Phillip.
Shane Greene: "TEAM JAKE"
Greene would like to keep his specific reasoning for the choice private, but he is honoring a young boy who he met within the past few years.
Ender Inciarte: "ASTOLFO"
A tribute to his late father.
• Shop for Players' Weekend gear
Luke Jackson: "SKYWALKER"
This is a Star Wars reference dating back to Jackson's childhood, when he routinely heard "Luke, I am your father."
Matt Joyce: "SWEET SWINGIN"
Joyce's Twitter handle, the nickname was created by Reid Brignac while the two were Minor League teammates in the Rays' organization.
Brian McCann: "UNO SEIS"
This is his jersey number (16) in Spanish.
Austin Riley: "OCHO"
Riley will likely still be on the injured list during Players' Weekend. But it's worth noting that he chose this Spanish term after his teammates began referring to him as "eight" because he has so frequently been removed for a defensive replacement in the eighth inning.
Here are some of the self-explanatory nicknames Braves players will don: Josh Tomlin (JT), Adam Duvall (DUVY), Mike Foltynewicz (HIGH FOLTAGE), Dallas Keuchel (BIG D), Chris Martin (C MART), Mark Melancon (MUH LAN SON), Mike Soroka (ROCK), Anthony Swarzak (SWARZY) and Sean Newcomb (NEWK).
Mark Bowman has covered the Braves for MLB.com since 2001.