Braves using new gloves in spring opener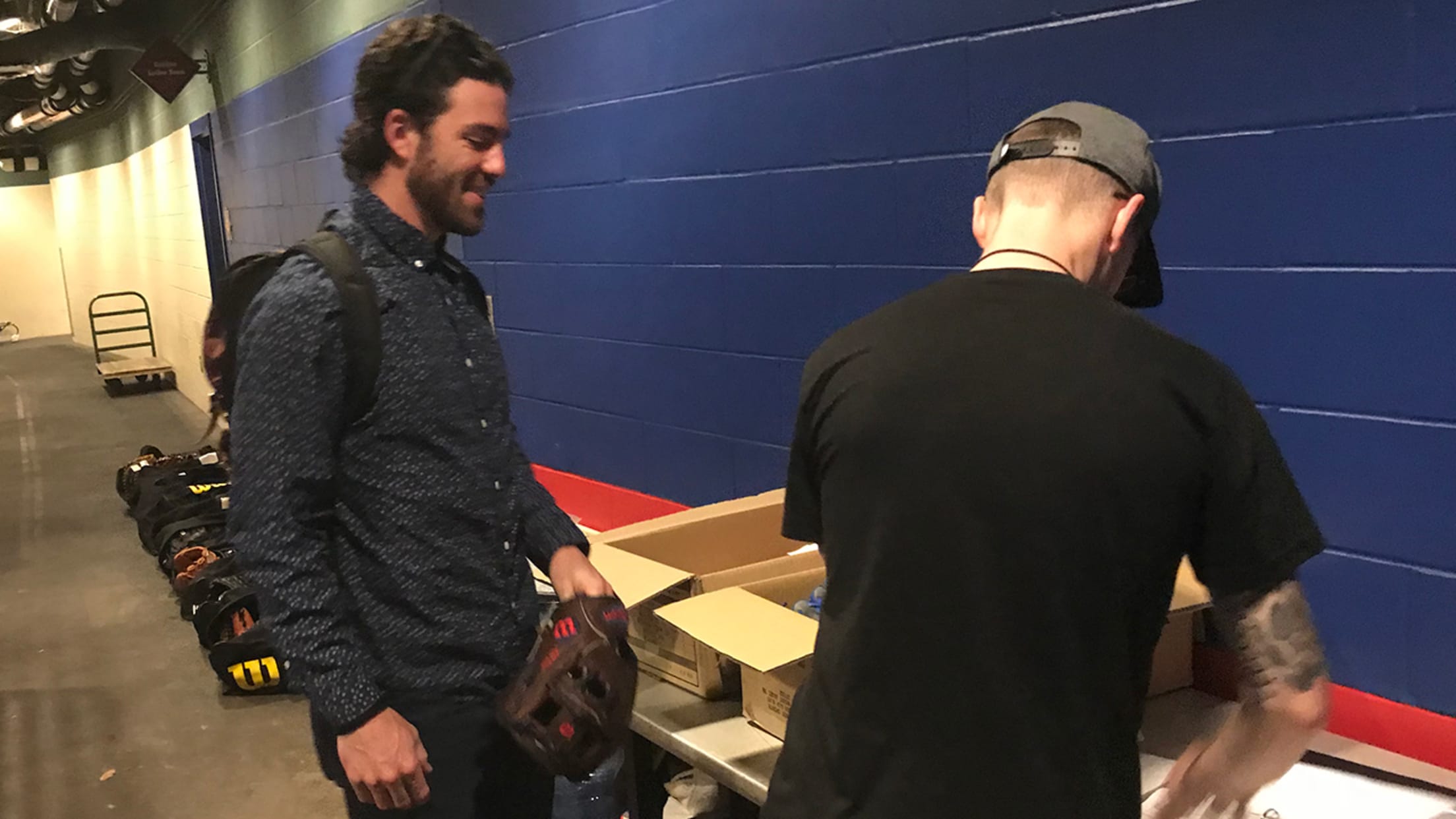 Dansby Swanson received his Wilson glove on Friday. (Mark Bowman)
LAKE BUENA VISTA, Fla. -- As Dansby Swanson, Ozzie Albies and A.J. Minter arrived at ESPN's Wide World of Sports complex early Friday morning, they were among the Braves who were given their new personalized Wilson glove.Representatives from Wilson were stationed outside the Braves' clubhouse ready to present their clients
LAKE BUENA VISTA, Fla. -- As Dansby Swanson, Ozzie Albies and A.J. Minter arrived at ESPN's Wide World of Sports complex early Friday morning, they were among the Braves who were given their new personalized Wilson glove.
Representatives from Wilson were stationed outside the Braves' clubhouse ready to present their clients with their new equipment and provide them an opportunity to get a feel for some of the other glove models.
Swanson has been using Wilson gloves since he began his career at Vanderbilt University. Minter found comfort with the brand once he reached the professional ranks.
:: Spring Training coverage presented by Camping World ::
"I really like the feel, and [Wilson representatives] have just been ultra respectful and pretty loyal," Swanson said. "They really took care of us at Vandy, and that relationship just continued to build moving into pro ball. I really like their stuff. It's a great glove."
Swanson's new Wilson A2000 glove will once again pay homage to his late friend Dai-Jon Parker, a former Vanderbilt basketball player who drowned while tubing on an Indiana lake three years ago. "All Dai" is inscripted on the left thumb of the shortstop's glove.
Minter has used a black glove in the past, but he opted to go with a navy blue glove because he thought it might look good with the Braves' road uniforms.
Other Braves players who received their new Wilson gloves included Albies, Johan Camargo, Lane Adams, Mike Foltynewicz, Lucas Sims, Luke Jackson, Rio Ruiz, Preston Tucker and Akeel Morris.
Mark Bowman has covered the Braves for MLB.com since 2001.