Monday's best: Acuna does it all for Gwinnett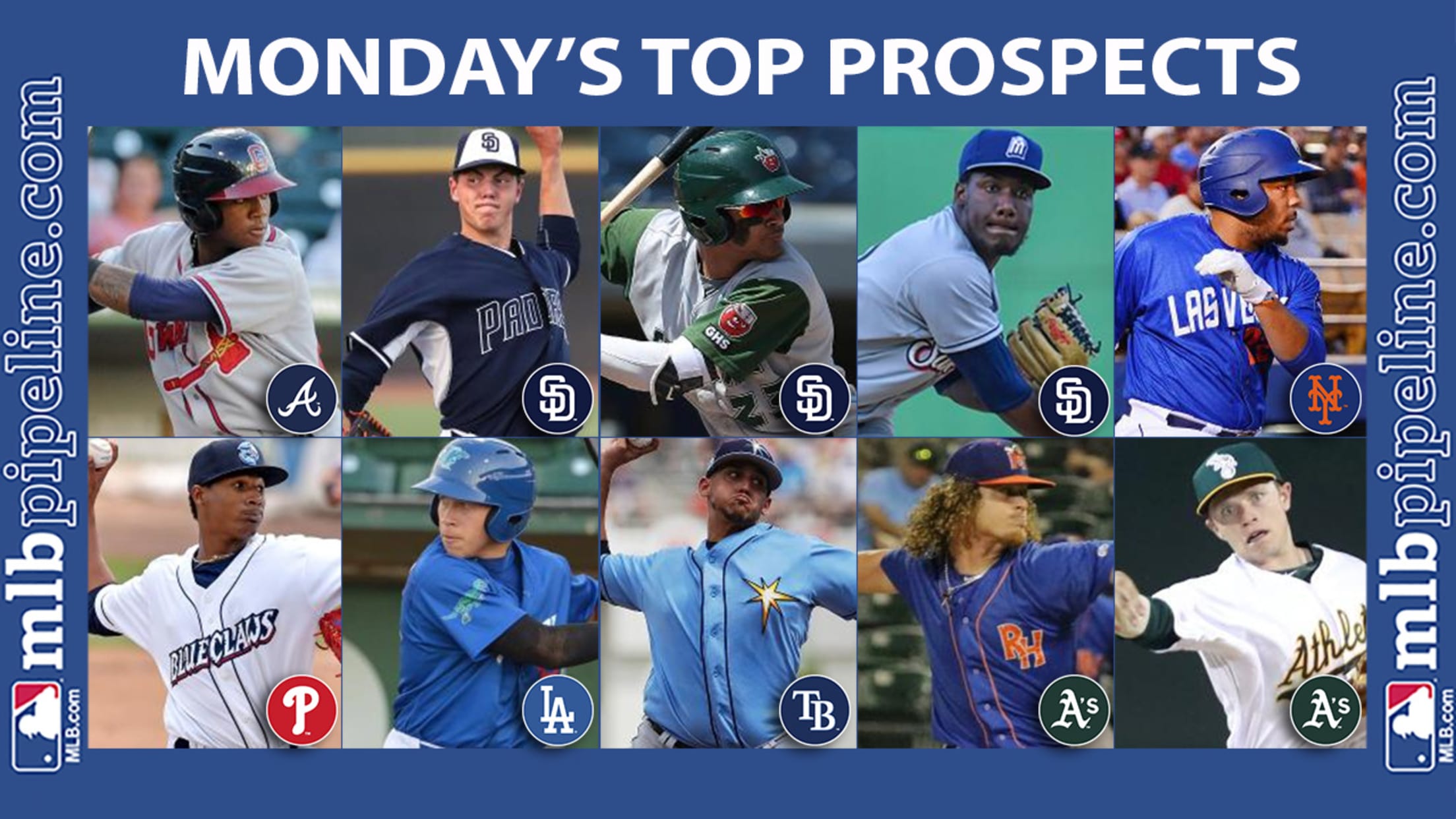 In many ways, Monday belonged to Ronald Acuna.Acuna made the largest jump of any player in MLB Pipeline's freshly revamped Top 100 Prospects list, going from No. 86 all the way up to No. 8, as well as from No. 7 to No. 1 on the Braves' new Top 30
In many ways, Monday belonged to Ronald Acuna.
Acuna made the largest jump of any player in MLB Pipeline's freshly revamped Top 100 Prospects list, going from No. 86 all the way up to No. 8, as well as from No. 7 to No. 1 on the Braves' new Top 30 list.
On the field, the 19-year-old outfielder celebrated his new ranking by going 4-for-5 with a home run, two runs scored and two RBIs to lead Triple-A Gwinnett in a 9-3 win over Lehigh Valley. It was his fifth four-hit game this season, and his first at the Triple-A level.
With the big performance, Acuna broke out of a mini-slump that had seen him hit just .154 (4-for-26) with two extra-base hits over his previous eight games for the G-Braves.
Acuna started the scoring for Gwinnett with an RBI single in the first inning, plating fellow Top 100 prospect Ozzie Albies (No. 19), who had doubled to lead off the game. He tallied another single in his next trip to the plate and then flew out in the fourth inning before going deep in the sixth, when he drove the ball over the wall in right-center field for his third Triple-A homer. In Acuna's final at-bat, he used his speed to leg out an infield single for his fourth hit.
MILB Video - Title: Watch: Acuna goes yard - Url: http://www.milb.com/r/video?content_id=1648631583
Acuna has been unstoppable in his first fully healthy campaign, as Monday's multihit performance lifted his slash line to .310/.364/.512. The home run, meanwhile, was his 15th this season in 97 games across three levels, and, overall, he's accrued 41 extra-base hits and 34 steals.
The rest of the best performances from top prospects Monday
• No. 29 overall prospect MacKenzie Gore (Padres' No. 1) struck out six of the nine batters he faced, while allowing one hit over 2 2/3 innings in Rookie-level Arizona League action. It was the second career start for the 2017 No. 3 overall Draft pick, who tossed two scoreless innings of one-hit ball in his professional debut on July 17.
• No. 41 overall prospect Dominic Smith (Mets' No. 2) stayed hot for Triple-A Las Vegas, going 3-for-4 with a solo home run in a win over Memphis. The homer was the 15th this season for the 22-year-old first baseman, while the three-hit performance improved his average to .337 through 100 games.
MILB Video - Title: Smith's 15th homer - Url: http://www.milb.com/r/video?content_id=1648195483
• No. 52 overall prospect Sixto Sanchez (Phillies' No. 2) went the distance in a rain-shortened shutout for Class A Lakewood. Behind a fastball that hit 102 mph in the outing, the 18-year-old right-hander allowed three hits, walked three and struck out five over five innings before the skies opened up. He's been outstanding in his first full season, posting a 2.64 ERA, a 0.86 WHIP and a 59-to-9 strikeout-to-walk ratio in 61 1/3 innings (12 starts). What's more, he's held opposing hitters to a .199 clip while allowing just one home run.
• No. 59 overall prospect Fernando Tatis Jr. (Padres' No. 4) was at it again on Monday as he connected on a solo homer, stole a base and scored a pair of runs in a 2-for-4 performance for Class A Fort Wayne. The 18-year-old shortstop is slashing .272/.369/.504 in his full-season debut, with 17 home runs and 22 steals in 95 games.
• No. 86 overall prospect Jeren Kendall (Dodgers' No. 5) went 3-for-5 and fell a triple short of hitting for the cycle in Rookie-level Ogden's win against Helena. Kendall's home run, a three-run shot in the fifth inning, was the first of his career, as was his double, while the three-hit effort gives the 2017 first-rounder (No. 23 overall) a .455 average through his first five games as a professional.
• Making his second rehab start in the Rookie-level Gulf Coast League, No. 99 overall prospect Jose De Leon (Rays' No. 7) recorded eight of his 12 outs via the strikeout, while allowing one hit and one walk over four scoreless innings. He's worked seven scoreless frames between the two outings, the first of which saw the 24-year-old righty toss three perfect frames.
• A's No. 9 prospectGrant Holmes completed seven innings for the third time in his last five starts for Double-A Midland. The 21-year-old right-hander did not allow a run in the performance, as he scattered three hits and struck out five while generating another nine outs on the ground and throwing 54 of his 84 pitches for strikes. He owns a 4.54 ERA this season, with 107 strikeouts in 109 innings (22 appearances, 17 starts).
MILB Video - Title: Holmes notches a K - Url: http://www.milb.com/r/video?content_id=1648240683
• Though known more for his defensive prowess, A's No. 10 prospect Nick Allen flashed some power in the Rookie-level Arizona League as he connected on his first pro homer, a leadoff shot to open the game. It was his only hit in four at-bats. The 18-year-old shortstop was thought to be a tough sign heading into the Draft -- or at least until the A's selected him in the third round and offered him $2 million, more than double slot value for the No. 81 overall pick.
• Indians' No. 21 prospect Logan Ice was perfect at the plate for Class A Lake County, going 4-for-4 with solo homer and two RBIs as the Captains edged Clinton, 8-6. It was the first career four-hit performance and eighth home run this season for the 22-year-old catcher, whom the Indians selected with the No. 72 overall pick in the 2016 Draft.
• Padres' No. 12 prospect Franchy Cordero connected on a pair of home runs in a 4-for-6 performance to help power the Triple-A El Paso past Omaha, 14-6. He finished with four RBIs and three runs scored. Despite his scuffles over several stints with the Padres this season, the 22-year-old outfielder continues to put up strong numbers in Triple-A, with a .321 average and 12 home runs in 58 games.
MILB Video - Title: Watch: Cordero launches homer - Url: http://www.milb.com/r/video?content_id=1648493883
• Padres' No. 13 prospect Enyel De Los Santos fired seven scoreless innings, allowing three hits and striking out eight, to improve to 8-4 in 18 starts for Double-A San Antonio. The 21-year-old right-hander has allowed three or fewer earned runs in eight straight starts, during which he's gone 5-1 with a 2.51 ERA and 47 strikeouts in 46 2/3 innings.
MILB Video - Title: De Los Santos' eighth K - Url: http://www.milb.com/r/video?content_id=1648290183
• Reds' No. 24 prospect Jose Siri extended his hitting streak to 30 games with a 2-for-4 showing for Class A Dayton. He's one of three players in Midwest League history to record a streak of that length. He also swiped a bag in the contest, his 29th in 40 attempts this season. Overall, the 22-year-old outfielder is hitting .293/.337/.517 with 40 extra-base hits, including 16 home runs.
MILB Video - Title: Siri extends hitting streak - Url: http://www.milb.com/r/video?content_id=1646098883