Statcast trends that could affect Braves' 2019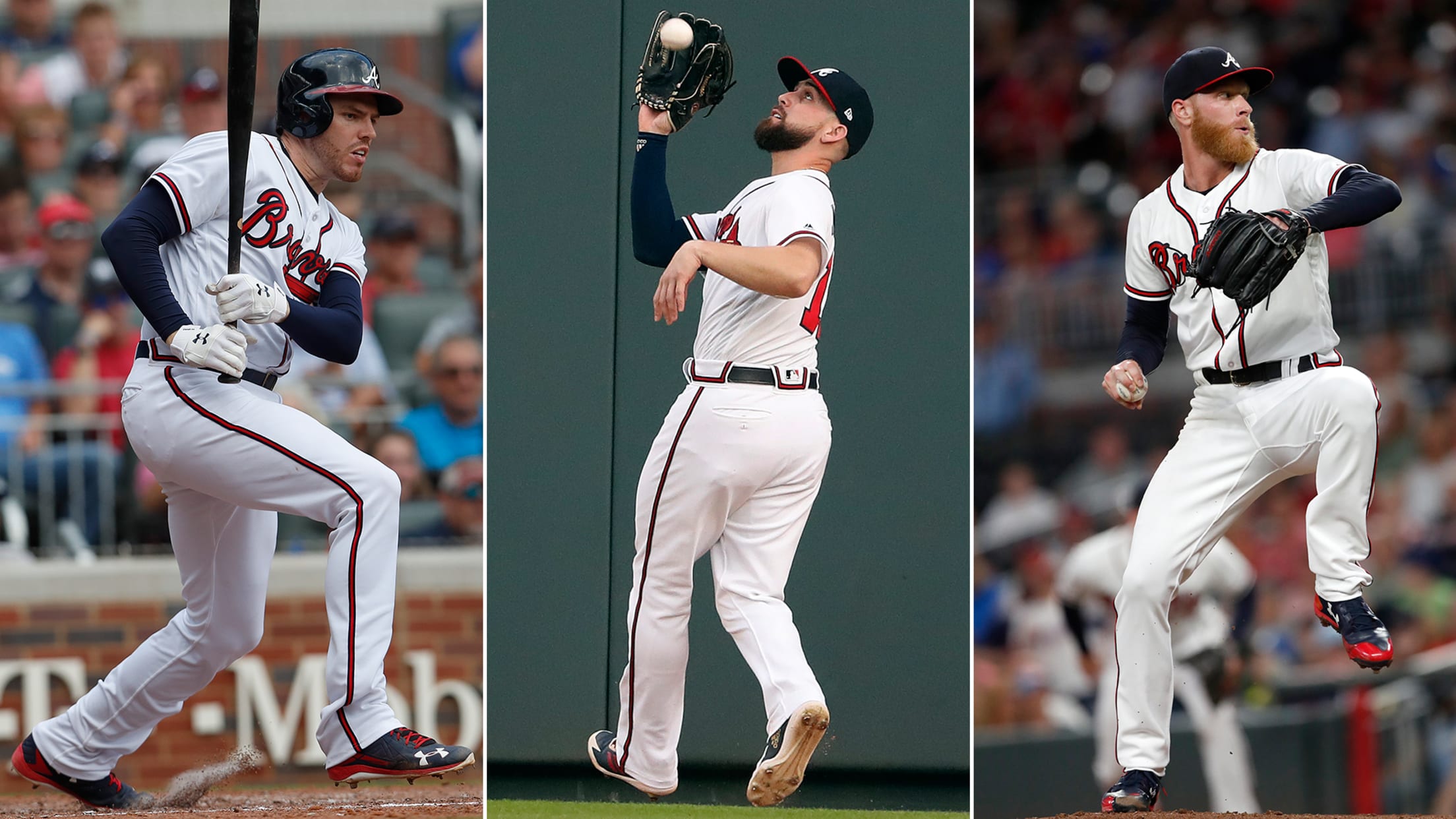 ATLANTA -- Looking ahead toward the 2019 season, here are some Statcast™ trends and metrics that could influence how the Braves round out their roster and ultimately fare in their attempt to defend their National League East crown.Freddie Freeman's power The Braves have gambled $23 million on the belief Josh
ATLANTA -- Looking ahead toward the 2019 season, here are some Statcast™ trends and metrics that could influence how the Braves round out their roster and ultimately fare in their attempt to defend their National League East crown.
Freddie Freeman's power
The Braves have gambled $23 million on the belief Josh Donaldson will be healthy enough to compete with Freeman and the handful of other legitimate NL MVP Award candidates. But there's also reason to wonder if Freeman will regain the power he possessed before his left wrist was fractured on May 17, 2017.
Freeman has repeatedly said his wrist is fine, and he backed this up by arguably standing as the leading candidate for the NL MVP Award through the first two weeks of August. But when looking at exit velocities and barreled balls percentages, there is a noticeable difference between his before and after numbers.
Barreled balls event percentage
2018: 9.3 (25th of 97 MLB players with 400 batted ball events)
2017: 13.3 (10th of 182 w/300 BBE)
2016: 13.7 (sixth of 108 w/400 BBE)
2015: 11.3 (16th of 199 w/300 BBE)
Freeman's 2015 right wrist ailment limited him to 118 games, which was one more than he played in '17, when his left wrist was fractured by a pitch.
The best span of Freeman's career stretched from June 15, 2016-May 17, 2017. Within this season-equivalent (587 plate appearances) period, he hit .339 with 38 homers, a 1.127 OPS and 189 Weighted Runs Created Plus (wRC+). His average exit velocity was 91.6 mph, and he barreled 16.6 percent of balls in play.
While hitting .303 with a .892 OPS and 133 wRC+ since returning from the wrist fracture, Freeman's average exit velocity has been 89.1 mph, with 9.5 percent of balls in play being barreled.
Freeman earned a third-place finish in this year's NL MVP Award balloting, and his production solidified his status among the game's best. But after hitting .342 with 15 homers and a 1.031 OPS through his first 69 games, he batted .285 with eight homers and a .788 OPS over his final 93 games.
Maybe a winter's worth of rest -- or more importantly, the plan to rest more frequently next season -- will prove beneficial. Maybe being paired alongside Donaldson will prove beneficial, though last year Freeman did see more in-zone pitches than he had in any of the previous three seasons. Nevertheless, while dealing with multiple wrist ailments over the past few years, it's noteworthy to account for the recent decline in exit velocity and barrel percentage.
Inciarte's range
The Braves have made it clear they value on-base skills and defensive value in their search for an outfielder. This has at least lessened the possibility of them trading for the Tigers' Nicholas Castellanos. But Ender Inciarte's presence would at least make this a more comfortable gamble.
Before looking at why Inciarte would qualify as a first-ballot Statcast™ Hall of Famer, let's look at Baseball Savant's definition of Outs Above Average (OAA) -- the cumulative effect of all individual catch probability plays a fielder has been credited or debited with, making it a range-based metric of fielding skill that accounts for the number of plays made and the difficulty of them. For example, a fielder who executes a 25 percent catch probability play gets +.75; one who unable to make the play gets -.25.
Inciarte leads all MLB outfielders with 66 OAA over the past three seasons. Billy Hamilton ranks second with 52. The only other two with as many as 40 are Lorenzo Cain (47) and Mookie Betts (46).
Defensive decline is inevitable, but Inciarte did not show any apparent signs as he tied Cardinals rookie Harrison Bader for an MLB-high 21 OAA in 2018.
Inciarte's great range allowed the Braves to completely alter Markakis' average starting spot by playing him deeper and closer to the right-field line. Markakis went from -5 OAA (59th of 71 with at least 200 opportunities) in 2017 to 0 OAA (39th of 75) and a Gold Glove in '18.
Saying Inciarte could similarly influence Castellanos would be the equivalent of saying Ozzie Albies' range allows for the option of using Brian McCann at shortstop. But while Castellanos might still be the game's worst defensive outfielder, Inciarte's presence would at least make him less of a detriment.
Will Folty build on 2018?
When accounting for whether the Braves need to add a top-flight pitcher, you can question whether Sean Newcomb is capable of making a rise similar to the one Mike Foltynewicz experienced last season. But it may be even more important to account for the possibility Foltynewicz takes a step back in 2019.
Foltynewicz posted a 2.02 ERA through his first 16 starts and then extended a maddening first-half trend by experiencing one ugly inning in each of his final two starts before the All-Star break. He concluded July with two so-so starts before compiling a 2.55 ERA over his remaining 11 starts.
Expected Weighted On-base Average (xwOBA) provides a better indication of a player's skill because unlike wOBA, it erases defense from the equation by accounting for launch angle and exit velocities of balls in play. Foltynewicz finished eighth among NL pitchers with a .274 xwOBA, an .009 difference from his .265 wOBA, which ranked fifth in the NL.
When Foltynewicz established himself through those first 16 starts, he recorded 10.82 strikeouts per nine innings and issued 4.04 walks per nine innings. His .261 wOBA was better than his .276 xwOBA. During his impressive 11-start stretch to end the season, he had a 9.76 K/9, a 3.44 BB/9, a .232 wOBA and a .257 xwOBA.
If solely looking at the xwOBA metrics, there is reason to project a slight decline. But if solely looking at the numbers and ignoring human elements like experience, then you likely wouldn't have guessed Foltynewicz would have gone from having a .339 xwOBA in 2017 to becoming an All-Star in '18.
Mark Bowman has covered the Braves for MLB.com since 2001.