Brewers can't capitalize on Cards' home woes
Garza labors in key 5-run 4th, makes costly error in series opener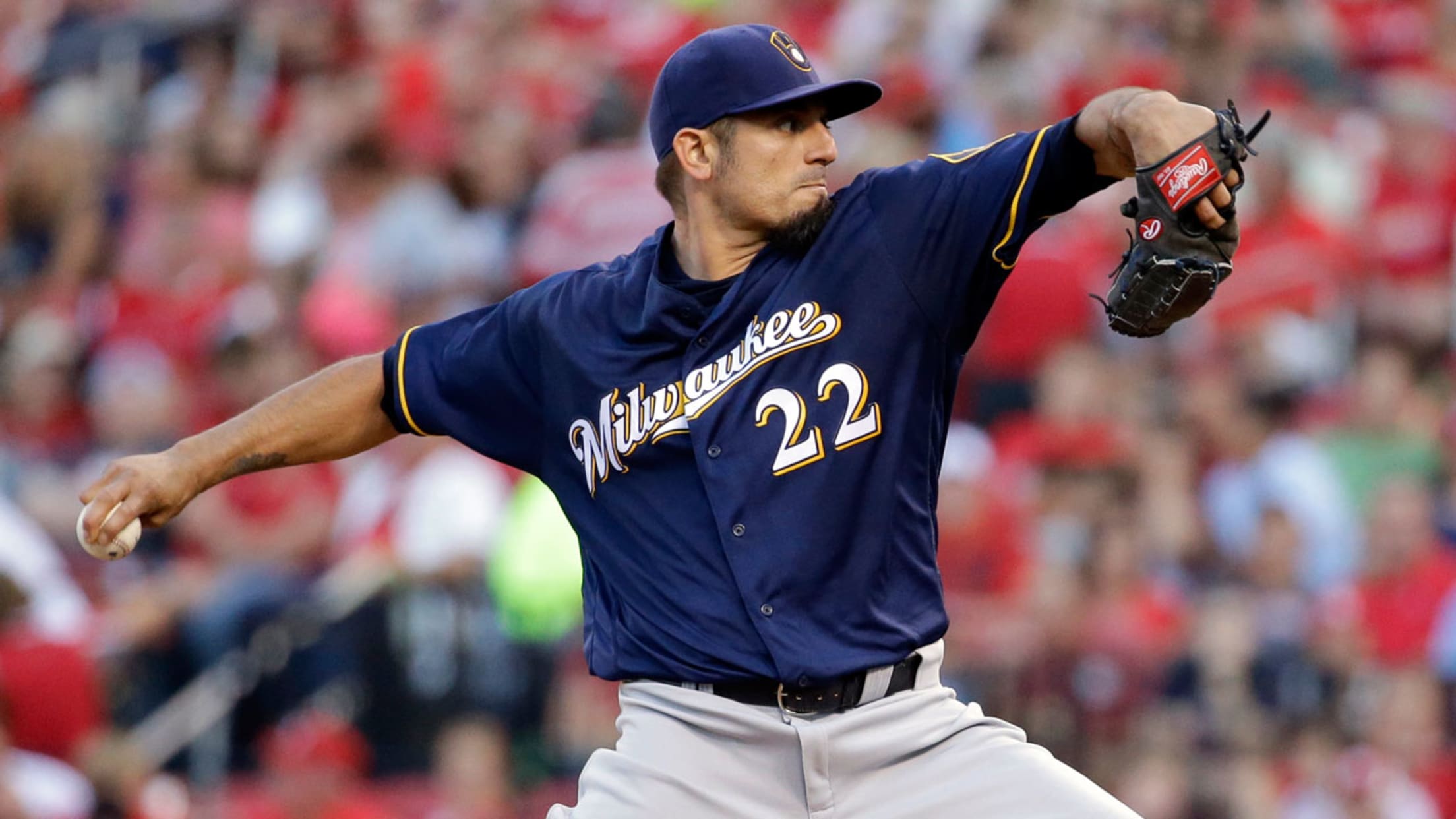 The Cardinals sent 10 to the plate and scored five runs against Matt Garza in the fourth inning on Friday. (AP)
ST. LOUIS -- The Cardinals limped into Friday night off seven consecutive home losses and their first losing month in four years. The Brewers came to Busch Stadium off a respectable 3-3 homestand against the postseason-hungry Nationals and Dodgers.Then the teams settled into their familiar roles. Jaime Garcia threw eight
ST. LOUIS -- The Cardinals limped into Friday night off seven consecutive home losses and their first losing month in four years. The Brewers came to Busch Stadium off a respectable 3-3 homestand against the postseason-hungry Nationals and Dodgers.
Then the teams settled into their familiar roles. Jaime Garcia threw eight more superlative innings against his favorite opponent. The Cardinals put enough balls in play against Matt Garza to make him pay for another defensive lapse as the Brewers dropped a 7-1 decision in the series opener.
Since they last won a series against the Cardinals more than two years ago, the Brewers have lost 26 of the 39 games between these teams.
"I watched their game last night, and [analysts] make it sound like they're struggling terribly," Milwaukee manager Craig Counsell said. "But then you look at the team, and you see who you're facing. It's three pretty good pitchers, and it's a good lineup. I know they haven't been playing well ... but you take it for what it is, and realize it's a quality team."
In seven matchups this season, the Cardinals have outscored the Brewers, 45-14.
"It's definitely a team that -- we don't put pressure on ourselves -- but it's a team we want to beat," second baseman Scooter Gennett said. "Them and the Cubs are the teams that are in our division, we like to come in and beat them more than anybody else. That's just how it is."
Does he think that desire works against the Brewers at times?
"No, if anything it helps our focus," Gennett said. "They're a good team. They always go out and compete every day. It just seems like things don't go our way sometimes here. When things don't go our way, we don't quit and fold up."
Things did not go the Brewers' way in the fourth inning, when the Cardinals sent 10 to the plate and scored five runs against Garza. All five hits in the inning were singles, all but Garcia's 99.8 run-scoring single with an exit velocity of 93 mph or below, according to Statcast™. Matt Holliday's two-out, two-run bouncer up the middle -- the hit that turned a 4-1 game into a 6-1 game -- left his bat at 92.7 mph.
The Cardinals made Garza pay for his most maddening flaw. Like two starts ago in Los Angeles, Garza could not convert a comebacker into an out, this time trying to underhand the baseball to first baseman Chris Carter, but pulling Carter off the bag. The first of four run-scoring singles immediately followed.
"If I make my play, it's two outs and it probably would have ended right there," Garza said. "I don't make that play and they get more confidence in the box and [more] comfortable. I put pressure on myself and on the team to pick me up. I've just got to get better. My stuff's coming back; it's getting better every time out. I [struck] out six and used my slider a lot. My stuff's there; I've just got to get better in the field."
Garza has worked on this deficiency extensively. He takes fielding practice every day, but said, "I put in all the time and for something like that to ruin a start where I was throwing the ball well, it puts a burden on my team and I need to get better at it."
The Brewers, meanwhile, will have another opportunity to be better against the Cardinals when the series continues on Saturday afternoon.