Monday's best: Burnes spins six scoreless for Biloxi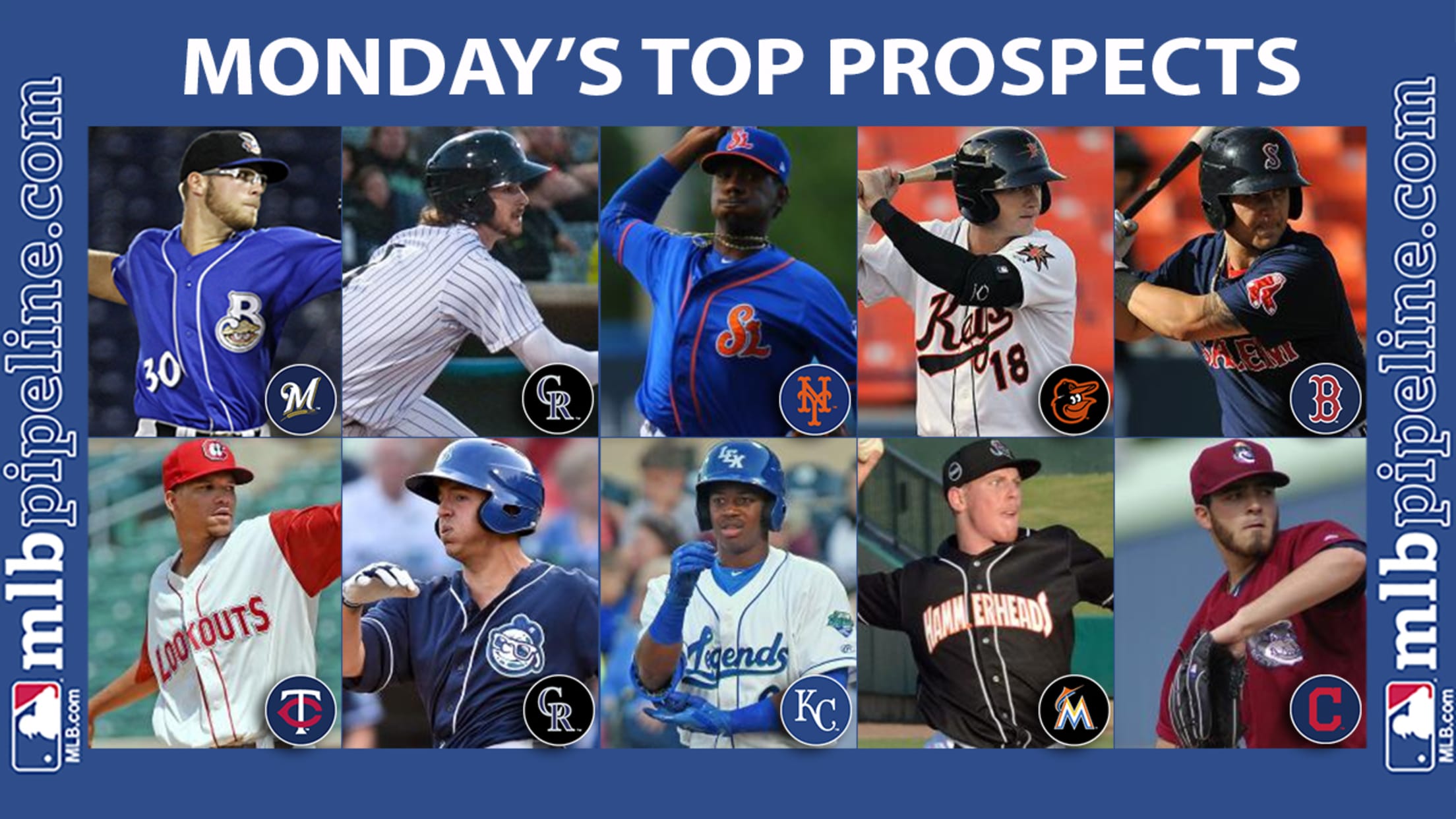 The Brewers have not shied away from challenging Corbin Burnes in his full-season debut. And so far, the right-hander has passed every test the organization has thrown his way.That trend continued on Monday night, as the Brewers' No. 20 prospect spun six scoreless frames of one-hit ball en route to
The Brewers have not shied away from challenging Corbin Burnes in his full-season debut. And so far, the right-hander has passed every test the organization has thrown his way.
That trend continued on Monday night, as the Brewers' No. 20 prospect spun six scoreless frames of one-hit ball en route to his first win since being promoted to Double-A Biloxi. He issued one walk and struck out eight in the outing, which saw the 22-year-old righty throw 64 of his 92 pitches for strikes after carrying a no-hit bid for 3 2/3 innings.
"Stuff-wise, everything was just working well," Burnes told MiLB.com. "As of last week, I've been trying to work on command on offspeed pitches better and commanding the fastball in the zone. I had a good gameplan with [Jacob Nottingham] behind the plate and just went out there and executed the pitches.
"Today, all the pitches were good in the bullpen," he added. "I've been really working hard on the changeup lately. I have a great pitching coach in Chris Hook, and he gave me a couple of pointers last week and it's really helped me. The changeup was one of the better out pitches tonight."
MILB Video - Title: Burnes finishes the sixth - Url: http://www.milb.com/r/video?content_id=1492253183
Burnes, Milwaukee's fourth-round Draft pick in 2016, has been sharp in his three starts for the Shuckers, posting a 1.08 ERA, a 0.60 WHIP and a 19-to-4 strikeout-to-walk ratio in 16 2/3 innings. Prior to that, he had gone 5-0 with a Carolina League-leading 1.05 ERA and 0.88 WHIP in 10 starts for Class A Advanced Carolina.
Overall, Burnes has pitched to a 1.06 ERA in 76 2/3 innings (13 starts) between the two levels. He also owns a stellar 0.82 WHIP and .166 opponents' average, with 75 strikeouts and 20 walks.
The rest of the best performances from top prospects Monday
• After being named to MLBPipeline.com Prospect Team of the Week earlier in the day for the third time in five weeks, No. 10 overall prospect Brendan Rodgers (Rockies' No. 1) went 2-for-6 to extend his hitting streak to 20 games for Class A Advanced Lancaster. The 20-year-old shortstop has 13 multi-hit games and is batting a robust .443 (41-for-94) during his streak, with eight home runs, eight doubles and 23 RBIs. What's more, the 2015 first-rounder (No. 3 overall) continues to pace the California League in all three triple-slash categories (.400/.420/.695) courtesy of his 76 hits in 43 games.
• Mets No. 3 prospect Justin Dunn (1st round, 2016) allowed one earned run on four hits, with three walks and three strikeouts, in five innings for Class A Advanced St. Lucie, snapping a streak of three straight starts without an earned run for the 21-year-old righty. He owns a 0.86 ERA over his last 21 innings and five appearances, during which he's lowered his season ERA to 4.53 from 6.89.
• Orioles No. 7 prospect Austin Hays (3rd round, 2016) hit a solo homer before finishing 2-for-4 in Class A Advanced Frederick's loss against Myrtle Beach. The 21-year-old outfielder now has gone deep 13 times in 54 games, good for second place in the Carolina League, while the multi-hit performance lifted his season batting line to .322/.362/.564.
MILB Video - Title: Hays flexes muscles - Url: http://www.milb.com/r/video?content_id=1492844183
• Twins No. 9 prospect Felix Jorge fired seven scoreless innings of three-hit ball to record his seventh win (7-1) in 12 starts for Double-A Chattanooga. Throwing 67 of his 95 pitches for strikes, the 23-year-old righty walked a pair, struck out five and induced 11 outs on the ground. He lowered his ERA to 3.00 with the performance, and he's now gone four straight starts allowing two earned runs or fewer.
MILB Video - Title: Jorge records fifth strikeout - Url: http://www.milb.com/r/video?content_id=1492615883
• Red Sox No. 10 prospect Michael Chavis (1st round, 2014) went 3-for-3 with three runs scored to help power Class A Advanced Salem past Carolina with his Carolina League-leading 17th home run. The 21-year-old third baseman is also pacing the circuit in average (.345), slugging (.694), OPS (1.108), runs scored (50), RBIs (55) and total bases (143).
MILB Video - Title: Chavis clocks 17th homer - Url: http://www.milb.com/r/video?content_id=1492301583
• Rockies No. 11 prospect Colton Welker (4th round, 2016) had a perfect night at the plate for Class A Asheville, going 4-for-4 with a double and also reaching once via a walk. The 19-year-old third baseman is opening eyes in his full-season debut, as he's leading the South Atlantic League in hits (77) and average (.368) through 55 games.
• Royals No. 13 prospect Khalil Lee (3rd round, 2016) connected on his fifth home run in eight games before finishing 3-for-4 with four RBIs in Class A Lexington's victory over Hickory. The recent power surge gives the 18-year-old outfielder 11 home runs on the season, tied for second most in the South Atlantic League, though he's struck out 83 times in 54 games.
• Making just his third start of 2017, Marlins No. 15 prospect Jeff Brigham (4th round, 2014 by Dodgers) turned in his second straight scoreless start for Class A Advanced Jupiter. The 25-year-old righty tossed six one-hit frames with four strikeouts and two walks while finding the strike zone with 56 of his 86 pitches. Though he missed the first two months of the season, Brigham has made up for some of that lost time by posting a 1.53 ERA and a 0.79 WHIP over 17 2/3 innings.
• Indians No. 21 prospect Aaron Civale, a (3rd round, 2016), completed a career-high eight innings en route to his second win in three starts for Class A Advanced Lynchburg. The 22-year-old righty yielded one earned run on two hits while striking out four and generating 12 ground-ball outs. He's pitched to a 1.96 ERA while holding opposing hitters to a .161 average in 18 1/3 innings since joining the Hillcats.
• Mariners No. 30 prospect Luis Rengifo filled out the stat sheet in Class A Clinton's win over Peoria as he went 2-for-4 with a two-run home run, an RBI double, two runs scored and a stolen base. The home run was the fifth of the season and second in as many games for the 20-year-old switch-hitter, who's batting .263/.331/.393 with 20 steals through 56 games.