Guerra in line to start Opening Day for Crew
Counsell declined to make official announcement on Monday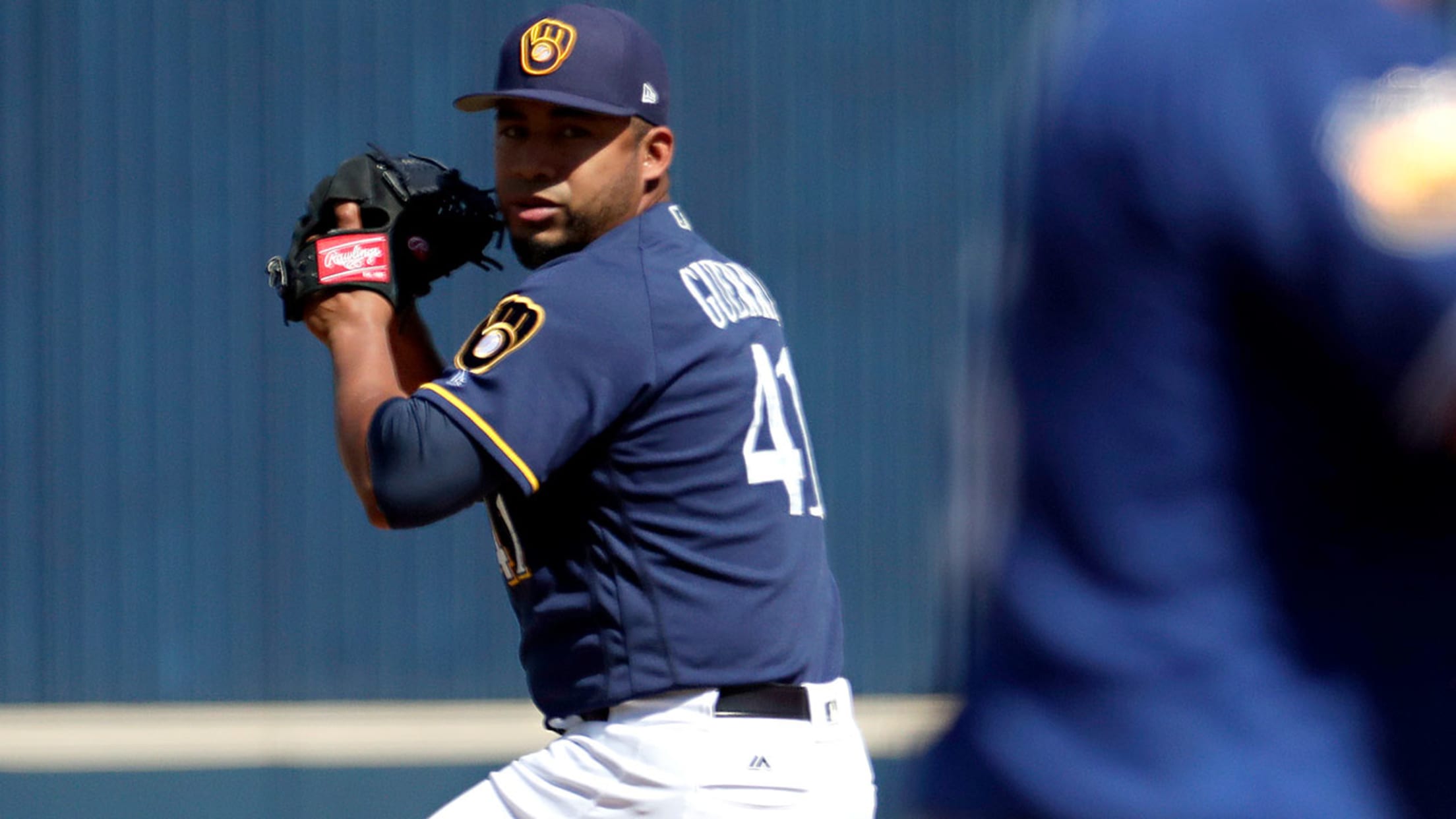 Right-hander Junior Guerra allowed one run in four innings against the Mariners on Monday. (AP)
PHOENIX -- Brewers manager Craig Counsell was talking about the group of pitchers reassigned to the Minor Leagues on Monday when he dropped a juicy hint about Opening Day."We're at the fourth time through, starting today, with the starters," Counsell said on a day Junior Guerra started a 24-3 rout
PHOENIX -- Brewers manager Craig Counsell was talking about the group of pitchers reassigned to the Minor Leagues on Monday when he dropped a juicy hint about Opening Day.
"We're at the fourth time through, starting today, with the starters," Counsell said on a day Junior Guerra started a 24-3 rout of the Mariners at Maryvale Baseball Park. Counsell declined to make any formal pronouncements about his starting rotation, but that represented the best indication yet that Guerra will get the baseball on Opening Day against the Rockies at Miller Park, followed by Zach Davies in Game 2.
It would complete quite a rise for both right-handers, neither of whom even made Milwaukee's Opening Day roster last year. Davies came up April 17 and went 11-7 with a 3.97 ERA in 28 starts. Guerra came up May 3 and went 9-3 with a 2.81 ERA in 20 starts.
Guerra's rise to Major League Opening Day starter would complete a stunning journey. Just three years ago, he was pitching in Italy's professional league.
"To tell you the truth, I'm just focused on making sure I'm in the rotation," Guerra said. "Whether it's going first or going fifth, I'm just doing my best to make sure I'm in the rotation and giving my team a chance to win."
And if he does get the nod?
"If I do get that opportunity, you just have to be real thankful," Guerra said. "Then just work hard. If I do [start Opening Day], I feel like I have to work three times harder than what I've been doing."
While Brewers hitters went bananas against the Mariners, Guerra surrendered only one hit -- a Ben Gamel home run -- in four innings. Because he threw only 52 pitches, Guerra threw some more in the bullpen after exiting the game.
"He was very efficient," Counsell said.
Guerra's baseball journey, however, has been long. He was out of affiliated baseball for five years from 2009-14 after being suspended under the Minor League drug program as a Mets farmhand, and pitched in Venezuela, in Mexico, in Italy and in Independent ball in Wichita, Kan., during those seasons. Along the way he learned the split-fingered fastball, a change-of-pace pitch that revitalized his career.
He hooked on with the White Sox for 2015 and made it to their bullpen late in the season. The Brewers took note and claimed Guerra off waivers -- making him new general manager David Stearns' first-ever acquisition. A year ago, Guerra was on the fringes of the Brewers' spring bullpen competition.
Now he's poised to start the 49th season in franchise history.
"We're certainly getting closer" to make the decision official," Counsell said, "because we're getting closer to Opening Day."
He left it at that.