Attanasio confirms Crew exploring trade block
Brewers enter 10-game road trip on Monday with 4 1/2-game lead over Cubs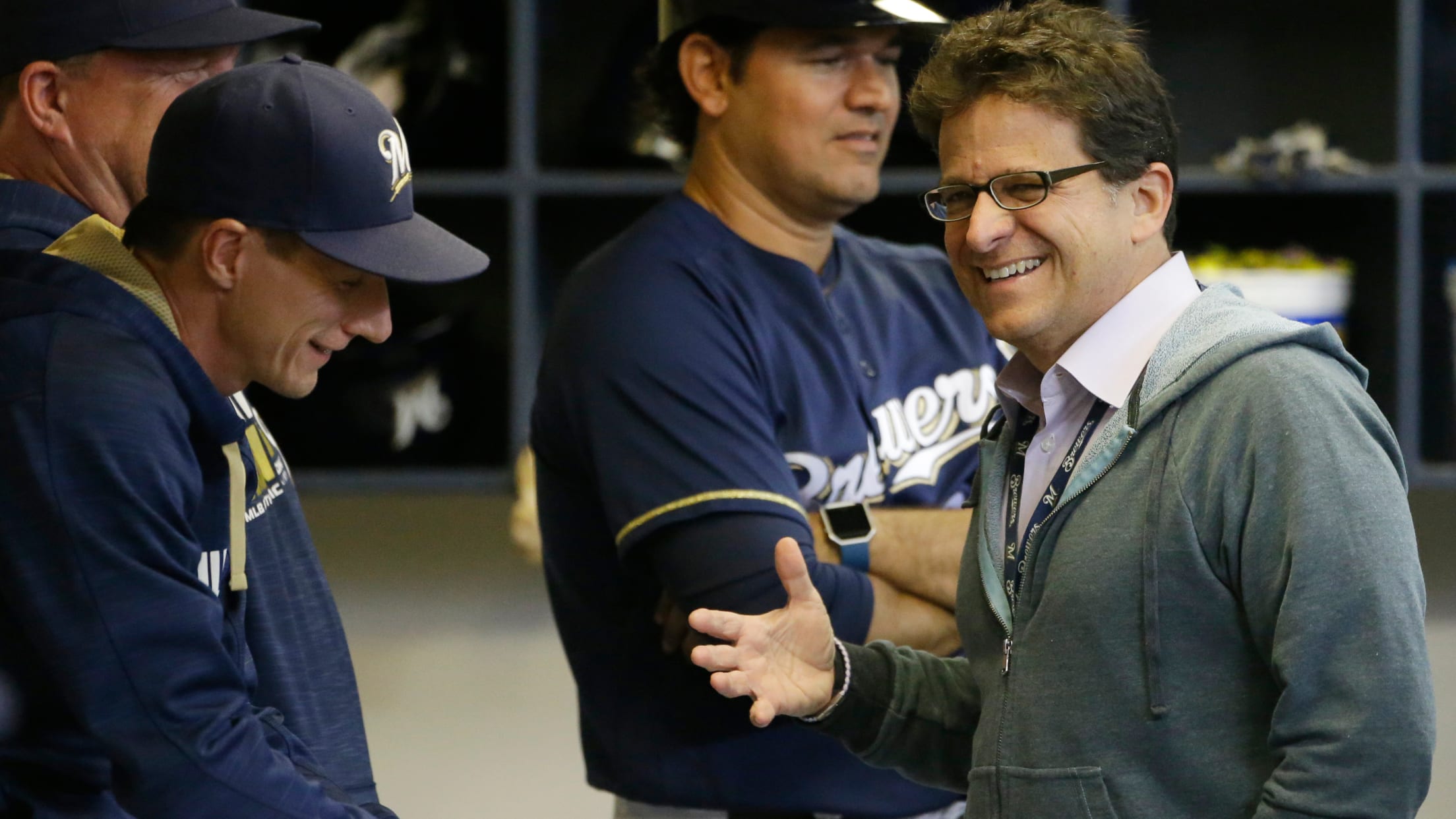 Brewers owner Mark Attanasio confirmed the club was in on White Sox pitcher Jose Quintana before he was traded to the Cubs. (AP)
MILWAUKEE -- To be a fly on the wall in the manager's office at Miller Park on Saturday, when Brewers skipper Craig Counsell, general manager David Stearns and owner Mark Attanasio met to plot the final two weeks before the July 31 nonwaiver Trade Deadline. Will the Brewers dip into
MILWAUKEE -- To be a fly on the wall in the manager's office at Miller Park on Saturday, when Brewers skipper Craig Counsell, general manager David Stearns and owner Mark Attanasio met to plot the final two weeks before the July 31 nonwaiver Trade Deadline. Will the Brewers dip into their bank of prospects to acquire a starting pitcher? They were in on White Sox left-hander Jose Quintana before he was traded to the Cubs, Attanasio confirmed, and other talks are ongoing.
"We know this is going to be a focused two weeks," Attanasio said before a 5-2 loss to the Phillies sent the first-place Brewers on a long, three-city road trip that begins Monday in Pittsburgh. "Craig was saying how we can't get too uptight -- I don't think he used the word 'uptight,' but we can't be where we're, like, 'hanging on.' We have to stay loose.
"And then he looked at me and he said, 'And this means you, too!'"
Attanasio laughed. His competitiveness is well-known, and now that the Brewers are atop the National League Central ahead of schedule, the question has been whether Attanasio would lean on young GM Stearns to shift away from "acquire, develop and retain" toward, "go for it."
Attanasio has said that decision belongs to Stearns. That remained true, Attanasio said, after the Cubs landed Quintana.
"Maybe it's just being here 13 seasons now, maybe it's the confidence I have in David and the group and the processes they put in place, but I'm surprised how much it doesn't [trigger a desire to react]," Attanasio said. "We have to do the right thing here."
The Brewers, leading the National League Central by 4 1/2 games over the Cubs, look like they will be buyers in some fashion.
"We were in on Quintana," Attanasio said, though he declined to say how far in.
According to various reports, they are also in on A's right-hander Sonny Gray and Blue Jays left-hander J.A. Happ, both of whom -- notably -- are under club control beyond this season. Ken Rosenthal of MLB Network was the reporter who linked the Brewers to Happ, whom Rosenthal characterized as "highly unlikely" to be dealt.
The Blue Jays are enduring a down season but are not inclined to dive into rebuilding, Rosenthal reported. Clubs in similar situations with controllable starting pitchers include the Tigers (Michael Fulmer, Justin Verlander), Pirates (Gerrit Cole) and Giants (Jeff Samardzija). Chris Archer of the Rays and Yu Darvish and Cole Hamels of the Rangers also have also reportedly drawn trade interest.
Gray, however, remains the most likely pitcher in that category to be dealt, and he has significant ties to the Brewers in pitching coach Derek Johnson (from Gray's college days at Vanderbilt) and former A's teammates Eric Sogard and Stephen Vogt.
While Stearns weighs his options, the Brewers hit the road to Pittsburgh for four games, followed by three in Philadelphia and three more in Washington D.C. against the NL East-leading Nationals They then return to Miller Park for three games against the Cubs leading up to the Trade Deadline.
"It's going to be a good test for us," said left-hander Brent Suter, scheduled to start Monday night in the opener against Pittsburgh. "I'm sure the outside pressure is going to build and build, but we're going to keep it one day at a time. … We believe in ourselves. It started at the end of last year when we started playing really well."
Counsell spoke of the same foundation in his meeting with Attanasio and Stearns on Saturday, according to Attanasio. Counsell's aim is to maintain the loose atmosphere which has carried the surprising Brewers this far.
"Jimmy Nelson commented on this, that looking back on 2014, I think we were all hanging on the standings too much," said Attanasio, referring to the Brewers' late-season collapse that year after spending 150 days in first place. "There's all kinds of websites that run probability scenarios -- we run our own, by the way -- but you can drive yourself crazy with it. I think we're trying not to do that."