Brewers putting important moms on display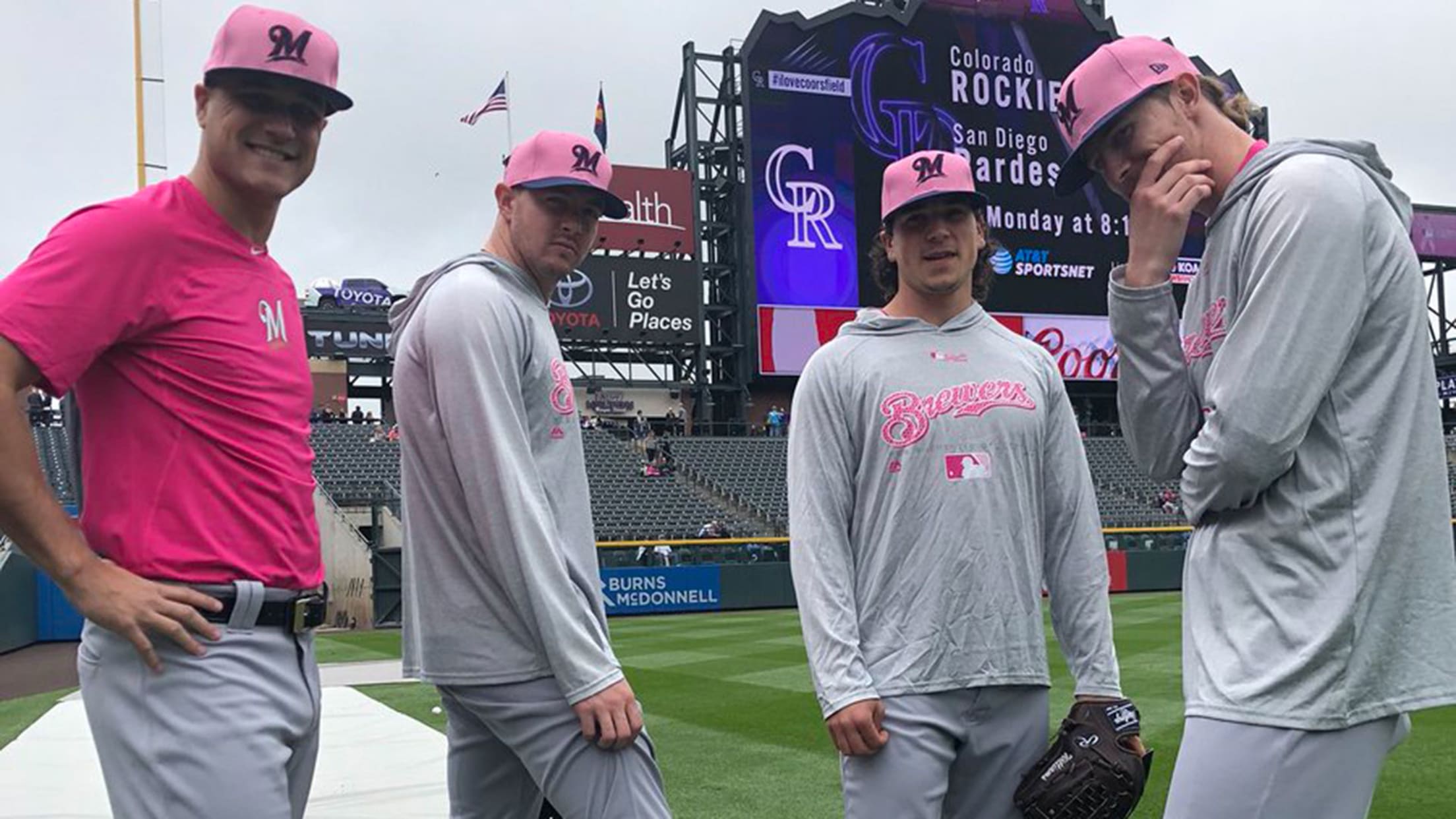 DENVER -- While Brewers players swung pink bats and donned pink caps, socks, spikes and every other accessory imaginable for Mother's Day, one fan awaited her day in the baseball spotlight.Nichole Kutmas, a middle school teacher from New Berlin, Wis., is the Brewers' Honorary Bat Girl as part of Major
DENVER -- While Brewers players swung pink bats and donned pink caps, socks, spikes and every other accessory imaginable for Mother's Day, one fan awaited her day in the baseball spotlight.
Nichole Kutmas, a middle school teacher from New Berlin, Wis., is the Brewers' Honorary Bat Girl as part of Major League Baseball's annual "Going To Bat Against Breast Cancer" initiative. Since the Brewers were on the road for Mother's Day on Sunday, they will honor Kutmas when they return to Miller Park on May 21 against the D-backs.
She was nominated by ABCD: After Breast Cancer Diagnosis, an organization founded and grounded in Milwaukee that creates connections between breast cancer survivors and patients, families and friends who need support. A mother of three, Kutmas was diagnosed with Stage 1 breast cancer in 2013.
As one of ABCD's professionally trained volunteer mentors, she said she willingly shares her story with others because, "I want people to know that cancer cannot cripple love, it cannot shatter hope, it cannot conquer the spirit. In fact, if there is a reason that I was diagnosed, it must be this: so I could help others who are going through the same thing."
And today we wear pink. Happy Mother's Day! #mothersday2018 pic.twitter.com/JnIApN2nJD

— Travis Shaw (@travis_shaw21) May 13, 2018
In Denver, Brewers pitching prospect -- ranked No. 9 in the organization by MLB Pipeline -- Freddy Peralta made his Major League debut with his mother, who'd never before seen him pitch professionally, in the stands, and a number of hitters had their own messages to share via their customized pink bats.
Take Tyler Saladino, the organizational newcomer who made his first Brewers start at shortstop and swung a pink bat with "Grandma" where his name would normally be.
Janet Saladino is well-known to Saladino's and his older brother's friends in San Diego.
"My grandma and my grandpa, together, they coached a ton of us. Everybody in town knows my grandma and grandpa," Saladino said. "They were at every single game, Little League, all the rec-ball games and everything. They drove the same old white pickup with the camper shell and were always there with the donuts and candy and stuff.
"Grandma is like our rock. Grandpa, just as much, but there's something about the grandmother side of it. She's a super important person to a lot of us."
Saladino's bat arrived just in time. It was shipped to Nashville, where Triple-A Colorado Springs was playing last week. But Saladino had already been been shipped to the Majors, so the bat needed to be shipped, too.
It came as no surprise that catcher Manny Pina was swinging pink lumber again on Sunday. Last year on Mother's Day, he hit a go-ahead, three-run home run in the eighth inning to beat the Mets at Miller Park with his mom, Minda, in the stands.
Ever the dutiful son, Pina made sure to call home Sunday morning.
"I was just talking to my mother right now, and she said, 'Don't forget to hit a homer!'" Pina said. "That was a moment I'll never forget. That was a special day and a special moment."