Braun encouraged after MRI in Milwaukee
Brewers slugger hopes for return to lineup on Tuesday vs. Red Sox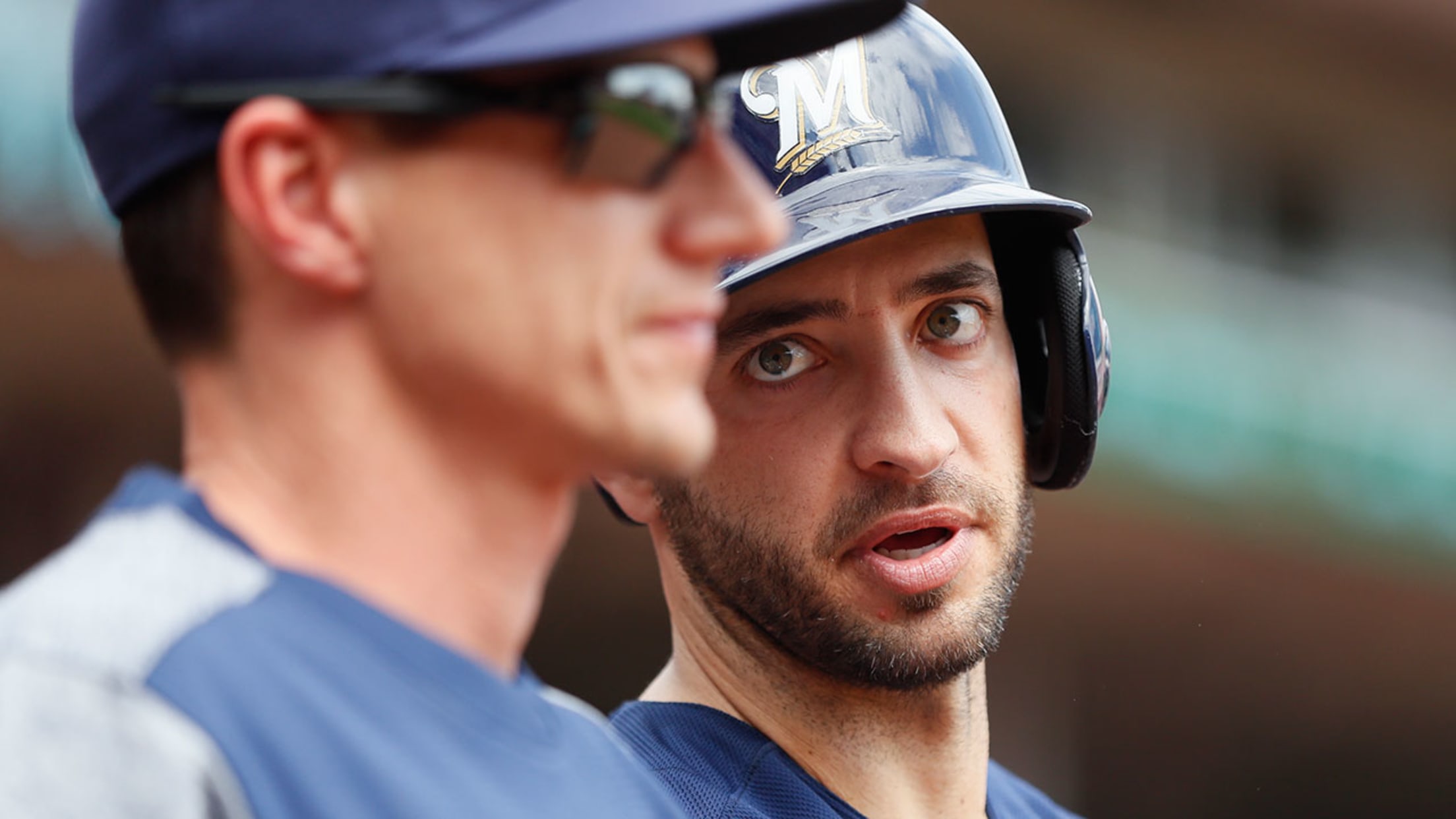 Ryan Braun last started for the Brewers on Sunday and appeared as a pinch-hitter on Tuesday in St. Louis. (AP)
PITTSBURGH -- Brewers left fielder Ryan Braun rejoined the team on Saturday after a quick trip to Milwaukee to consult with team physician Dr. William Raasch about his sore right throwing arm.Braun had an MRI on Friday and was encouraged by the results."I got an MRI yesterday, and it showed
PITTSBURGH -- Brewers left fielder Ryan Braun rejoined the team on Saturday after a quick trip to Milwaukee to consult with team physician Dr. William Raasch about his sore right throwing arm.
Braun had an MRI on Friday and was encouraged by the results.
"I got an MRI yesterday, and it showed a slight strain of my flexor muscle in my forearm," Braun said. "That was good news. I think it was probably the best-case scenario. They described it as pretty benign. Dr. Raasch said he thinks there is probably a 75- or 80-percent chance I will be able to play by Tuesday.
"Monday is an off-day, so I'm optimistic and encouraged by that diagnosis, and I'll just continue to get treatment and do most of the things that we've been doing and hopefully be back in there shortly."
Braun was in the lineup for the Brewers' win on Sunday against the Braves and hasn't started since. He was able to serve as a pinch-hitter during Tuesday's loss in St. Louis.
"I tried to throw a couple days ago and it was still pretty sore which is why we decided to go with the MRI," Braun explained. "Throwing is more of the issue than hitting, so I'll be available to hit over the next couple of days, but obviously to get back in there and play I need to be able to throw. I'll probably, I would imagine, try to throw, I don't know exactly what the plan is at some point before Tuesday with the intention and the hope of being able to get back in there on Tuesday."
"That's two games away," Brewers manager Craig Counsell offered. "But obviously after an off-day, that's what we are targeting."
Braun is off to a strong start in 2017. Through 25 games, he has seven home runs and 18 RBIs, hitting .284 with a .950 OPS.
George Von Benko is a contributor to MLB.com based in Pittsburgh.