Garza to be re-evaluated Monday after collision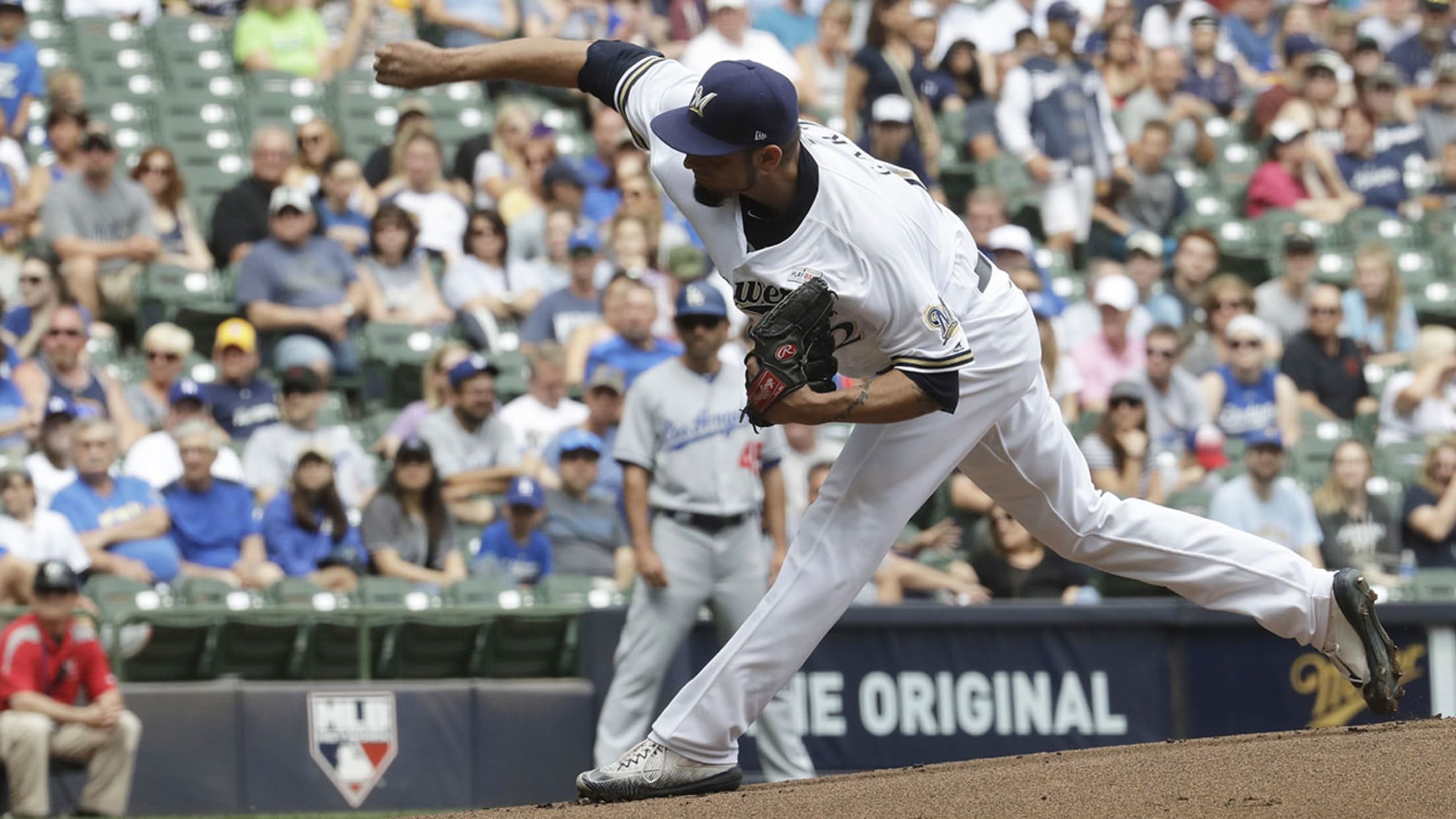 Matt Garza exited after allowing one earned run in four innings against the Dodgers on Saturday at Miller Park. (AP)
MILWAUKEE -- The Brewers have yet to determine if pitcher Matt Garza will be available to make his next scheduled start and will re-evaluate the right-hander on Monday.Garza is feeling the effects of a collision with first baseman Jesus Aguilar during his start Saturday that caused him to leave the
MILWAUKEE -- The Brewers have yet to determine if pitcher Matt Garza will be available to make his next scheduled start and will re-evaluate the right-hander on Monday.
Garza is feeling the effects of a collision with first baseman Jesus Aguilar during his start Saturday that caused him to leave the game with a chest contusion in the fourth inning.
"He's just sore today. Not so much the pitching, but from the collision really," Brewers manager Craig Counsell said Sunday. "I think we'll probably have a better feel for him. Tomorrow is my guess. He's sore. He said he felt like he was in a car crash almost, so we'll just have to wait and see how he reacts the next couple of days."
Garza and Aguilar made hard contact when Dodgers left fielder Cody Bellinger hit a hard grounder along the first-base line, which Aguilar fielded behind the bag. Aguilar tried to beat Bellinger to the base and collided with Garza's right side, spinning him around.
Garza said Saturday he knew he would feel the aftermath of the collision on Sunday but hoped the soreness would subside soon.
"I just tightened up, stiffened up and everything started hurting. Hopefully, this is the brunt of it, but I doubt it. I think I'll be pretty sore tomorrow. I'm just going to go from there," said Garza, who compared the collision to getting hit by a Ford F-350, while Counsell compared the 6-foot-3, 250-pound Aguilar to former Brewers first baseman Prince Fielder.
"There's not too many people bigger than Jesus Aguilar in Major League Baseball. So that's not the guy you want to run into. That's what I would say," Counsell said. "We had Prince [Fielder] for a long time and he wasn't the guy you wanted to run into. Jesus is similar, very similar. He's a big man. Like I said, not the guy you want to run into."