Peralta finds rhythm after rocky first frame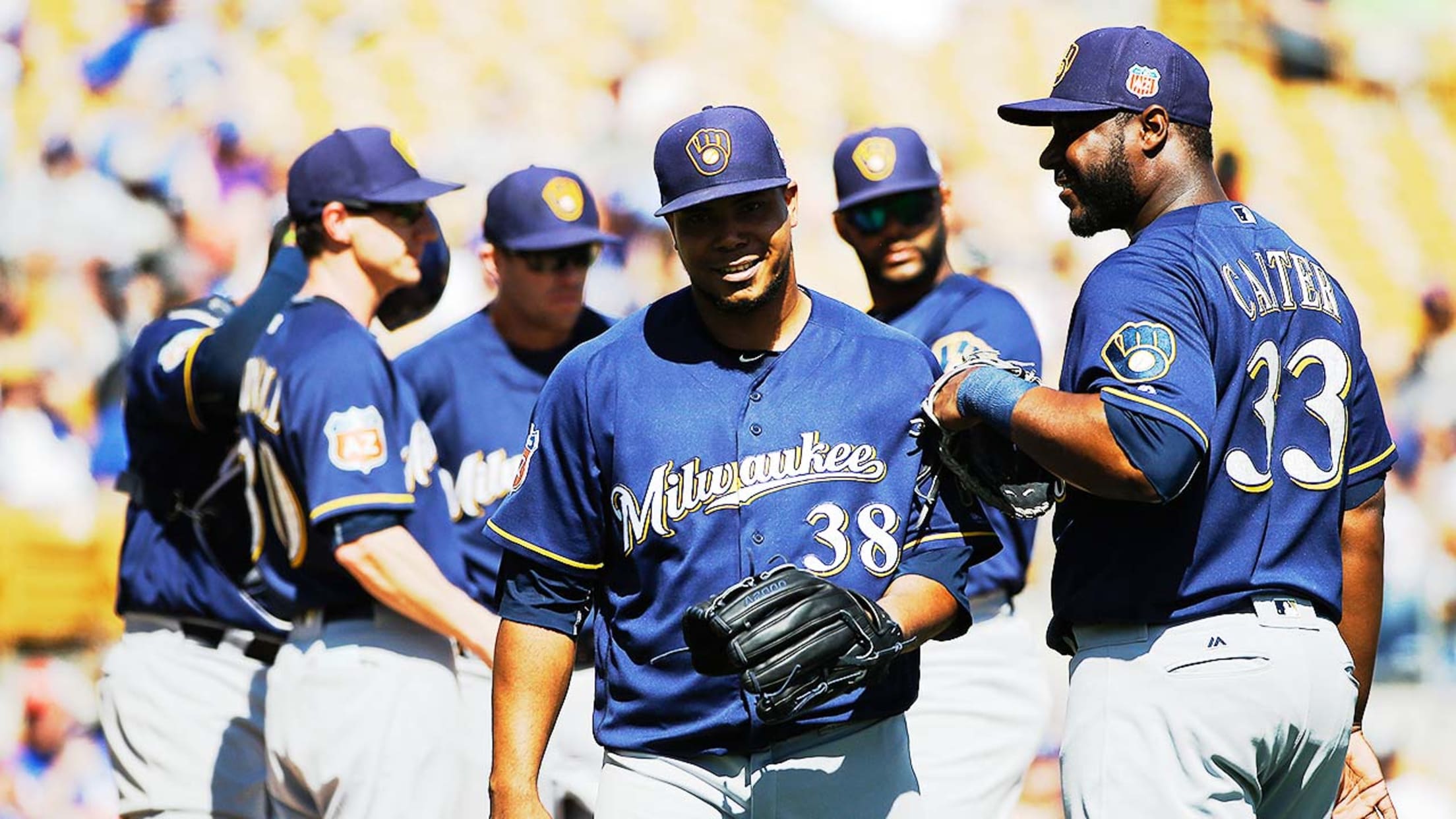 "He made progress, specifically with the slider," manager Craig Counsell said of Wily Peralta. (AP)
PHOENIX -- Wily Peralta changed up the program on Monday against the Dodgers, and he was once again pleased with the results -- despite the final stat line."I think it went pretty good. I gave up a couple of runs, but I got a lot of ground balls and that's
PHOENIX -- Wily Peralta changed up the program on Monday against the Dodgers, and he was once again pleased with the results -- despite the final stat line.
"I think it went pretty good. I gave up a couple of runs, but I got a lot of ground balls and that's what I wanted, especially this early in spring," Peralta said after he allowed six runs -- three earned -- in 3 2/3 innings in a 6-2 Brewers loss. "If I get ground balls, I'm happy, because it means the sinker is working."
Peralta was also pleased with his changeup and his ability to put hitters away with his slider. He felt like he was getting stronger with each inning pitched.
"Everybody wants to perform whenever they take the field, but it's Spring Training," Brewers manager Craig Counsell said. "What I saw today was an outing that he figured something out during the outing, and he made progress, specifically with the slider. I think those are great Spring Training outings. That's what you are out there for -- on the mound to get something going, and I think he got his slider going today."
The Dodgers also liked what they saw from Peralta early, scoring five runs in the first inning -- three on a home run by Trayce Thompson. Peralta gave up only three hits in the inning, but he was stung by an error by Colin Walsh for what would have been the third out. Thompson followed with the homer.
"That was a pitch I left right down the middle," Peralta said. "It was a fastball that was supposed to be in, but I left it up in the middle."
Peralta rebounded to retire the side in order in the second frame, including a strikeout of Yasiel Puig to end the inning. The Dodgers tacked on another run in the third on a RBI double by Adrian Gonzalez to extend the lead to 6-0. But Peralta found his rhythm, was able to locate his fastball and struck out the next four batters in a row. He finished with five strikeouts and one walk.
Peralta allowed three runs on six hits in 1 2/3 innings against the Royals in his previous start, and gave up one run in two scoreless innings against the Mariners in his first Cactus League outing. The right-handed pitcher is completely healthy. He was slowed by an oblique injury last season and had his lowest totals in starts, wins and strikeouts since his debut season in 2012.