Brewers working toward signing Beijing pitcher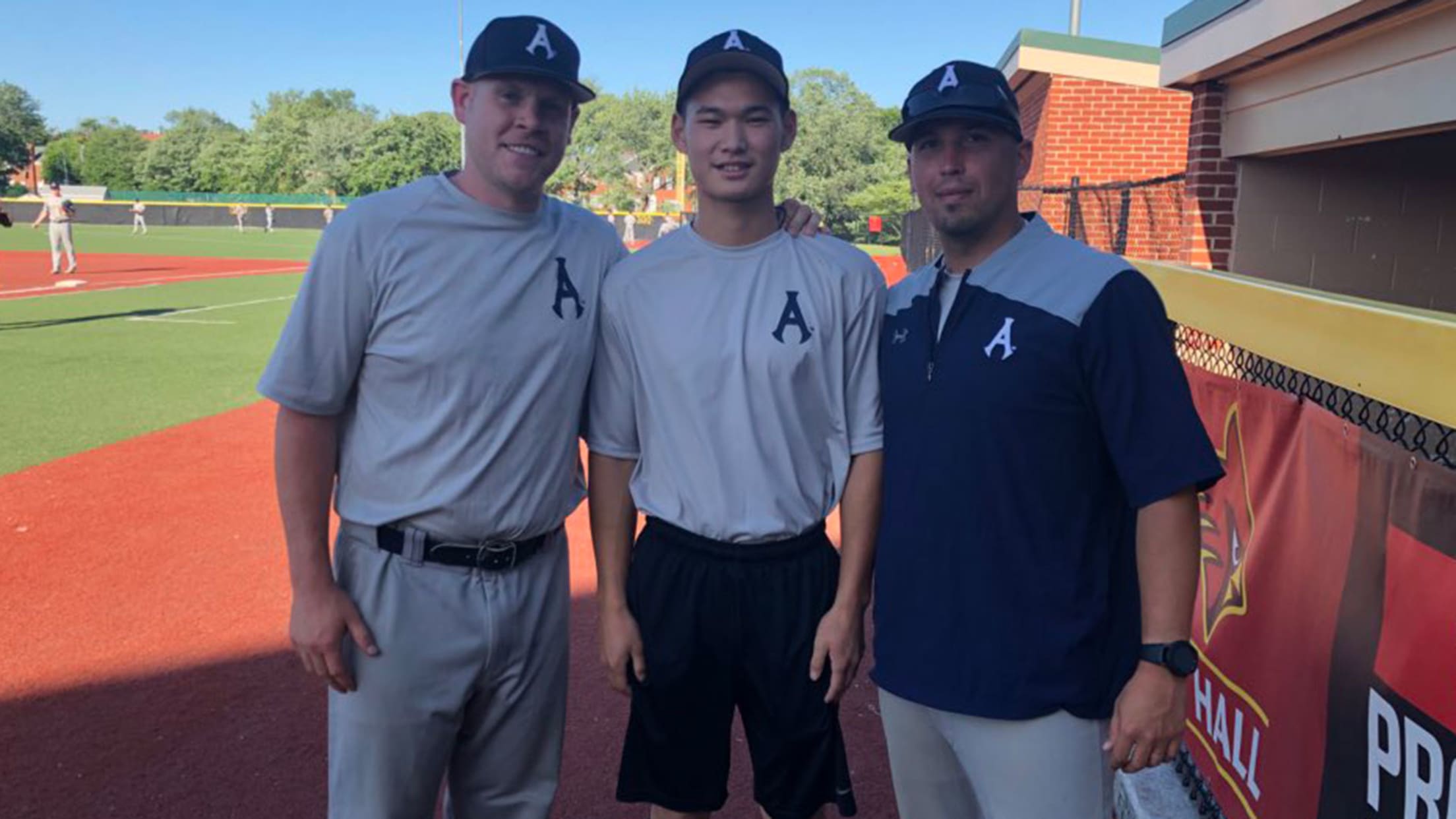 MILWAUKEE -- The Brewers are working to finalize an intriguing international signing in right-hander Jolon Lun, a 16-year-old from Beijing with roots in one of Major League Baseball's development centers in China.Lun, whose fastball reportedly reaches 95 mph, had been pitching against older, more experienced players in the Cal Ripken
MILWAUKEE -- The Brewers are working to finalize an intriguing international signing in right-hander Jolon Lun, a 16-year-old from Beijing with roots in one of Major League Baseball's development centers in China.
Lun, whose fastball reportedly reaches 95 mph, had been pitching against older, more experienced players in the Cal Ripken Collegiate Baseball League. His team, the Alexandria Aces, tweeted news of his agreement with the Brewers on Friday night, which was first uncovered Thursday night by the website Brewerfan.net.
The Brewers did not confirm the pending deal, and general manager David Stearns said he could not comment.
The only Major Leaguer to have been born in China was Harry Kingman, who played in three games for the 1914 Yankees. Austin Brice, a right-hander who has made 24 appearances out of relief for the Reds this season, was born in neighboring Hong Kong, and a number of players have come from Taiwan, including former Brewers left-hander Wei-Chung Wang.
Progress for Villar
Brewers infielder Jonathan Villar missed a second straight start Friday with a tight left calf, but said he anticipated a full return on Saturday. He was injured legging out an infield hit against the Cubs on Wednesday.
"My hamstring was tight, and my calf just took everything," Villar said.
The Brewers have gotten little production from some of their middle infielders this season, but Villar has actually enjoyed a bounce back from his disappointing 2017. He entered Friday slashing .277/.325/.410, including a .293 average with five of his six home runs in his last 25 games.
His setback might have been a matter of hydration, Villar said. He pointed to the four bottles of water on a shelf above his locker, placed there by assistant Rafael Freitas.
"When I finish right there, he'll put out four more," Villar said.
Trade with Yankees
The Brewers sent some of their remaining international pool dollars to the Yankees on Friday for Minor League right-hander Chad Whitmer, who spent last season with the Yankees' rookie-level Gulf Coast League team.
Whitmer, 23, was a 10th round Draft pick out of Southern Illinois University last year, posting a 3.79 ERA with a 1.37 WHIP in 14 relief appearances for the GCL Yankees. He struck out 22 batters versus two walks.
Minor League pitcher suspended
Tyler Spurlin, a Minor League right-hander who was regarded enough by the Brewers in 2016 that they sent him to the Arizona Fall League, was suspended 50 games Friday after testing positive for an amphetamine.
Spurlin, who turns 27 on Sunday, was already out for the season after undergoing Tommy John surgery in March. He did not pitch at all in 2017 because of a right elbow sprain.
The Brewers originally signed Spurlin as an undrafted free agent out of Rice University in 2013.
Draft signings
Supplemental second-round Draft pick Micah Bello signed with the Brewers for $550,000, according to MLB.com's Jonathan Mayo, shy of the $824,900 slot value assigned to the 73rd overall pick.
The Brewers have announced 10 signings so far, a list topped by Bello. Also signed: Left-hander Aaron Ashby (fourth round), right-hander Justin Jarvis (fifth round) catcher David Fry (seventh round), right-hander Luis Gonzalez (eighth round), right-hander J.T. Hintzen (10th round), left-hander Scott Sunitsch (18th round), right-hander Brady Schanuel (27th round), left-hander Michael Mediavilla (34th round) and right-hander Franklin Hernandez (37th round).
Ashby signed for $520,000, above the $438,300 assigned to that pick. Jarvis signed for $327,100 (full pick value) and Fry got $10,000 (slot value was $197,000).
Last call
• Freddy Peralta's three-inning start for Triple-A Colorado Springs on Thursday was by design, a strong indication that the Brewers plan to bring him back to the Major Leagues on Tuesday in Pittsburgh when they next need a starting pitcher in place of the injured Zach Davies.
• Recent acquisition Brad Miller made his organizational debut on Thursday for the SkySox. Miller, acquired last week from the Rays, went 1-for-4, while playing the entire game at shortstop. He was charged with two errors.
• Brewers players, coaches and staff fanned out across Milwaukee on Friday as part of the team's #KindnessInMKE event, surprising nonprofit organizations and random citizens with gestures of thanks. Brewers director of new media Caitlin Moyer covered the event on her blog, Cait Covers The Bases.