Anderson battling through grind of rookie year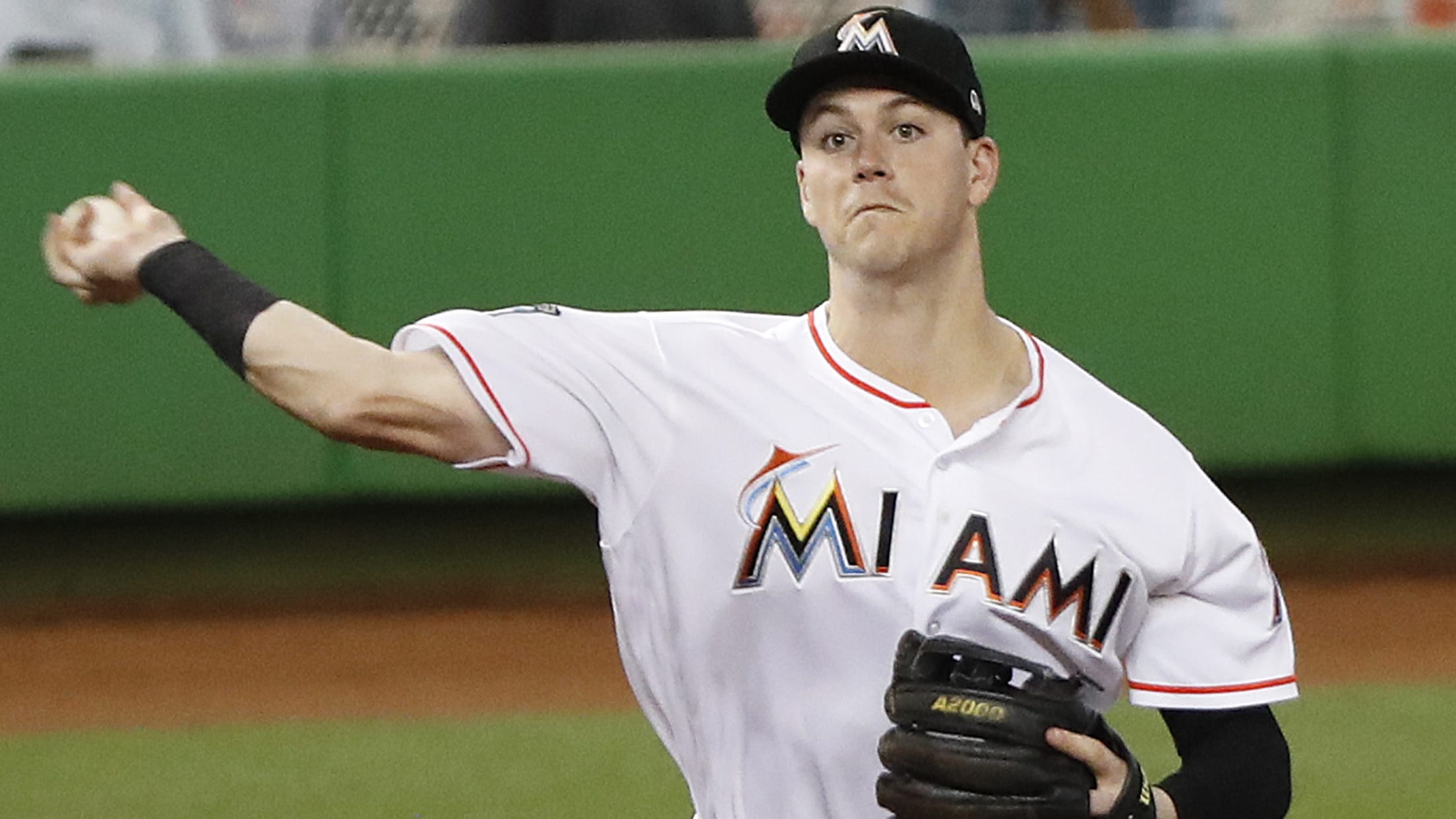 Miami Marlins third baseman Brian Anderson throws the ball to first base during the eight inning of a baseball game against the Philadelphia Phillies, Monday, Sept. 3, 2018, in Miami. (AP Photo/Brynn Anderson) (Brynn Anderson/AP)
MIAMI -- From the start of Spring Training through the regular season, Brian Anderson has been a staple in the Marlins' lineup and one of the core building blocks for the organization.But the 25-year-old's first full season in the big leagues also has been filled with ups and downs, and
MIAMI -- From the start of Spring Training through the regular season, Brian Anderson has been a staple in the Marlins' lineup and one of the core building blocks for the organization.
But the 25-year-old's first full season in the big leagues also has been filled with ups and downs, and a late-season struggle.
Still, he's had a season in which he's likely to receive National League Rookie of the Year attention. The third baseman/right fielder has made a case to be in the top five of the voting.
"I think it's good for him to go through a whole season," Marlins manager Don Mattingly said. "Even though I think he's struggled lately, I feel like part of that is on the mental side, just getting worn down having to get ready to play every day. Once you go through that, you kind of know what to expect going into the next season."
Entering Tuesday night against the Nationals, Anderson is hitting .163 in 12 games in September, and .269/.352/.393 with 10 home runs and 59 RBIs overall this year. His 146 games are tops among all National League rookies.
Going through a full slate will give Anderson a better indicator of how to prepare in the offseason for 2019, when he projects to be the regular third baseman.
"At one point he lost like 12 pounds during the season," Mattingly said. "He's got to find a way to stay strong. Have a lift routine. Keep weight on, because 12 pounds, you're losing some energy and strength in there."
The Marlins have already approached Anderson about coming up with ways to prepare to go the distance in future seasons.
"It's something we'll talk about, but he knows that we need to figure a way to keep him strong throughout the course of the year," Mattingly said.
Completing a big league season is more taxing than in the Minor Leagues.
"A full season in the Minor Leagues is 140 games, and then you add on another month," Mattingly said of life in the big leagues. "Now, a lot of those younger guys will go play in the Instructional League. But it's just not the same."
Another factor for young players is dealing with the string of strong starting pitchers, including Max Scherzer and Stephen Strasburg of the Nationals, and Jacob deGrom of the Mets.
"Every night you've got to keep getting ready," Mattingly said. "That's not the same as a Minor League season. Obviously, there's quality down there. There's prospects coming along, but you're not seeing that quality every day. You're seeing it now and then. That's the tough part of the game, being ready to handle the mental load of a 162-game schedule, because it's not four days a week, it's not once a week, it's every day, pretty much."
Worth noting
Starlin Castro, who had a home run and drove in three runs in Monday's 8-5 win, was given a breather on Tuesday, getting a day off. Miguel Rojas played second base.
Castro, part of the Giancarlo Stanton trade with the Yankees, has come as advertised. He's been a steady veteran presence on a young squad.
"I think Starlin is a really talented guy with the bat," Mattingly said. "I think Starlin's biggest challenges are getting him strikes to hit. Not chase out of the zone. He doesn't really get beat by the pitcher. It's usually by not staying in the strike zone."