Dozier looking to lead, gets advice from Torii
Twins second baseman working to shake his struggles at the plate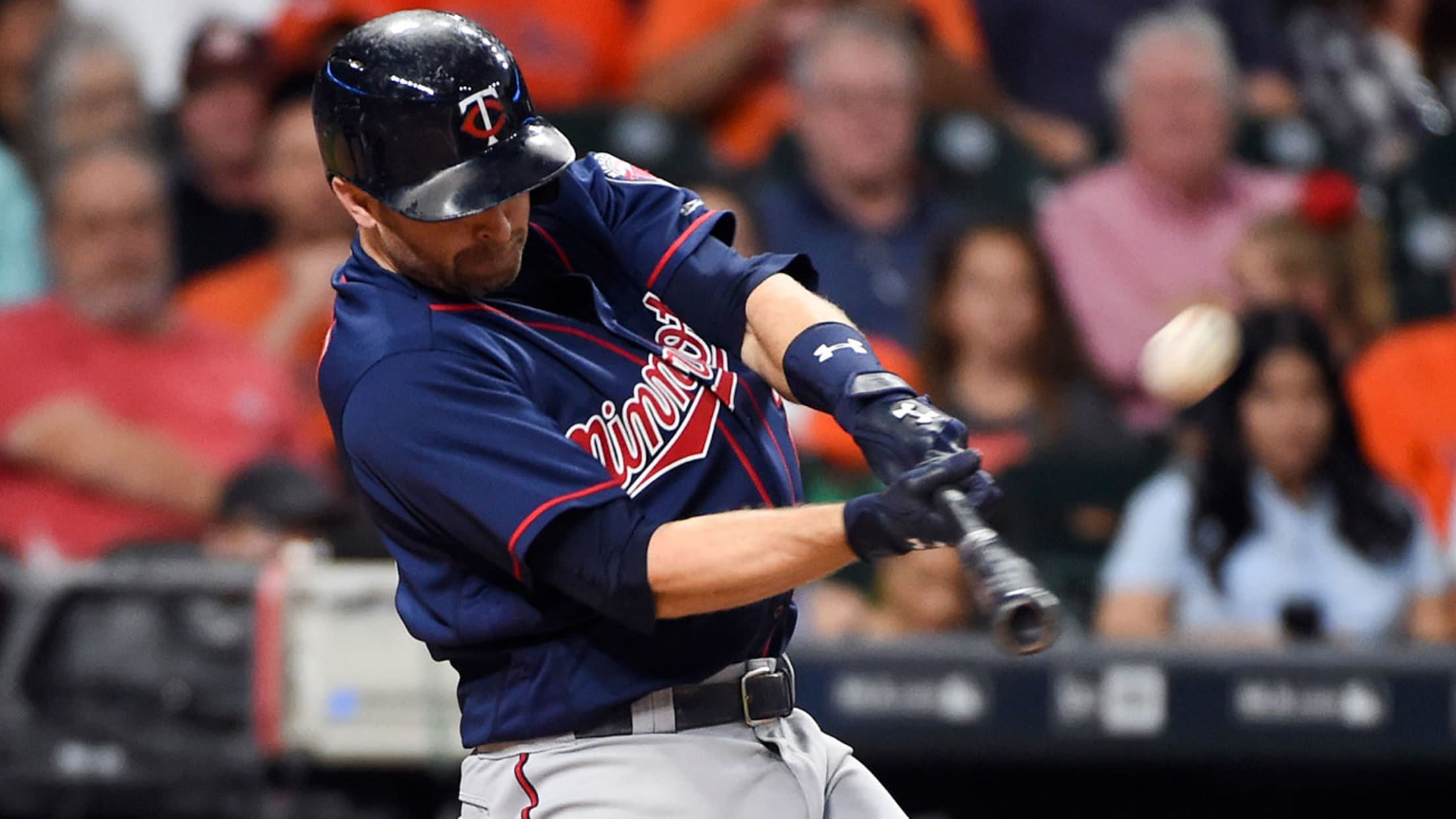 "We talked about a lot of different things and it really opened my eyes," Brian Dozier said of his conversation with Torii Hunter. (AP)
MINNEAPOLIS -- After going 1-for-16 in the Twins' four-game series against the Blue Jays that saw his average tumble to .199, second baseman Brian Dozier woke up on Monday morning to a phone call from his former teammate Torii Hunter.Dozier, who has tried to assert himself as the club's leader
MINNEAPOLIS -- After going 1-for-16 in the Twins' four-game series against the Blue Jays that saw his average tumble to .199, second baseman Brian Dozier woke up on Monday morning to a phone call from his former teammate Torii Hunter.
Dozier, who has tried to assert himself as the club's leader in Hunter's absence, admitted it's been tough trying to lead while also struggling at the plate. Dozier wouldn't delve too deeply into the specifics of Hunter's advice, but said the conversation was about the mental side of the game and what Dozier can do to be a better leader.
"We talked about a lot of different things and it really opened my eyes," Dozier said. "It was about what I can do to help get things rolling rather than sitting back and waiting for us to start hitting. You don't have to be hitting .300 to be a leader. He shared a lot with me about his struggles in the game, and how he had to be a leader more than ever."
Dozier also met with manager Paul Molitor before Monday's game against the Royals, as Molitor decided to give Dozier a mental break, starting Eduardo Nunez at second base. Molitor said he's not sure if he'll give Dozier a few days off or if he'll be back in the lineup on Tuesday.
"We're just trying to get a little more out of him," Molitor said. "He's trying to get that big hit more often than not instead of keeping the line moving and those types of things."
Twins general manager Terry Ryan also called on Dozier to get it going this season, as Dozier was an All-Star in 2015, hitting .236/.307/.444 with 27 homers, 39 doubles, 77 RBIs and 101 runs. But he's continued his struggles from the second half last year, when he hit .210 after the break, and Ryan believes Dozier is trying to pull the ball too much.
"We've got to fix Brian Dozier," Ryan said. "The talent is there. We all saw it the first half, but there also has to be adjustability. Our patience is high. There is no doubt. Brian Dozier's a smart guy. It's not working right now, so we've got to adjust."
Hitting coach Tom Brunansky noted Dozier was faring better offensively after some mechanical changes, hitting .286 with two homers and 10 RBIs in a 10-game stretch before sustaining a minor hamstring injury in Chicago on May 8. Since then, Dozier is hitting .143 with no homers, and Brunansky said Dozier is trying to pull too many outside pitches. He noted pitchers don't go inside against Dozier as much anymore and it's on him to adjust.
"There were some changes we made in terms of where he was in the batter's box and it freed him up a little bit and made him better at the plate, but this last series, it was him trying to do everything," Brunansky said. "He was trying to pull pitches he probably shouldn't try to pull. He's a pull hitter, and everyone knows what, but in big situations, pitchers aren't going to miss in."