Royals have to add Duensing or let him go
Lefty will opt out Tuesday, giving club until Thursday to make roster move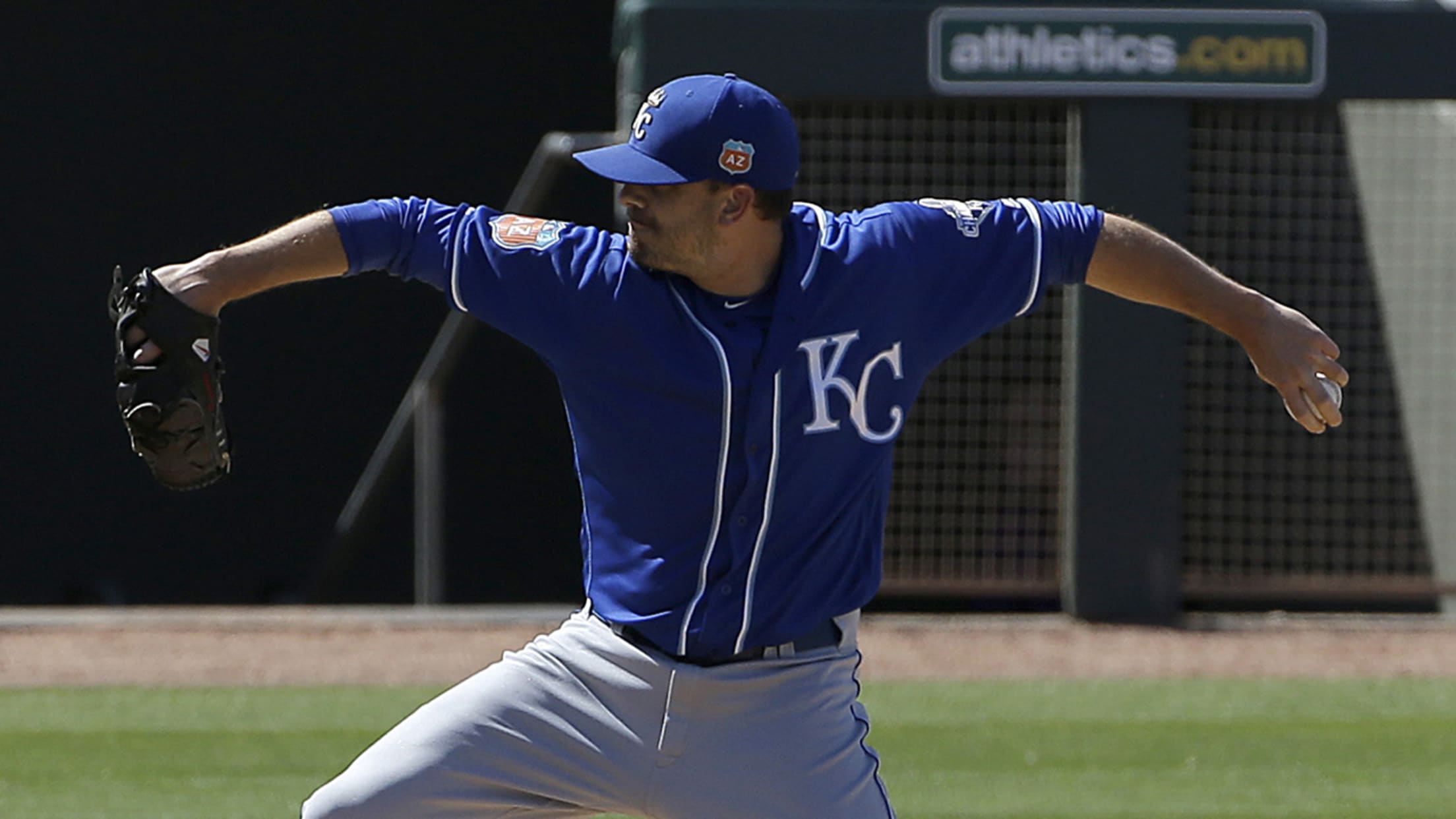 Brian Duensing went 1-0 with a 2.61 ERA in 10 Cactus League appearances. (AP)
SURPRISE, Ariz. -- Left-hander Brian Duensing, signed in the offseason to a Minor League deal, was seen hugging several teammates, including former Nebraska teammate and good friend Alex Gordon, and saying good-byes on Monday morning in the Royals' clubhouse.Duensing, 33, has an opt-out clause in his contract, and he confirmed
SURPRISE, Ariz. -- Left-hander Brian Duensing, signed in the offseason to a Minor League deal, was seen hugging several teammates, including former Nebraska teammate and good friend Alex Gordon, and saying good-byes on Monday morning in the Royals' clubhouse.
Duensing, 33, has an opt-out clause in his contract, and he confirmed that he will exercise it on Tuesday, at which point the Royals will have until Thursday to add him to the 40-man roster or he will become a free agent.
As for the good-bye hugs, Duensing said, "Precautionary. I really don't know how this all works. First-timer."
He planned on working out with the Royals on Monday.
Duensing has been in a battle for perhaps the final bullpen spot, mainly with Chien-Ming Wang, the surprise of camp. Wang's opt-out can't be exercised until May 1, and he could be sent to Triple-A Omaha during April if the Royals elect to keep both pitchers in the organization for the time being.
• Royals depth chart
Whether it is Duensing or Wang who gets added to the 25-man roster, a move will have to be made to free up a spot on the 40-man. One obvious move would be to shift left-hander Tim Collins to the 60-day disabled list. Collins found out last week that he will need a second Tommy John surgery.
Both Duensing and Wang have had excellent camps. Duensing has a 2.61 ERA in 10 appearances. Wang has a 2.08 ERA in seven appearances.
"I don't know how this all works," Duensing said of his opt-out. "We'll see what happens. Whatever works."
Yost expects to set roster by Friday
Royals manager Ned Yost said he likely will have the 25-man roster set by Friday, though he may not announce it at that time.
Yost also indicated that he and the coaching staff will stay in Arizona for the final Cactus League game against the D-backs on Saturday afternoon in Phoenix, though most of the regulars will fly back to Kansas City that morning to get ready for Sunday's season opener against the Mets.
Right-hander Yordano Ventura also will stay back on Saturday and is scheduled to pitch against the D-backs. Ventura is slated to be the No. 3 starter.