Harper adjusting to seeing fewer strikes
Nats slugger still getting on base regularly, but his average has dipped in May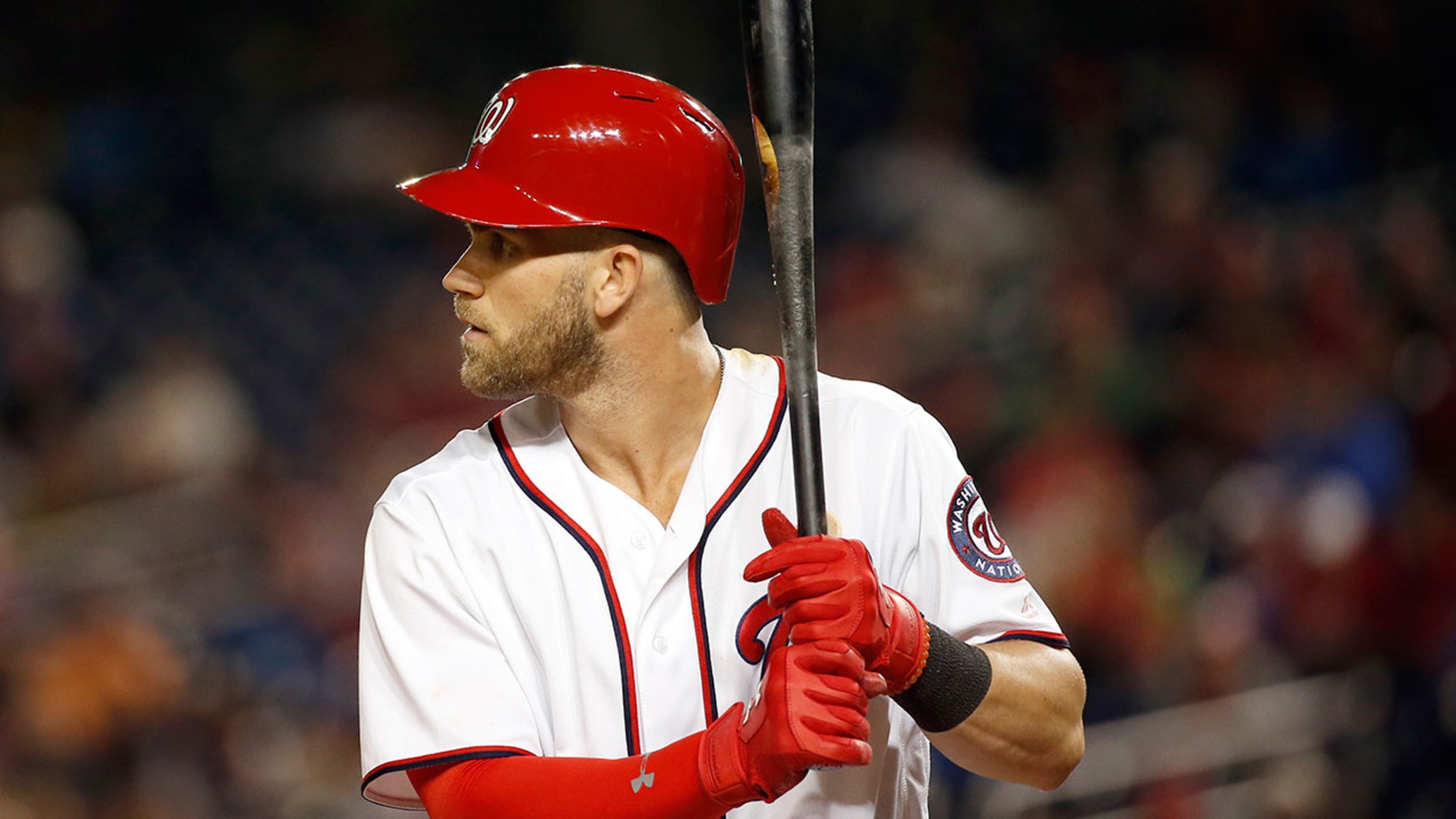 "I don't feel like there's a problem at all. I just need to stay through the baseball," Bryce Harper said. (AP)
WASHINGTON -- About 40 minutes after Monday's 7-1 loss to the Mets, Bryce Harper walked into the Nationals' clubhouse still wearing his full uniform, with his batting gloves on and carrying his bat. Had he gone straight to hit in the batting cage after he went 0-for-4?"No comment," he said.The
WASHINGTON -- About 40 minutes after Monday's 7-1 loss to the Mets, Bryce Harper walked into the Nationals' clubhouse still wearing his full uniform, with his batting gloves on and carrying his bat. Had he gone straight to hit in the batting cage after he went 0-for-4?
"No comment," he said.
The Mets, as so few teams have been willing to do recently, challenged Harper at the plate Monday night, feeding him a steady dose of strikes to retire him four times on only 10 pitches.
"I thought I got good pitches to hit," Harper said. "I felt great up there, to tell you guys the truth. I don't feel like there's a problem at all. I just need to stay through the baseball. That's pretty much it."
Even before the game, Harper deviated from his usual routine by taking batting practice on the field. While on his way to winning the National League Most Valuable Player Award last season, he elected to hit off a tee and take soft toss indoors instead.
But lately, Harper has seen so few pitches to hit, and he's missed them when he has the opportunity. He began the day batting just .222 during May with two home runs and a .352 slugging percentage. But because he has already walked 31 times this month, his on-base percentage was still a robust .500.
"You have to understand that they're going to give me maybe one pitch a game or two pitches a game," Harper said. "If you don't do damage on it, then that's your fault."
Being able to do damage when given so few pitches to hit is a trait most associated with Barry Bonds, to whom Harper has drawn comparisons. But when Bonds dealt with being walked so often he was past the age of 30, while Harper is still only 23 years old, manager Dusty Baker -- who managed both -- offered as a reminder.
"How would Barry have dealt with it when he was 23 years old?" Baker said. "That's what people don't realize; I mean, they realize Barry Bonds after he got it all together. But you go look at his record early in his career. Bryce is miles ahead of Barry right now in his career.
"I never saw [Bonds] ever get frustrated about being walked. I saw him take his elbow guard off right in the middle of the pitch. … He had tremendous vision, and Bryce has the same vision. Hank Aaron had the same vision. But let's not forget this guy is a very young player that's trying to still master his skill."