Selig returns to roots for 1st pitch at Miller Park
Catcher Garcia released from hospital after suffering concussion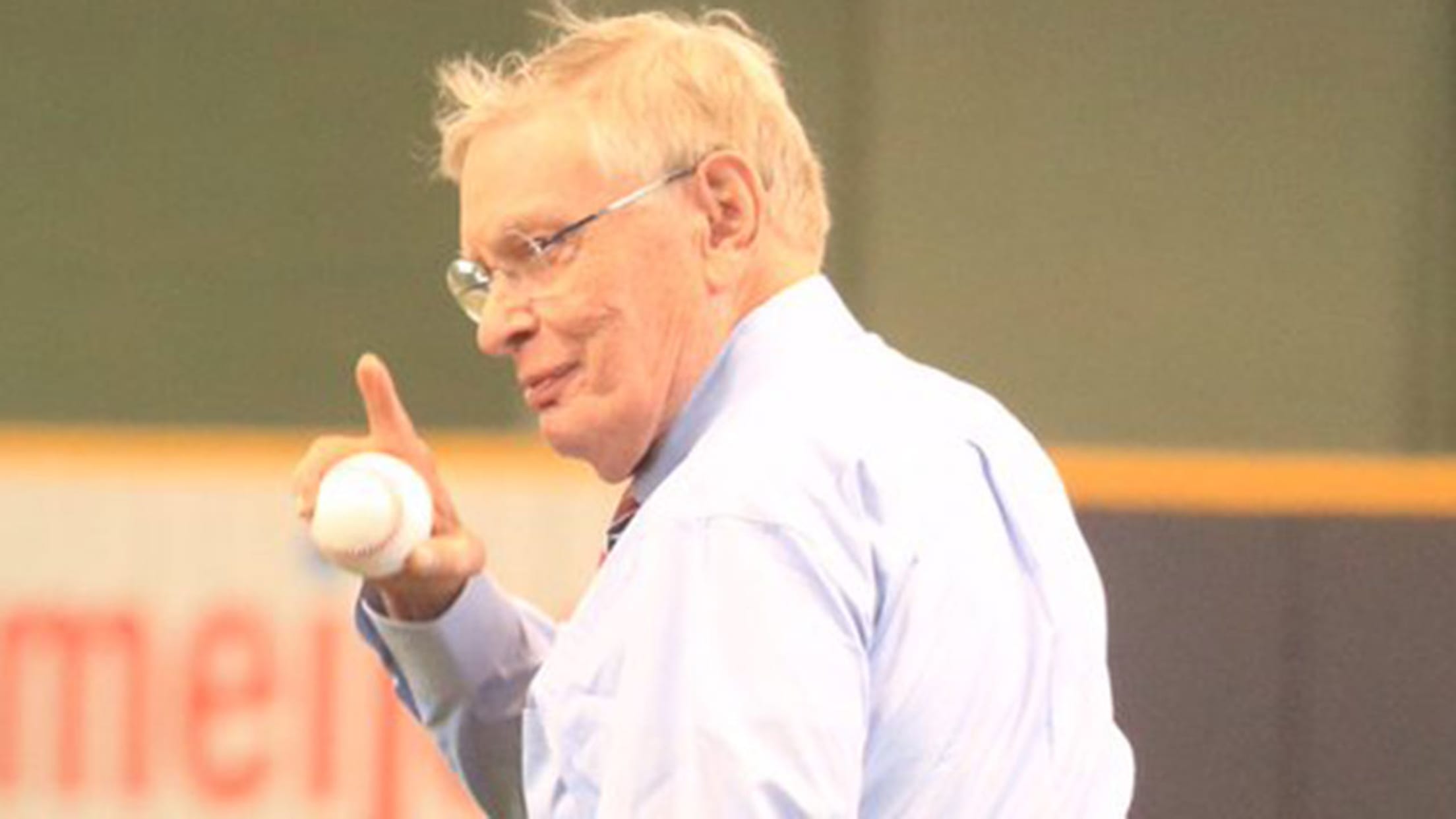 Major League Baseball Commissioner Emeritus Bud Selig threw out the first pitch on Opening Day at Miller Park. (Brewers)
MILWAUKEE -- Major League Baseball Commissioner Emeritus Bud Selig continued his path to Cooperstown on Monday by throwing out the ceremonial first pitch for the team he brought to Milwaukee, in the stadium he pushed to get built.The Brewers' current owner, Mark Attanasio, caught Selig's pitch, marking the start of
MILWAUKEE -- Major League Baseball Commissioner Emeritus Bud Selig continued his path to Cooperstown on Monday by throwing out the ceremonial first pitch for the team he brought to Milwaukee, in the stadium he pushed to get built.
The Brewers' current owner, Mark Attanasio, caught Selig's pitch, marking the start of the team's 49th season as a franchise, its 48th in Milwaukee and 17th at Miller Park. Along the way, Selig will be inducted with former Braves executive John Schuerholz, Jeff Bagwell, Tim Raines and Ivan Rodriguez to the National Baseball Hall of Fame on July 30.
Selig and Schuerholz were voted in by the Today's Game Era Committee.
Has Selig written his speech yet?
"No," he said. "It's interesting, I have more people asking me that, and the answer is, 'I haven't.' I've been thinking a lot about it. I really have. You know, I said before Dec. 4 [when he was elected] that with everything I had been through, I didn't think anything could overwhelm me anymore. But this is overwhelming."
Attanasio plans to attend the entire Hall of Fame weekend.
"I'm really looking forward to that," Attanasio said. "It's an honor richly deserved. Bob Uecker and I were talking earlier about what Bud has meant to baseball -- and baseball in Milwaukee, in particular -- and we would not be sitting here without him."
Garcia released from hospital
Brewers general manager David Stearns said Minor League catcher Rene Garcia had been released from Froedtert Hospital, two days after he suffered a concussion in a collision at home plate during the ninth inning of Saturday's Spring Training finale against the White Sox.
The Brewers planned to send Garcia back to Maryvale Baseball Park to continue his recovery. He originally was expected to open the season at Triple-A Colorado Springs.
"He's doing well," Stearns said. "He is in Major League Baseball's concussion protocol, and we will certainly go at his pace."
Last call
• Brewers manager Craig Counsell quashed a couple of questions about his Opening Day lineup, which featured Eric Thames batting second, Travis Shaw batting fourth and Jett Bandy handling catching duties. Expect to see many different combinations as the season goes along, Counsell said.
"We're an inexperienced team. We have to find out what our best lineup is," Counsell said. "I wouldn't get fixated on the lineup. Let's stress: Do not get fixated on the lineup. It's going to change."