The sacrifice bunt has disappeared; here's why
Non-pitcher sacrifices in playoffs are at historic lows over past 2 years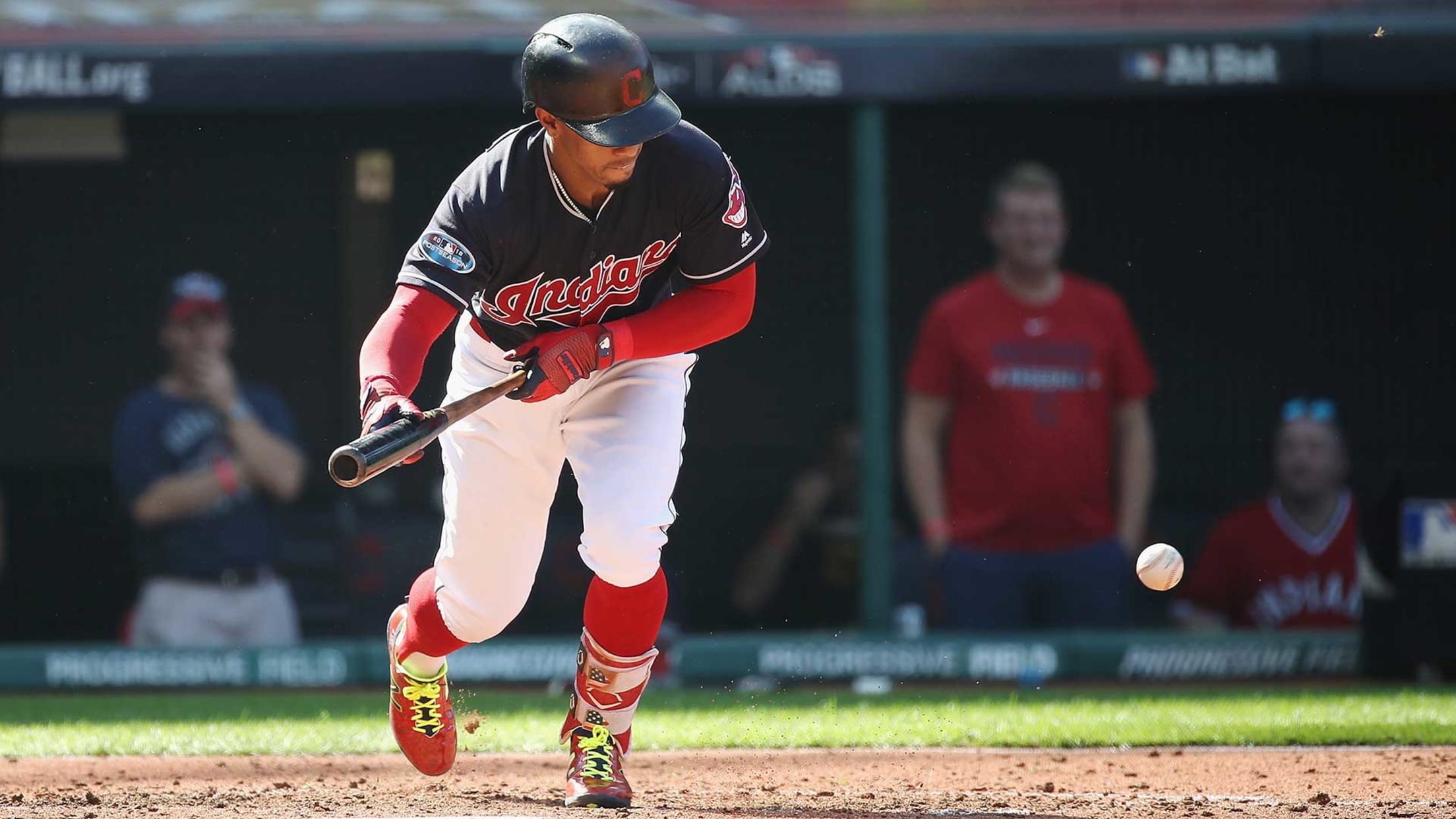 The Nos. 8 and 9 hitters had gotten on base with a pair of singles, and the leadoff man came to the plate with none out. He put down a bunt in front of the plate and darn near beat out the pitcher's throw to first. So while he didn't
The Nos. 8 and 9 hitters had gotten on base with a pair of singles, and the leadoff man came to the plate with none out. He put down a bunt in front of the plate and darn near beat out the pitcher's throw to first. So while he didn't get the bases-loading bunt single, he did successfully move the runners over to second and third, setting up the sacrifice fly that brought home the game's first run.
There was a time in baseball history when all of the above would have been considered an unremarkable bit of run manufacturing. But lineups look a lot different these days, and the leadoff hitter in this case was Indians all-everything shortstop Francisco Lindor, a 38-homer hitter whose power is profound enough that, in literally his next trip to the plate against Astros starter Dallas Keuchel, he hit a 446-foot home run that clanged the clock hanging above Progressive Field's left-field exit.
So what are we to make of Lindor's third-inning bunt (which, for the record, he came up with on his own) in Game 3 of the American League Division Series? Good baseball play? Or a waste of a playoff plate appearance from a hitter capable of driving in the runners?
"I loved it," Indians manager Terry Francona said. "That was a blueprint of a bunt. Some of the analytics kind of say, 'Don't bunt.' I don't agree with that. When you give away outs, you're probably eliminating a chance for a big inning. But I think there are times where you don't care about a big inning. You just want to score a run. So there's a time and a place for it."
Evidently, that time and place is shrinking. Or at least, in the mind of the modern manager it is.
In last year's postseason, there was only one sacrifice bunt for every 183.3 trips to the plate -- the lowest rate in postseason history. This year's rate of one per 151.9 plate appearances means the bunts have come a little more frequently so far. But even by AL standards, this year's American League Championship Series teams -- the Astros (14 sacrifice bunts all season) and Red Sox (seven) -- don't bunt much, ranking ninth and 12th in the league, respectively. And the NLCS-entrant Brewers executed the sacrifice bunt less frequently (29 times) than all but one NL team.
There's a good chance, then, that this year's rate ends up at a 2017-like level.
The raw numbers of postseason bunts in the Wild Card era look like this:

So while postseason bunting -- as in, the festive decorations hanging from the stands -- remains abundant, postseason bunting -- as in, the play -- is generally on the decline.
This is a natural extension of the regular season, in which a new record for fewest sacrifice bunts per game has been set in each of the last eight seasons.
"I think this game has changed into a homer-punchout game," Astros third baseman Alex Bregman said. "There's a lot of swing and miss in today's game. There's a lot of power. You don't really want to give away an out. If they do give away an out, maybe there'll be some strikeouts after that."
Craig Counsell made some astute points as to why his Brewers don't bunt much.
"In a lot of cases in today's game, it's harder to bunt," he said. "Velocity has changed the bunting equation. It just has. That's part of it. Strategically, with matchups, there are still times that it is the right thing to do on the game-state. But we haven't been in those situations and haven't had the personnel where I think it's the best play."
Sabermetrically inclined individuals have long pointed to run expectancy charts as evidence for why the non-pitcher bunt is a bad baseball play.
In 2018, teams that had a runner on first with no outs (a typical bunt scenario) scored an average of 0.87 runs in that particular inning, per the data available at Baseball Prospectus. With a runner at second and one out, the average runs scored in the inning dropped to 0.67.
Teams with runners on first and second with no outs (another common situation for a sac bunt) scored an average of 1.45 runs. With runners on second and third and one out, the average dropped to 1.31.
That's the cold, hard data. But it's cold and hard and does not account for the pulse of the postseason.
Even AJ Hinch, a sabermetrically minded manager with a history of very little bunting, offered an argument for siding with the October sacrifice (the Astros have had one successful one so far this postseason).
"I think it's very valuable because, in the playoffs, one run feels like two or one scoring opportunity feels like a greater pressure on the opponent than it does in April, May or June or any time during the regular season," Hinch said. "When you talk about bunting being phased out of baseball a little bit, that's more in the aggregate of the whole season and not so much in trying to win one game or score one run. The value of one run is never higher than it is in a playoff game."
So the postseason bunt is merely dying, not dead.
But of the eight sacrifices so far this October, only three have helped generate a run. Cubs outfielder Albert Almora's bunt in the 11th inning of the NL Wild Card Game was the only one to occur in the late innings. The rest have all taken place in the second, third or fourth innings. Four of those early-inning bunts occurred in games that had either a 1-0 or 0-0 score at the time but wound up with the winning team scoring anywhere from six to 13 runs.
That was the case with the Lindor bunt. It did as intended, setting up the run that gave the Indians a 1-0 lead at a time when doing literally anything against Astros pitching felt like a victory. However, against an Astros team with a lot of offensive firepower, that run proved to have little impact on the ballgame, which the Indians lost, 11-3.
So in that one instance, the bunt-lovers and bunt-bashers both had support for their arguments.
This is how and why the "to bunt or not to bunt" debate continues to linger in MLB. Ultimately, the numbers show that the anti-bunt crowd is slowly but surely getting its way. The sacrifice is being sacrificed, and teams are swinging away.
Anthony Castrovince has been a reporter for MLB.com since 2004. Read his columns, listen to his podcast and follow him on Twitter at @Castrovince.
Reporters Brian McTaggart, Adam McCalvy and Richard Justice contributed to this story.