Nice surprise: Butterfield to coach 3rd on OD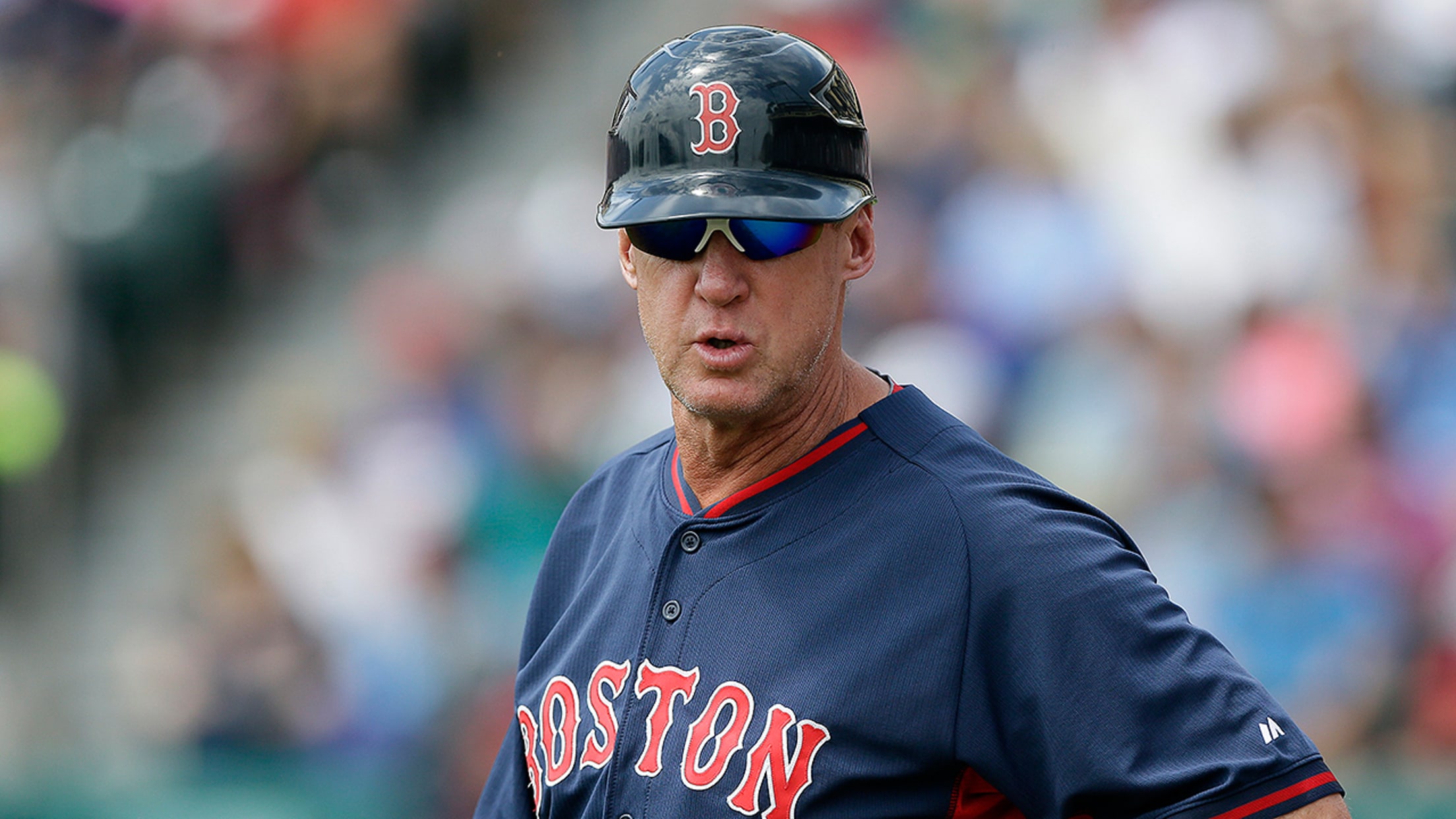 "So as far as the lineup goes, we'll have a third-base coach that's been there," John Farrell said of Brian Butterfield. (AP)
BOSTON -- Red Sox third-base coach Brian Butterfield, who wasn't able to occupy his familiar post for the entirety of Spring Training, will be back in action for Monday's Opening Day game against the Pirates.Butterfield underwent a right knee replacement in December after having his left knee replaced a year
BOSTON -- Red Sox third-base coach Brian Butterfield, who wasn't able to occupy his familiar post for the entirety of Spring Training, will be back in action for Monday's Opening Day game against the Pirates.
Butterfield underwent a right knee replacement in December after having his left knee replaced a year earlier.
Butterfield's return at third for Monday was a welcome and surprising development. Nine days ago, manager John Farrell said it was likely the Red Sox would have their coaches in a different alignment for the early portion of the season, in which Butterfield and bench coach Gary DiSarcina would basically switch jobs.
"Butter will be at third base tomorrow," Farrell said. "So as far as the lineup goes, we'll have a third-base coach that's been there. He needed every day of Spring Training to continue to rehab and get past some of the discomfort he was feeling with the knee replacement. We talk about our injury updates with our players. Now, hopefully we can get past our staff."
During camp, Butterfield was still able to maintain all his duties as an infield instructor.
Now, the Red Sox can have the coaching staff they envisioned, with DiSarcina replacing Torey Lovullo (now the D-backs' manager) as bench coach.
"Yeah, and unfortunately we didn't have a whole lot of days to work with the normal configuration that we'll begin [Monday] with," Farrell said. "But I couldn't be more happy with the way DiSar has handled his first Spring Training in this role, the dialogue that we have, the relationships that he's formed with the guys in our clubhouse. We're fortunate, and I'm forever thankful to the staff that we have here. They're very competent. They're totally committed and very talented."
Worth noting
• First baseman Mitch Moreland, who missed the final four games of Spring Training due to the flu, has been cleared to start on Opening Day. Moreland was quarantined and didn't join the Red Sox for their exhibition games at Nationals Park and the U.S. Naval Academy. He participated in Sunday's workout at Fenway Park.
The flu spread throughout the clubhouse in the final few days of Spring Training. Trainer Brad Pearson and hitting coach Chili Davis were also impacted. Assistant hitting coach Victor Rodriguez and bullpen catcher Mike Brenly were feeling the effects on Sunday.
"I don't think we're completely out of the woods," Farrell said. "I think there are some minor effects, but I don't think to the point where we're going to be missing anyone tomorrow."
• Rick Porcello thinks that Monday will be the first time he has started Opening Day for any team since he was a high school student at Seton Hall Prep in New Jersey. Porcello spent just one season in the Minor Leagues before joining the Detroit Tigers in 2009.
One humorous exchange in Sunday's press conference was when a reporter asked Porcello if he ever skipped school to watch Opening Day.
"No," Porcello said. "My mother was an English teacher, so that wasn't part of the program."
• Pregame ceremonies on Monday will start at 1:30 p.m. ET. With Hanscom Air Force Base presenting the colors, the national anthem will be performed by the Boston Children's Chorus and punctuated by a flyover of two F-15C's flown by the 104th Fighter Wing from Barnes Air National Guard Base in Westfield, Mass. Gates will open two hours before the game. For all other regular-season games, gates will open 90 minutes before the game. Monday marks the first time the Red Sox have opened a season at home since 2010.