Wilson needs time to fix mechanics
Veteran lefty sidelined by shoulder injury; Weaver faces Minor Leaguers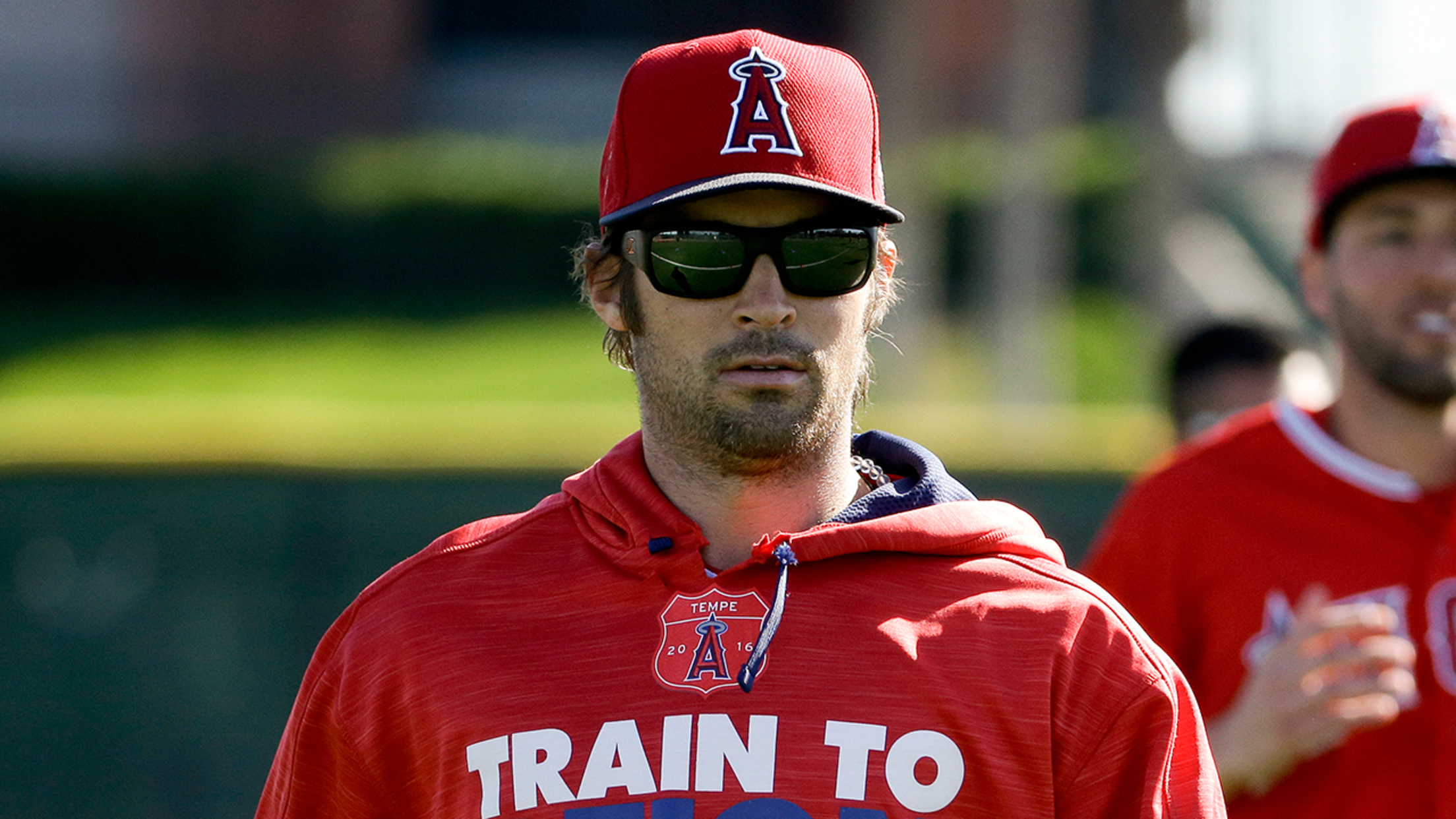 Updating the status of C.J. Wilson, Angels manager Mike Scioscia said: "He's taken a step backwards to try and get his mechanics together." (AP)
TEMPE, Ariz. -- Despite veteran left-hander C.J. Wilson enduring a series of setbacks this spring, Angels manager Mike Scioscia believes the 35-year-old could still be a valuable asset for the Angels in 2016."C.J. has shown that he can come back from things and still pitch at a high level," Scioscia
TEMPE, Ariz. -- Despite veteran left-hander C.J. Wilson enduring a series of setbacks this spring, Angels manager Mike Scioscia believes the 35-year-old could still be a valuable asset for the Angels in 2016.
"C.J. has shown that he can come back from things and still pitch at a high level," Scioscia said on Sunday morning before his club left for Surprise Stadium and a Cactus League game against the Rangers. "At his age, is anyone ever out there at 100 percent? I don't think anybody is.
"He has shown he can get out there and get it done, be functional. We anticipate that at some point of the season, but we'll see."
Wilson hasn't pitched since last July 28 when he was diagnosed with left elbow inflammation and missed the season's final 63 games. He had surgery to remove bone chips from that elbow this past offseason. After arriving in camp, he was shut down when an MRI revealed inflammation in his left shoulder.
The elbow and shoulder injuries may not be related, but the net result is the same: Wilson hasn't thrown any live action this spring and doesn't seem on the verge of doing so any time soon.
"He's taken a step backwards to try and get his mechanics together," said Scioscia, when asked about Wilson's status. "Hopefully, he's going to rebound. He's just got to get some strength back in his arm before he gets back on the mound."
With the Angels set to break camp after the game on March 29 for the annual Freeway Series in Los Angeles against the Dodgers, there isn't much time left. And Scioscia said the club's baseball hierarchy hasn't decided whether to leave Wilson behind for extended spring workouts in Arizona or bring him back to Southern California to rehab with the team.
"We haven't decided that yet, but obviously he won't be ready for the start of the season," Scioscia said. "Whether he's out with us doing his program still remains to be seen."
Wilson is in the last year of a five-year, $77.5 million contract. He'll make $20.5 million in 2016.
Weaver throws
With the Angels playing at the other end of the Valley of the Sun, right-hander Jered Weaver started in a Minor League game on Sunday against the Rockies at Tempe Diablo Stadium.
He was lifted with two out in the fourth inning, having allowed three runs on eight hits -- including a homer. He struck out three, walked none and tossed 67 pitches.
He's had a rough spring, making only two Cactus League starts and allowing five runs on eight hits in 4 2/3 innings. He was scratched from his last start and hadn't pitched since March 9, suffering through a decrease in velocity because of what doctors are calling degenerative changes in the vertebrae of his neck.
Scioscia has said Weaver is questionable for the season-opening 25-man roster.