Angels' Wilson to undergo shoulder surgery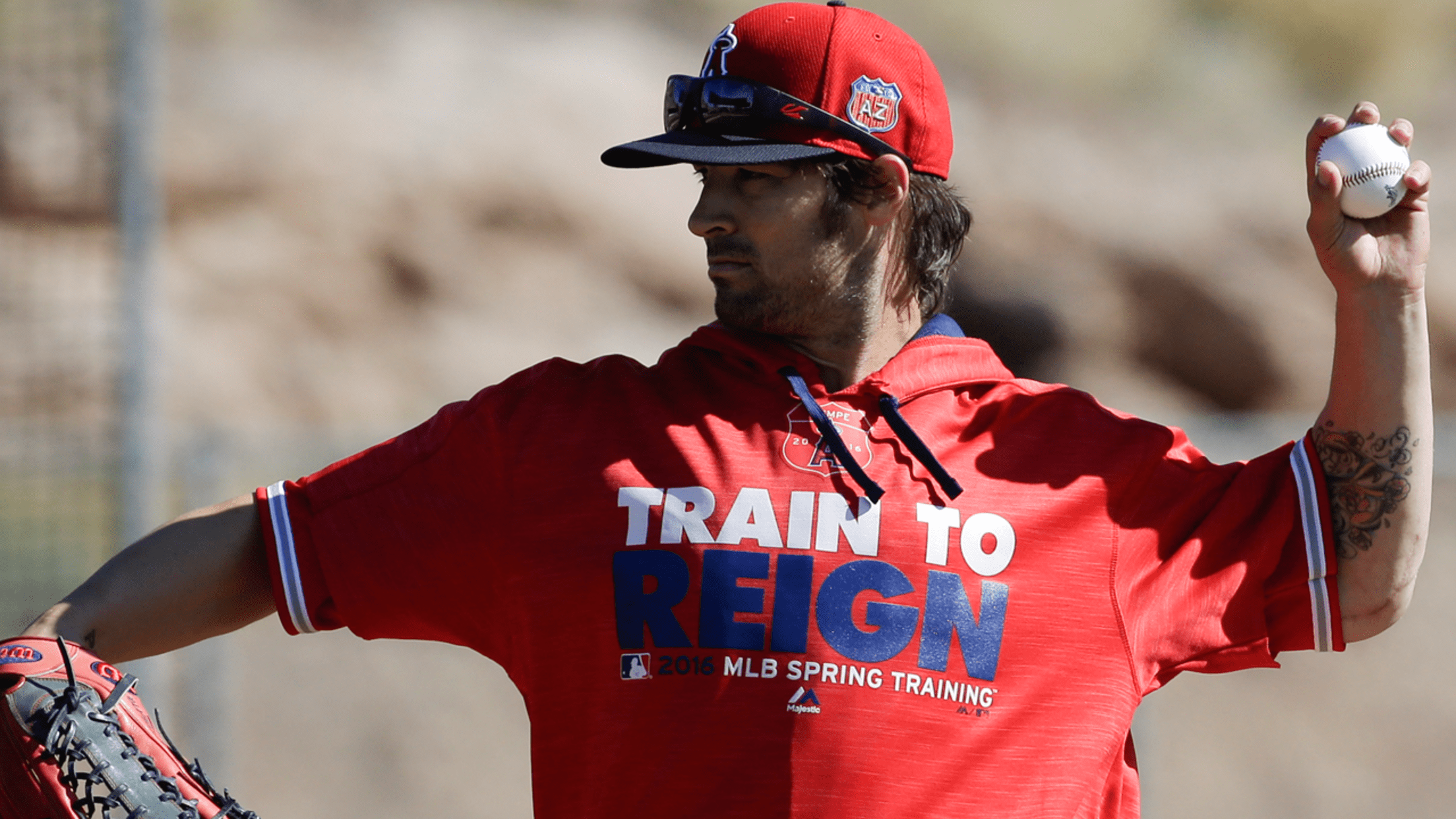 "I'm very upset that I have not been able to pitch this year," Wilson said in a text message Tuesday. (AP)
ST. PETERSBURG -- C.J. Wilson's season is over, and with it perhaps also his Angels career.The veteran left-hander has decided to undergo season-ending surgery on a left shoulder that has been bothering him since the start of Spring Training. The team announced Tuesday that the procedure will "address fraying on
ST. PETERSBURG -- C.J. Wilson's season is over, and with it perhaps also his Angels career.
The veteran left-hander has decided to undergo season-ending surgery on a left shoulder that has been bothering him since the start of Spring Training. The team announced Tuesday that the procedure will "address fraying on the labrum and rotator cuff."
Surgery is tentatively scheduled for some time next week and will be performed by Dr. Neal ElAttrache in Los Angeles.
The 35-year-old will be a free agent at season's end and plans to pitch next season.
"I'm very upset that I have not been able to pitch this year," Wilson said in a text message. "It sucks to watch the team struggle, and watch my friends struggle on the field. I've been getting my body prepared, but the only support I've been able to give is in terms of advice or positive affirmation to my teammates. I've been very upfront with coaches and staff about a willingness to modify my role [by potentially serving as a reliever], as well, and am 100-percent focused on returning to the field next season."
Wilson -- in the final season of a five-year, $77.5 million contract he signed in December 2011 -- missed the final two months of the 2015 season after undergoing surgery to clean out bone chips and spurs from his elbow.
The two-time American League All-Star expected to be ready by the start of Spring Training, but his shoulder began to bark basically every time he progressed towards throwing off a mound, which he believes was a product of compensating for elbow pain earlier in the prior season. At one point, he said he had "[created] a new, different delivery" to compensate for his shoulder pain, though he later softened that by saying he only slightly altered his arm slot.
Wilson eventually worked his way toward a rehab assignment with Class A Advanced Inland Empire on May 25, completing four innings, but said he felt "awful" in the between-starts bullpen session that followed and shut it down once again.
He barely threw after that, prompting him to get a second opinion by Dr. ElAttrache on Thursday and ultimately decide on surgery.
"C.J. got close to pitching," Angels manager Mike Scioscia said. "You always get your hopes up, but as of right now, he hasn't been able to get over that hump, so you can't consider him an option."
Wilson transitioned to the rotation late in his Rangers career and was a very effective starting pitcher for teams that went to back-to-back World Series in 2010-11, winning a combined 31 games and posting a 3.14 ERA.
The Angels signed Wilson the following offseason, agreeing to terms on the same day as Albert Pujols, and Wilson was durable for the first three years.
Wilson averaged 33 starts and 197 innings with the Angels from 2012-14, winning 43 games and posting a 3.87 ERA. He had a good 2013 but struggled in the second half of 2012 and '14, the latter culminating with a season-ending loss in Game 3 of the AL Division Series in Kansas City.
In 2015, Wilson posted a 3.89 ERA in 21 starts before deciding to shut it down.
Wilson has previously undergone Tommy John surgery and three clean-ups of his left elbow, but this will be his first procedure on his shoulder. Asked to sum up Wilson's stint with the Angels, Scioscia said: "Let's not do any retrospectives yet."