Pipeline Preview: Bader seeking another multihit performance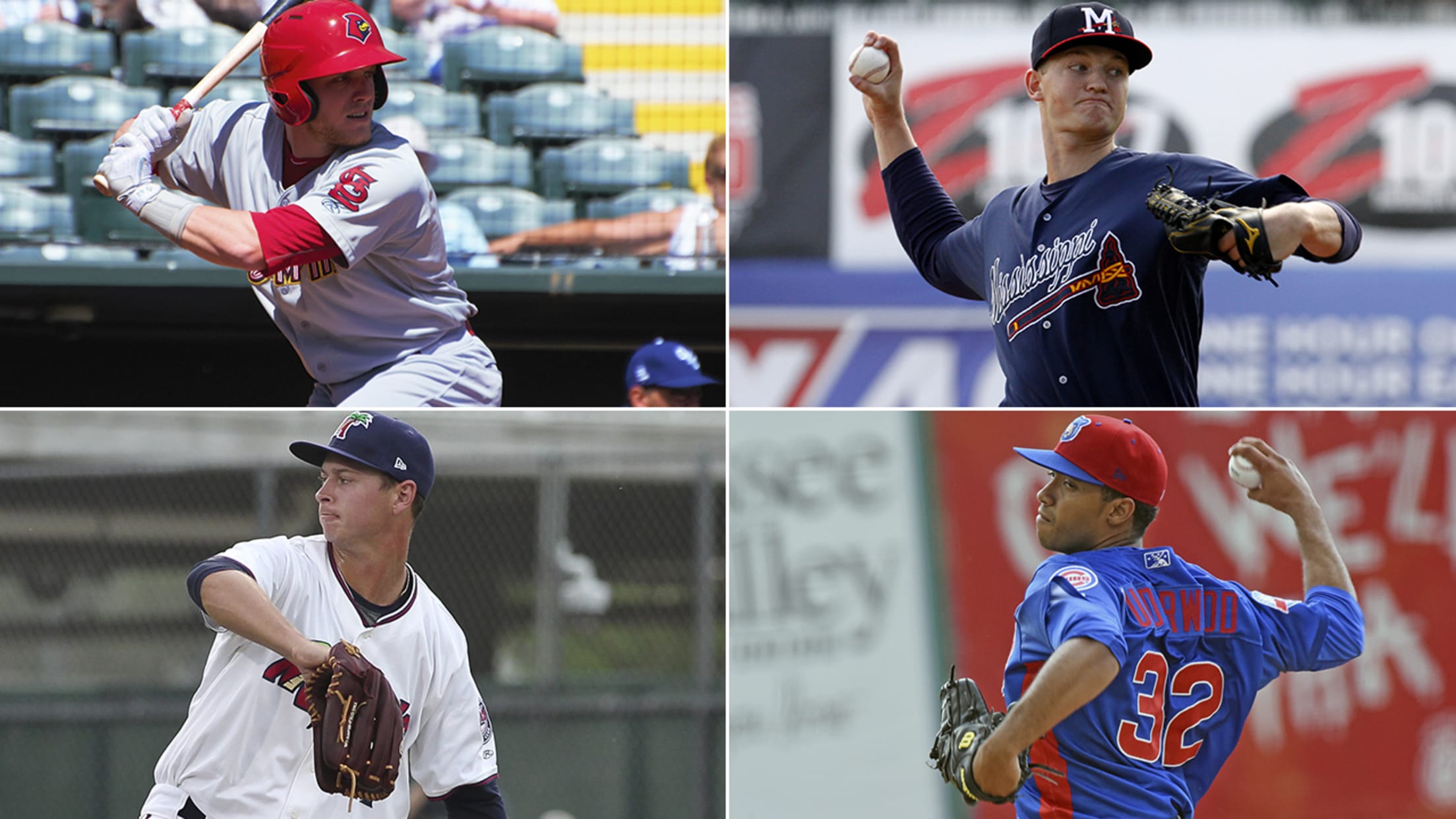 Here's a look at top prospects to watch in today's Minor League action:Hitter to watch: Harrison Bader (Cardinals' No. 6), Memphis vs. Colorado Springs (8:05 p.m. ET on MiLB.TV)Bader turned in his third straight multihit performance on Wednesday, going 3-for-4 with a double and a two-run homer in Triple-A Memphis'
Here's a look at top prospects to watch in today's Minor League action:
Hitter to watch: Harrison Bader (Cardinals' No. 6), Memphis vs. Colorado Springs (8:05 p.m. ET on MiLB.TV)
Bader turned in his third straight multihit performance on Wednesday, going 3-for-4 with a double and a two-run homer in Triple-A Memphis' win over Colorado Springs. The homer was the 10th of the season for the 23-year-old outfielder, who's hitting .297/.353/.489 with 36 runs scored through 62 games.
Pitcher to watch: Mike Soroka (Braves' No. 4), Mississippi vs. Montgomery (8 p.m. ET on MiLB.TV)
Soroka, MLB Pipeline's No. 66 overall prospect, is set to make his first start for Double-A Mississippi since earning Prospect Team of the Week honors following a week that saw him post 15 scoreless innings and allow just seven hits over two starts. The 19-year-old righty has been excellent in the Southern League this season, as he enters the day with a 2.45 ERA, 0.98 WHIP and a 64-to-15 strikeout-to-walk ratio in 69 2/3 innings (12 starts).
Duel of the day: Stephen Gonsalves (Twins' No. 2) vs. Duane Underwood Jr. (Cubs' No. 15), Chattanooga at Tennessee (7 p.m. ET on MiLB.TV)
Gonsalves, No. 80 on the Top 100, has yet to allow more than three earned runs in any of his five starts this season for Double-A Chattanooga. He's gone 2-2 with a 3.00 ERA in that span, with a .182 opponents' average and a 32-to-7 strikeout-to-walk ratio in 27 innings. The 22-year-old lefty missed the first month-and-a-half of the season after experiencing shoulder discomfort during Spring Training.
Underwood, meanwhile, has struggled in his return to the Double-A level and especially of late, with a 7.08 ERA and nearly as many walks (12) as strikeouts (13) in 20 1/3 innings over his last four starts. For the season, the 22-year-old right-hander owns a 5.11 ERA through 11 starts totaling 56 1/3 frames.
Thursday's Top 100 prospect probables
No. 43 Riley Pint (Rockies' No. 2), Asheville at Lexington (7:05 p.m. ET on MiLB.TV)
No. 48 Yohander Mendez (Rangers' No. 2), Frisco vs. San Antonio (8:05 p.m. ET on MiLB.TV)
No. 61 Carson Fulmer (White Sox No. 6), Charlotte vs. Louisville (7:05 p.m. ET on MiLB.TV)
No. 74 Grant Holmes (A's No. 3), Midland vs. Corpus Christi (8 p.m. ET on MiLB.TV)
More top prospect probables
Andrew Moore (Mariners' No. 4), Tacoma at El Paso (Triple-A)
Chris Lee (Orioles' No. 6) vs. Nick Kingham (Pirates' No. 7), Norfolk vs. Indianapolis (Triple-A)
Joan Gregorio (Giants' No. 8), Sacramento at Las Vegas (Triple-A)
Adam Plutko (Indians' No. 16) vs. Ryan Yarbrough (Rays' No. 23), Columbus vs. Durham (Triple-A)
Paul Blackburn (A's No. 22), Nashville vs. Iowa (Triple-A)
Frank Duncan (D-backs' No. 24), Reno at Salt Lake (Triple-A)
Jalen Beeks (Red Sox's No. 28), Pawtucket at Syracuse (Triple-A)
Conner Greene (Blue Jays' No. 7), New Hampshire at Richmond (Double-A)
Tyler Mahle (Reds' No. 7) vs. Joe Gunkel (Marlins' No. 26), Pensacola at Jacksonville (Double-A)
Tanner Scott (Orioles' No. 10), Bowie vs. Reading (Double-A)
Jordan Stephens (White Sox No. 14), Birmingham vs. Jackson (Double-A)
Francisco Rios (Blue Jays' No. 18), New Hampshire at Richmond Game 2(Double-A)
Parker French (Rockies' No. 20), Hartford vs. Trenton (Double-A)
P.J. Conlon (Mets' No. 22), Binghamton at Erie (Double-A)
Jake Jewell (Angels' No. 26), Mobile vs. Biloxi (Double-A)
Greg Harris (Rays' No. 27), Montgomery at Mississippi (Double-A)
Trey Ball (Red Sox's No. 29), Portland at Altoona (Double-A)
Luis Lugo (Indians' No. 30), Akron vs. Harrisburg (Double-A)
Keegan Akin (Orioles' No. 5), Frederick vs. Lynchburg (Class A Advanced)
Gage Hinsz (Pirates' No. 10) vs. Ian Clarkin (Yankees' No. 19), Bradenton vs. Tampa (Class A Advanced)
Michael Shawaryn (Red Sox's No. 12), Salem and Wilmington (Class A Advanced)
Cody Ponce (Brewers' No. 15), Carolina vs. Potomac (Class A Advanced)
Connor Jones (Cardinals' No. 21) vs. Jordan Romano (Blue Jays' No. 22), Palm Beach vs. Dunedin (Class A Advanced)
Edgar Garcia (Phillies' No. 26), Clearwater vs. Lakeland (Class A Advanced)
Framber Valdez (Astros' No. 29), Buies Creek vs. Winston-Salem (Class A Advanced)
Brady Aiken (Indians' No. 5), Lake County vs. Fort Wayne (Class A)
Matthias Dietz (Orioles' No. 12), Delmarva at Lakewood (Class A)
Luis Escobar (Pirates' No. 13), West Virginia at Charleston (Class A)
Tony Santillan (Reds' No. 14), Dayton vs. Great Lakes (Class A)
Jordan Hicks (Cardinals' No. 18), Peoria at Kane County (Class A)
Yennsy Diaz (Blue Jays' No. 25), Lansing at South Bend (Class A)
Gregory Soto (Tigers' No. 29), West Michigan at Bowling Green (Class A)