Cardinals have pieces, precedent to handle injury
Wacha and Co. should pick up slack for Reyes; club won it all in 2011 after Waino went down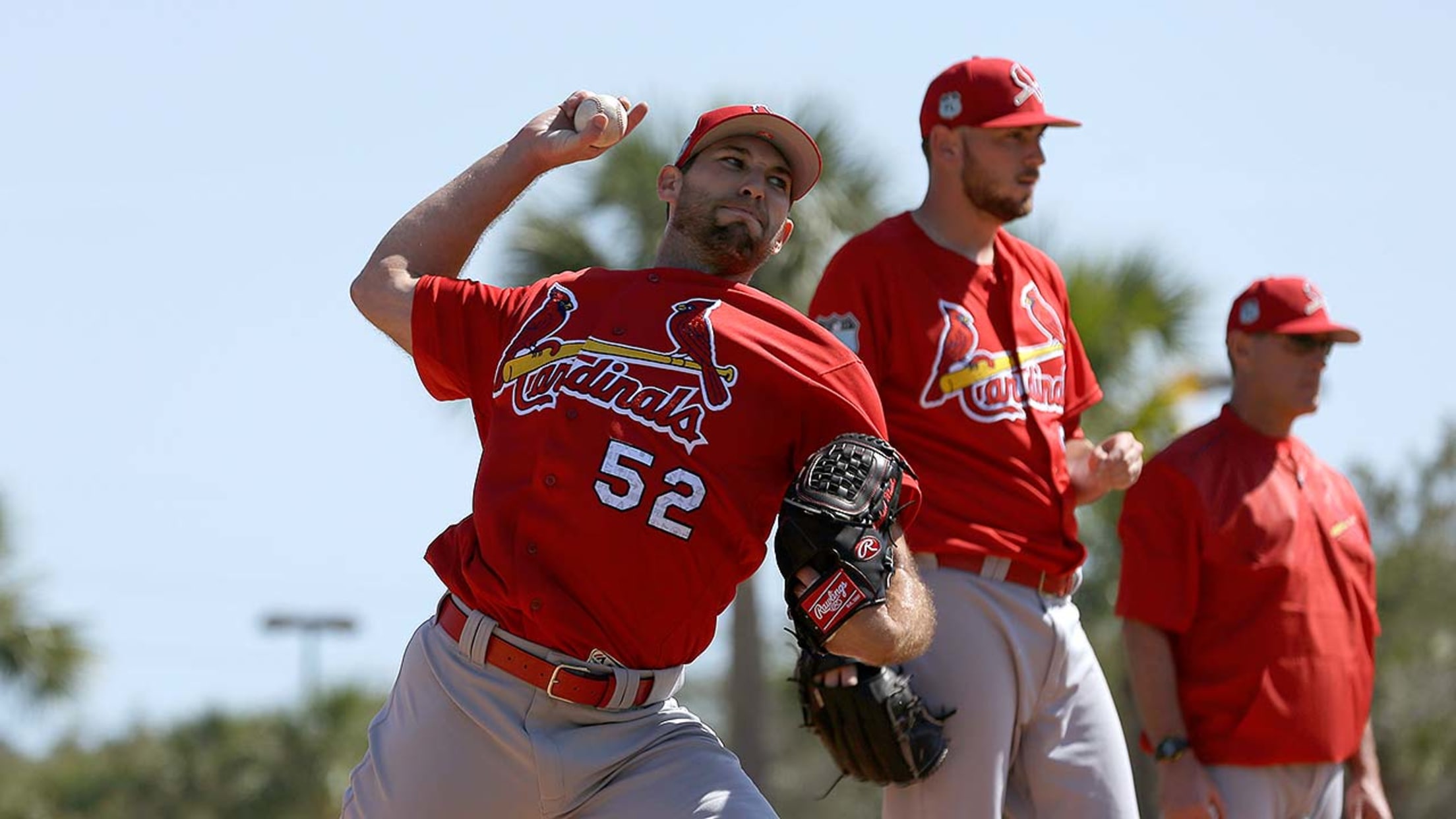 "He looks like he's not forcing anything," Mike Matheny said of likely No. 5 starter Michael Wacha. (AP)
JUPITER, Fla. -- Gray skies hung over Cardinals camp Wednesday morning, arguably a week late. Alex Reyes' Tommy John surgery unfortunately falls right in line with the sour spring setbacks that this organization endured with Adam Wainwright, Chris Carpenter, Jason Motte and Jaime Garcia in recent years, though the Cards
JUPITER, Fla. -- Gray skies hung over Cardinals camp Wednesday morning, arguably a week late. Alex Reyes' Tommy John surgery unfortunately falls right in line with the sour spring setbacks that this organization endured with Adam Wainwright, Chris Carpenter, Jason Motte and Jaime Garcia in recent years, though the Cards know they are hardly outliers in this area.
"A lot has been made of the unfortunate timing of these, but all organizations go through this," general manager John Mozeliak said. "You adapt and find ways to be successful, or you could have the pity party and just kind of roll everything up and play for next year. That's not our strategy."
No, the Cardinals' strategy, just as when Waino famously and frustratingly went down six springs ago in a year in which the Cards went on to win it all, is to endure. And the plan now is to endure with a stronger Michael Wacha, a reborn Lance Lynn, a restructured Trevor Rosenthal, a potentially improved defense, and just maybe an eventual burst of brilliance from young Sandy Alcantara.
Wacha essentially won a starting rotation job when Reyes went down, and the timing was ironic given that the righty lost his arbitration case that very day. Truthfully, the odds of Wacha "beating out" Reyes, regardless of Grapefruit League performance, were pretty strong. Reyes, after all, threw just 111 1/3 innings between Triple-A Memphis and the big leagues last season, so the Cards were going to be careful with him, even before his UCL snapped.
"He's someone we certainly would have had to manage expectations with," Mozeliak said of Reyes.
Still, losing the asset that is Reyes' electric arsenal is a big blow to a Cardinals club whose general roster depth, relative to that of the defending champion Cubs, is in question. But from a sheer numbers standpoint, the Cards' rotation has plenty of pieces.
As always, it's a matter of how they're deployed and how they respond.
After Wainwright, Carlos Martinez and Mike Leake, it's Lynn and Wacha rounding out the starting five. Lynn's post-TJ innings endurance will be tested after a year away, but the Cardinals could not be more confident in his ability to recover his old form (a 112 ERA+ over four seasons before the injury) because of the normal offseason program that followed a Minor League rehab stint.
"The fact that he was ready to go [in September], even though we couldn't use him, was a confidence builder to him," manager Mike Matheny said.
Lynn has nowhere near the pure upside of a Reyes, but there is something to be said for the understated consistency he provided this club when healthy. Furthermore, are we collectively selling Wacha short?
It's deceptively easy to assume the 5.09 ERA from 2016 and the chronic shoulder issues are signs that Wacha will never recapture the form of October 2013, when he looked to be one of the game's breakout stars. But for now, let's offer the optimism that is a reformed offseason program, as Wacha tries to avoid the seasonal scapular stress that once affected Brandon McCarthy. Looking to do as McCarthy did in a 200-inning effort in 2014, Wacha utilized the advice of McCarthy's trainer -- Sam Mulroy of Diesel Fitness in Dallas -- on how best to strengthen each of the specific shoulder muscles.
If the spring eye test matters, Wacha looks the part of a guy more comfortable with his conditioning.
"He looks like he's not forcing anything," Matheny said. "Just watching his demeanor and how he feels after each throw is very indicative of where he is in his mind, and that tells you where he is with his body."
Rosenthal's role in all of this is an unknown. His pure repertoire is not all that dissimilar from that of Reyes; it's just a matter of how his body and his command respond to an increased workload here in camp and beyond.
And the defense is an unknown, too, specifically until we see if Kolten Wong's bat will allow him to stick at second base and thereby improve the up-the-middle effort (the Cards certainly look better on paper in the outfield).
Another unknown is Alcantara's timetable. But the 6-foot-4 righty has grown into his body, has plus velocity and has the coaching staff here buzzing. Mozeliak thinks the prospect could possibly pitch in the bigs this year, despite not yet working above Class A Advanced so far.
There is added depth in Luke Weaver and in the recently acquired John Gant. There is faith in the quantity, hope in the quality.
There are gray skies, but that's nothing the Cardinals haven't overcome before.