Carpenter embraces shift back to second base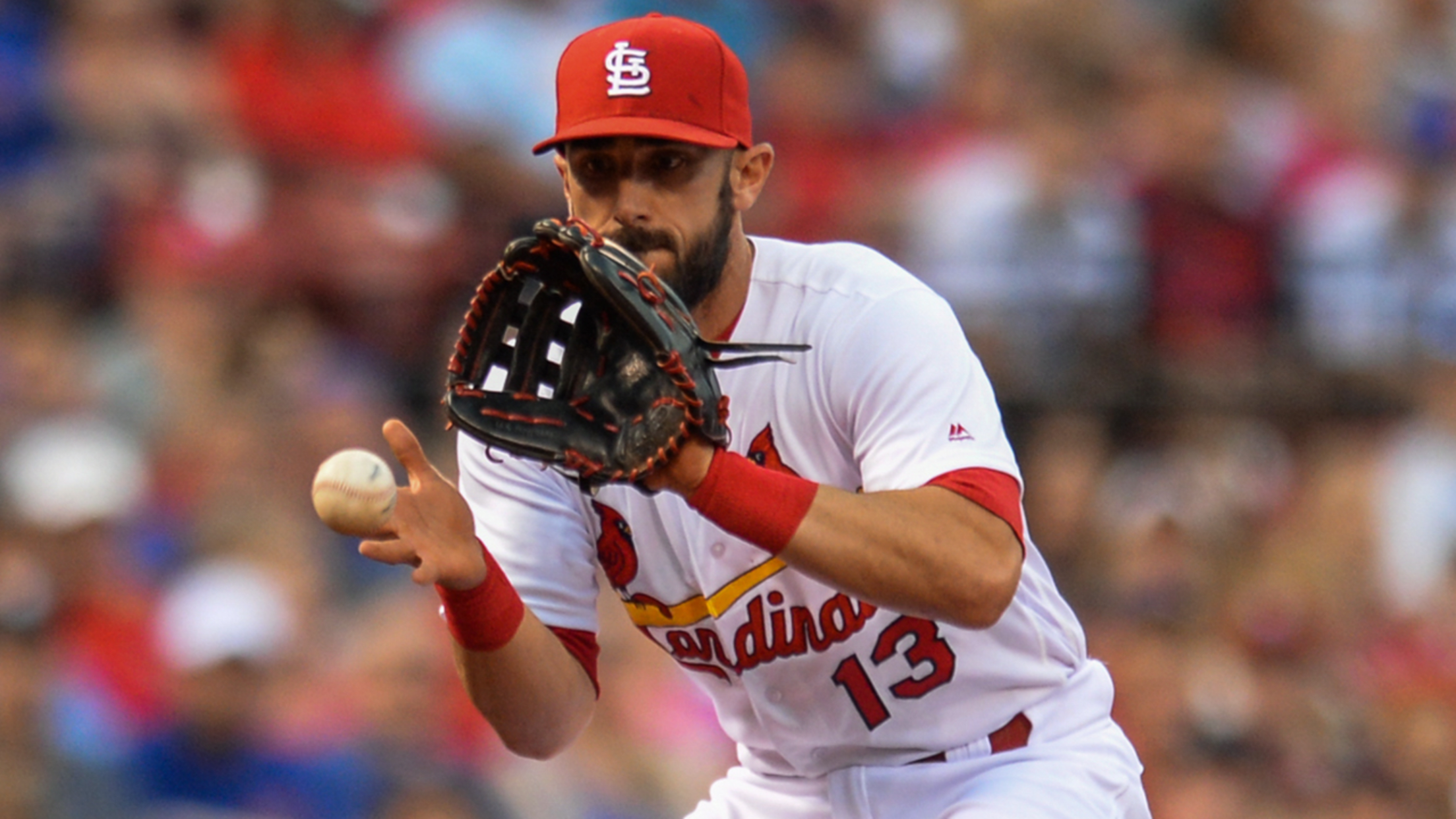 Matt Carpenter has started just nine games at second base since 2013. (AP)
ST. LOUIS -- About the time Jhonny Peralta was wrapping up his Minor League rehab assignment in Florida, Matt Carpenter stood on the Busch Stadium infield prepping for an upcoming move necessitated by Peralta's return.Carpenter spent a chunk of Sunday afternoon reacquainting himself with second base, a position he played
ST. LOUIS -- About the time Jhonny Peralta was wrapping up his Minor League rehab assignment in Florida, Matt Carpenter stood on the Busch Stadium infield prepping for an upcoming move necessitated by Peralta's return.
Carpenter spent a chunk of Sunday afternoon reacquainting himself with second base, a position he played regularly in 2013 but only sparingly since. The Cardinals did not intend for him to return there this season until it became obvious that the club had to find a way to keep Aledmys Diaz in the everyday lineup.
To do so, Peralta, who is expected to be activated from the disabled list on Tuesday, will slide to third and Carpenter, in turn, to the right side of the infield. The Cardinals consider Carpenter an option at either first or second, but most of his chances, at least initially, should come at second base because of the superb production Matt Adams is offering at first.
"I think that's the coach's son in me. I want to do what will help us win," Carpenter said of his willingness to move. "I take pride in the ability to go other places instead of being the guy who is stuck over there because you can't do anything with him.
"I just like playing baseball, I really do. I think it's one of the reasons that they're OK with moving me around because, one, I don't shy away from it, and, two, I love playing. But second was a special position for me. Last time I was there, we played in the World Series. I have a lot of good memories over there."
Carpenter became the Cardinals' everyday second baseman in '13 after a crash course of winter work at the position. At the time, it was the only spot in the infield where he could break through as an everyday player. He played the position capably, and profiled as one of the top offensive second baseman in the league.
Asked to return to third the following year, Carpenter found the transition rocky. He committed six errors in his first 65 chances before getting his timing and footwork settled. He noted on Sunday that moving the other direction should be much more seamless.
"It is definitely more challenging to go from a position where you have way more time, to something where the game is a little faster," Carpenter said. "I think, if anything, I'll be a better second baseman having moved from third. The game is going to slow down."
The opportunity to be more involved in the game also piques his interest.
"At third base, you can go a game without doing anything," said Carpenter, who ranks second among Major League third basemen with eight errors this season. "I've had games like that. I'm a very high-energy guy and I like to be involved. I feel like I can be involved at those positions a little more than at third."
Carpenter has started nine games at second since that '13 season.