McGee's passion resonates with Cards' players
Coach provides value as mentor, preaches doing things 'right way'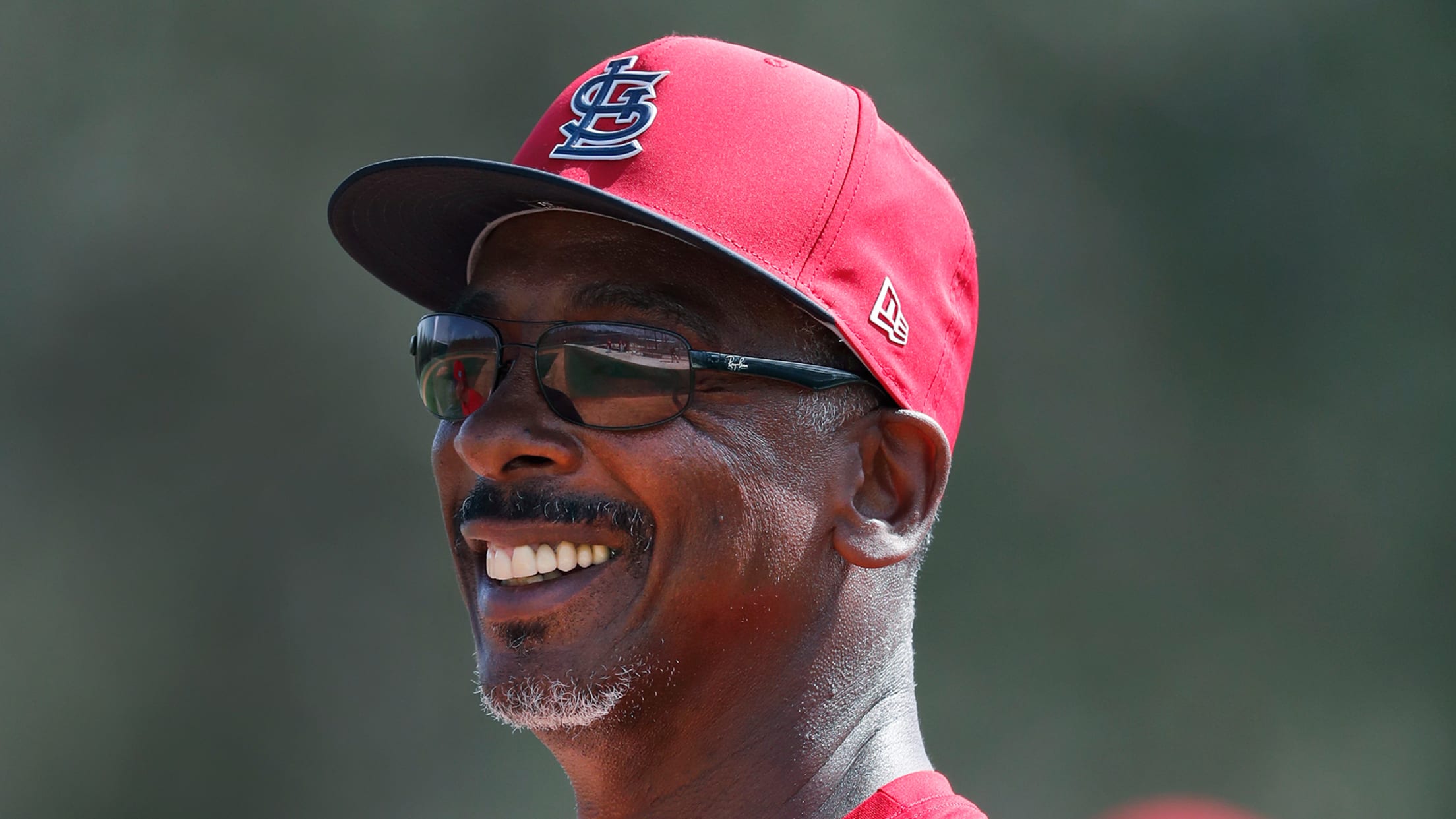 NEW YORK -- It's 7:30 a.m. on Easter Sunday and Cardinals coach Willie McGee already is at Citi Field.McGee, 59, is in the video room preparing scouting reports for the Cards' outfielders. He reviews his charts and designs a game plan based on where the ball is likely to be
NEW YORK -- It's 7:30 a.m. on Easter Sunday and Cardinals coach Willie McGee already is at Citi Field.
McGee, 59, is in the video room preparing scouting reports for the Cards' outfielders. He reviews his charts and designs a game plan based on where the ball is likely to be hit in the outfield by each of the Mets' hitters. When his work is done, McGee has a smile on his face.
"When I retired as player, I realized I didn't necessarily have to be in pro ball to fulfill that need in my heart -- my passion for baseball," McGee said of his love of the game. "I can be around Little League. I coached fast-pitch softball for 10 years. That was it. I was happy. Baseball has been my life. To be able to do it at this [big league] level -- which is a results-driven business -- [is great]. Baseball is baseball."
After spending a few years as an assistant to Cardinals front-office executive John Mozeliak, McGee decided this past offseason to join manager Mike Matheny's coaching staff. Why not, McGee said to himself. He has a great relationship with the entire staff.
"With [third-base coach] Jose Oquendo and all the coaches here, I've been around them a long time and they are good people," McGee said. "We get along well. It's not one way. It's the right way. It's the best way."
McGee has been on the job for a few months now and is responsible for a variety of areas, including baserunning, hitting and outfield defense. As a decorated member of the Cards organization and one of the most popular players in the franchise's history, McGee has the players' ears: They listen when he talks.
McGee was a key member of the "Whitey Ball" era, won the National League Most Valuable Player Award in 1985 and helped the Cardinals win two pennants and one World Series title in the 1980s.
"I was happy that I played 18 years in the big leagues and it was all based on dedication, discipline and hard work," McGee said. "I can say for a fact, I can tell these players my story."
McGee has brought that approach to the Cards' coaching staff -- a passion for the little things done right. He is not someone who speaks just to hear himself talk. He speaks with a purpose, and so when he says something, the players listen.
McGee has greatly impacted center fielder Tommy Pham, who was a 23-year-old at Double-A Texas in 2011 when he met McGee. During their first encounter, McGee told Pham he would be in the Major Leagues one day, and he was of course right -- Pham reached the big leagues three years later in 2014.
But praise and confidence wasn't the only thing McGee gave Pham.
"He taught me professionalism -- how to go about things the right way," Pham said.
McGee is not sure how long he wants to be a coach with the Cardinals. As he puts it, "I don't know. I'm day to day. I will always love baseball."
Bill Ladson has been a reporter for MLB.com since 2002. He covered the Nationals/Expos from 2002-2016. Follow him on Twitter and Facebook.