Cards' bullpen pursuits could take many forms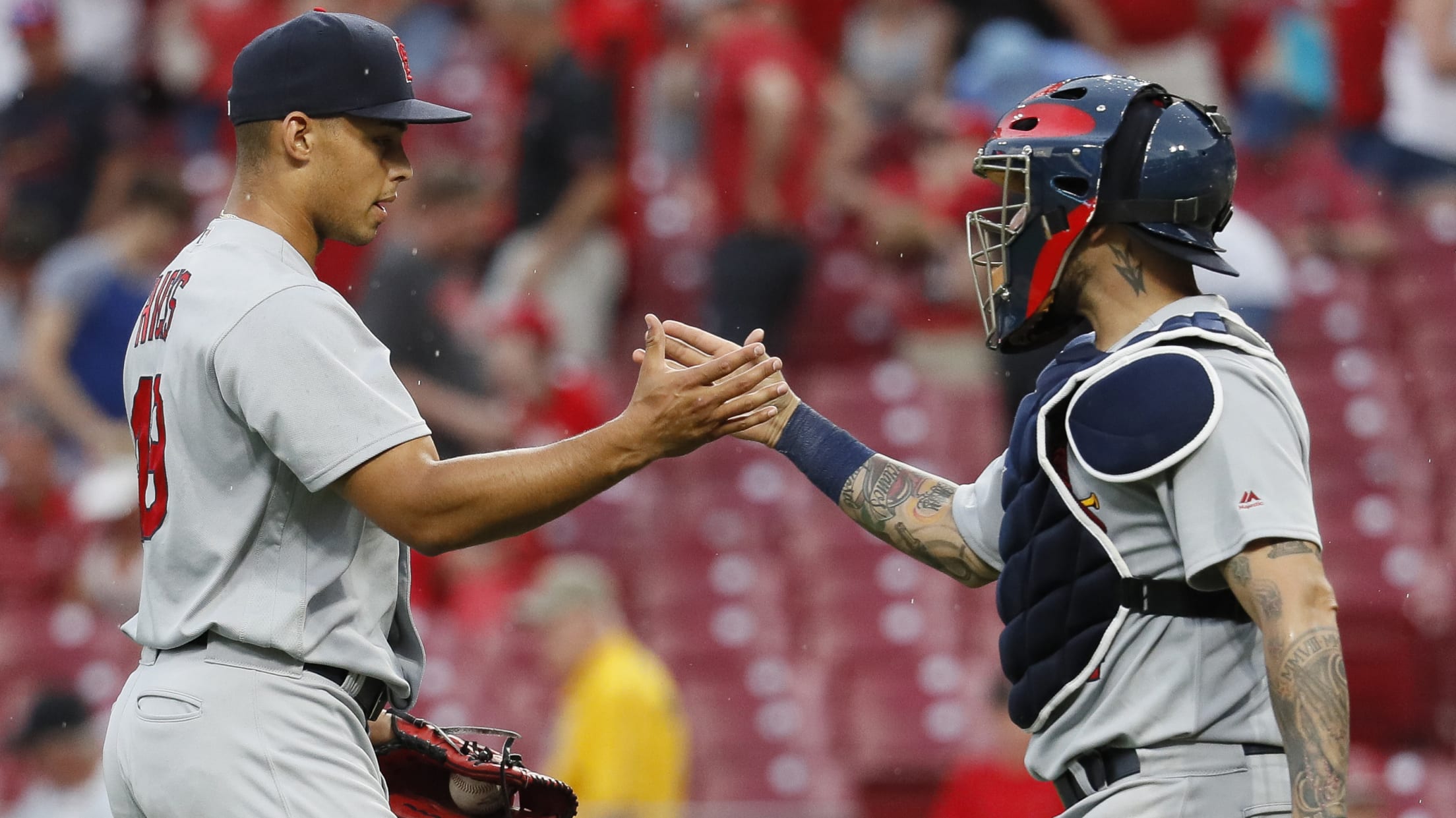 St. Louis Cardinals relief pitcher Jordan Hicks, left, celebrates with catcher Yadier Molina, right, after closing the ninth inning of a baseball game against the Cincinnati Reds, Saturday, June 9, 2018, in Cincinnati. (AP Photo/John Minchillo) (John Minchillo/AP)
ST. LOUIS -- After a month of focusing his attention on executing a trade for slugging first baseman Paul Goldschmidt, Cardinals president of baseball operations John Mozeliak now turns toward another pursuit, even if he's still clarifying what it is.The Cardinals intend to recast their bullpen over the next few
ST. LOUIS -- After a month of focusing his attention on executing a trade for slugging first baseman Paul Goldschmidt, Cardinals president of baseball operations John Mozeliak now turns toward another pursuit, even if he's still clarifying what it is.
The Cardinals intend to recast their bullpen over the next few months, though the form that will take remains undetermined. The club has discussed the possibility of reaching for one of the touted free-agent closers available. They've also considered giving the ninth to Jordan Hicks, while backfilling ahead of him. They do acknowledge needing left-handed help.
"I'm open to anything," Mozeliak said before departing for the Winter Meetings, which begin Monday in Las Vegas. "I think the way we're approaching the next two months is if we can find some arms that we think could benefit us, we'll pursue it. I'm not committed to saying exactly how we're going to think through this yet."
By filling their biggest offensive need with Goldschmidt, the Cardinals could reallocate the financial resources saved by not signing a position player to a multi-year deal to fortifying the bullpen. But would that be prudent?
• What's next for the Cards after Goldschmidt acquisition?
The organization has had a recent run of misses in the free-agent reliever market, most recently with Brett Cecil, Luke Gregerson and Greg Holland. The notable exception has been the success St. Louis has had in finding value through signing relievers to Minor League deals. That's how they landed last season's closer, Bud Norris, and an All-Star in Pat Neshek a few years before that.
The volatility of the relief market brings risk in committing multiple years and millions of dollars to an experienced closer. But it may also bring more certainty than trying to find value in the middle tier, which is where the Cardinals have recently shopped. With Craig Kimbrel, Andrew Miller, Joe Kelly, Zach Britton, Player Page for David Robertson, Adam Ottavino and others still unsigned, there is a plethora of options should the Cards feel this is the best way to boost the back end of their 'pen.
"I think this is true maybe more for relievers than any other position, but the more you can avoid long-term contracts, the better for the organization in terms of flexibility and not being locked into something that may or may not work," Cardinals general manager Michael Girsch said. "I think we've all seen that relievers are a challenge to project out more than a year or a month depending on the situation. But it's always a tradeoff. The better players always require bigger investments, so the tradeoff is how much better do we think they'll be in the short term, and we bet on the long term."
But the Cardinals don't have to be so narrowly focused in their search. With redundancy still to trim from their roster, addressing the bullpen via trade is also a plausible path. Because the club needs to carve out a bench spot for any to-be-acquired left-handed bat, the Cardinals will listen to offers for outfielder Jose Martinez. They may also gauge interest in Jedd Gyorko.
This is the blueprint the Cardinals executed a year ago when they tapped into their outfield depth to address the bullpen by dealing Randal Grichuk to Toronto for Dominic Leone. A similar move would make sense.
"We're looking for a good fit and a good opportunity. Whether that's a big lift or a small lift will sort of depend on what the market bears," Girsch said. "How [do] we best invest our dollars? We want to help our bullpen, but there are many ways to address that problem, and we're working through what those are."