Cards still can't solve Marlins' Yamamoto
Flaherty allows 3 runs, strikes out 8 over 7 innings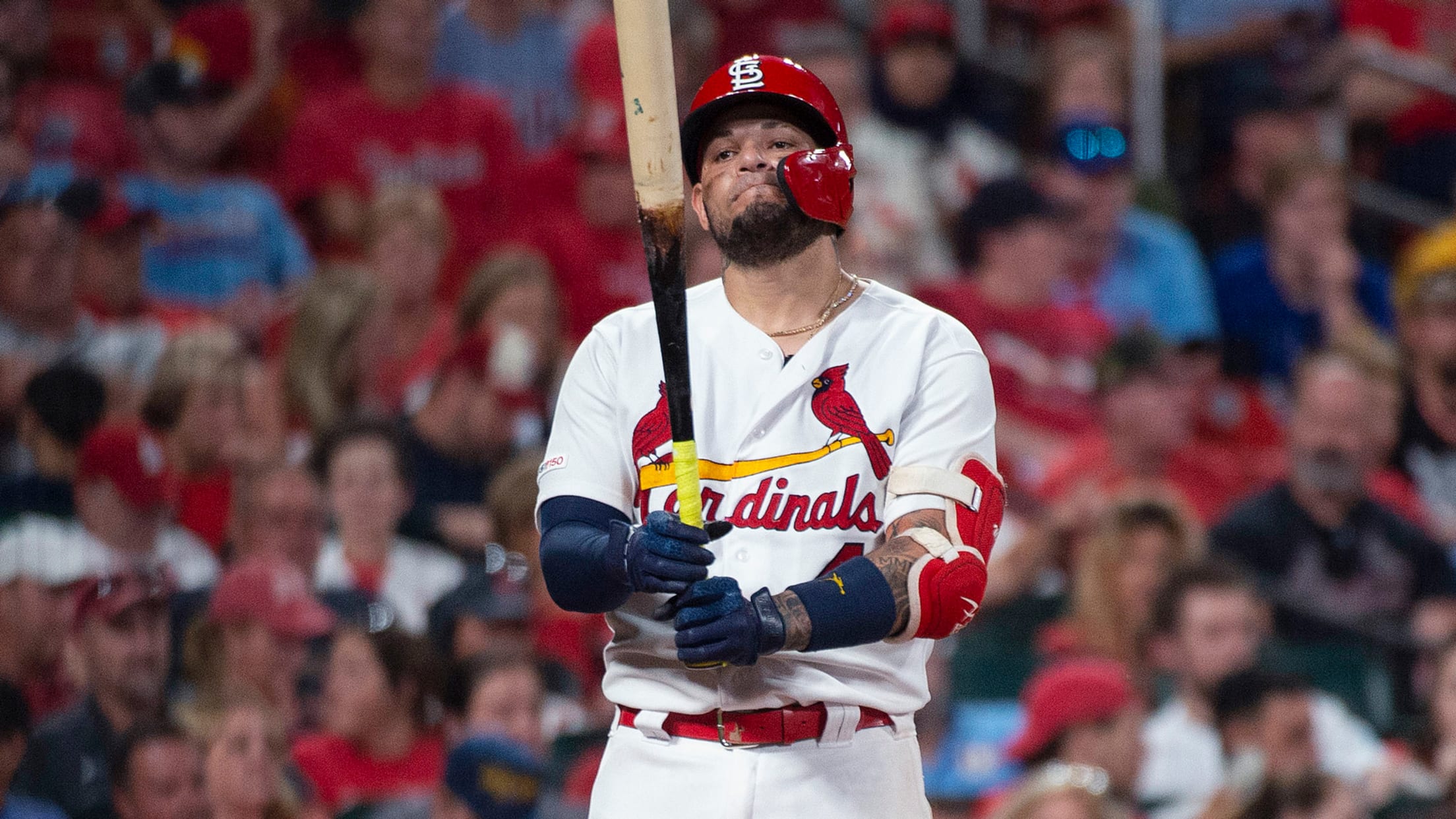 ST. LOUIS -- The second time was no charm for the Cardinals, whose offense was left as flummoxed by Marlins rookie starter Jordan Yamamoto on Tuesday as it had been a week earlier in Miami. After carving up the Cardinals over seven scoreless innings in his Major League debut, Yamamoto
ST. LOUIS -- The second time was no charm for the Cardinals, whose offense was left as flummoxed by Marlins rookie starter Jordan Yamamoto on Tuesday as it had been a week earlier in Miami.
After carving up the Cardinals over seven scoreless innings in his Major League debut, Yamamoto provided an equally dominant encore. He ran his scoreless-innings streak to 14 in Miami's 6-0 win at Busch Stadium while becoming the first pitcher since at least 1908 to begin his career with consecutive outings of seven-plus scoreless innings with three or fewer hits allowed, according to Baseball-Reference.com.
The Cardinals finished with a season-low two hits against Yamamoto on Tuesday, one of which was registered by opposing starter Jack Flaherty. His ground-rule double provided the Cardinals their lone opportunity to register an at-bat with a runner in scoring position against Yamamoto, who hadn't pitched above Double-A until his debut.
That run-scoring opportunity ended with a Matt Carpenter groundout.
"Hats off to the kid, man," Kolten Wong said. "He's pitching. He's staying out of the middle of the zone. He's not really giving us anything to hit. He's not really using his fastball, trying to keep us off -- I don't know … a frustrating night."
It didn't necessarily start out that way. Carpenter opened the night with a 402-foot flyout and Paul DeJong followed with a walk. The pair of quality plate appearances reinforced the confidence the St. Louis offense had that it was better prepared to handle the crafty 22-year-old than it had been a week earlier.
Hitters had spent less time diving into film and more of it revisiting the club's collective first-hand experience. In particular, they revisited how effective Yamamoto had been with his four-seam fastball and cutter in his debut.
That formed the basis of the Cardinals' offensive approach, one that might have worked had Yamamoto not been so quick to sniff it out and counter.
"We had to make in-game adjustments after the first inning," Yamamoto said. "We realized that they were sitting fastballs."
And so Yamamoto kept St. Louis hitters guessing by leaning liberally on a pair of breaking pitches instead on Tuesday. Fifty-four of his 99 pitches registered as a slider or curveball on Statcast. The change in approach lessened the recency bias the Cardinals had hoped would work in their favor.
"We didn't really adjust on his offspeed, and we look up, and there go all of our at-bats," DeJong said. "He had a couple different breaking balls working. He expanded the zone a little bit on us. But we didn't really adjust to him, and we look up, and he had a strong performance again."
It had been 112 years since a pitcher last opened his career with two wins against St. Louis in a seven-day span.
"Listen, at the end of the day, you have to say the guy did his job," Cardinals manager Mike Shildt said after his club was shut out for the fifth time this season. "You have to give him credit. This is a game of adjustments. These are guys that know how to make adjustments. It wasn't for a lack of thought. He was able to get through it. Again, give him credit. Move on."
Perhaps it'll be easier to do so knowing that they won't have to see Yamamoto again this season. The Cardinals will wrap up their season series against Miami this week.
"It's nothing flashy. It's nothing that's going to make you jump out of your seat and go, 'Wow,'" said Flaherty, who was nicked for three runs over seven innings. "But he was effective and able to execute. When you keep guys off balance, you're going to have success. Hats off to him."
Jenifer Langosch is a senior content manager at MLB.com. She previously covered the Pirates (2007-11) and Cardinals (2012-19). Follow her on Twitter.