Shorthanded 'pen costs Cubs late vs. Cards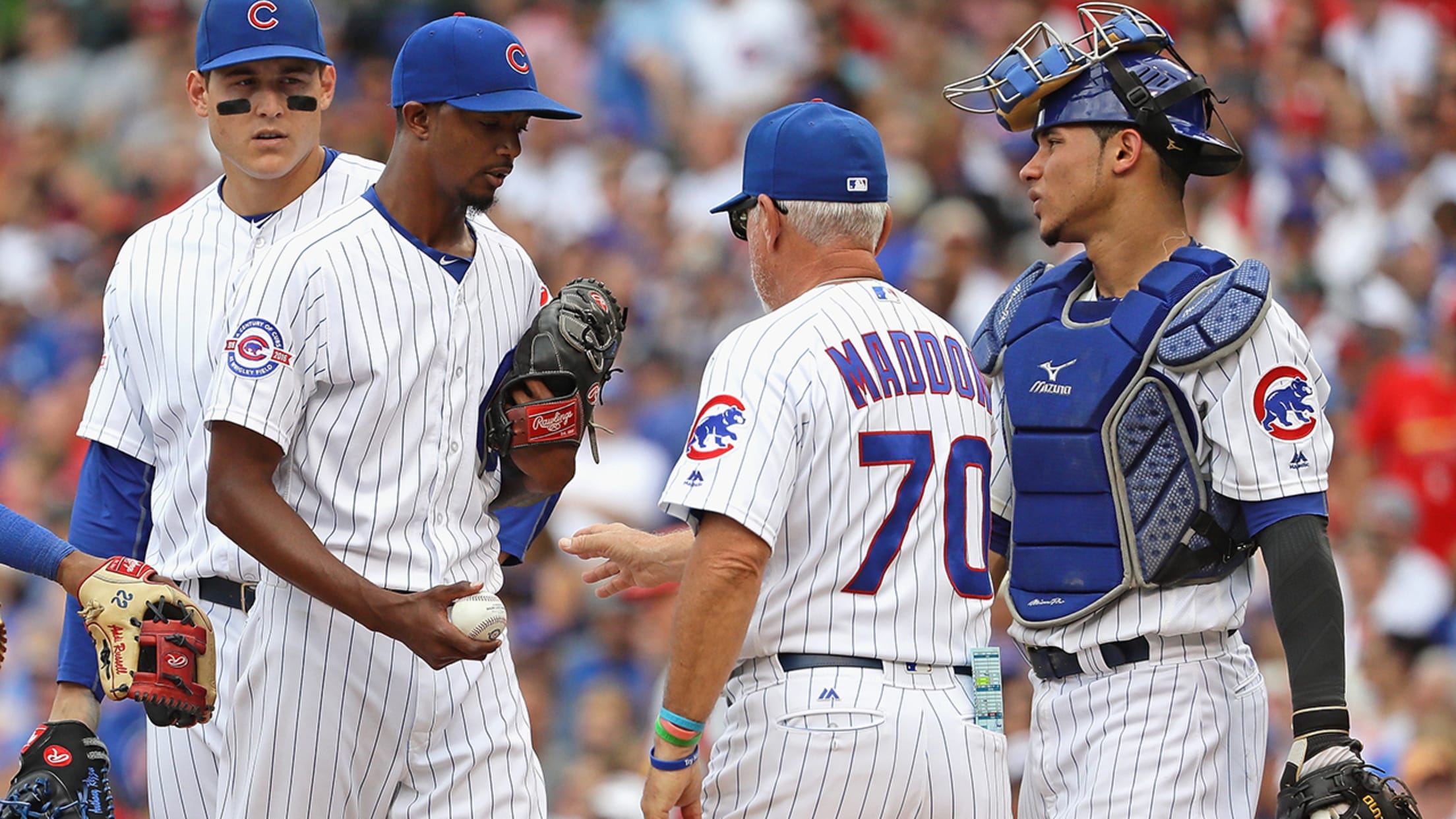 "Nobody's perfect, but I think he's been outstanding," Joe Maddon said about Carl Edwards Jr. (AP)
CHICAGO -- Pedro Strop was on crutches. Héctor Rondón was nursing a sore right triceps. The two Cubs relievers were missed in the eighth inning on Saturday against the Cardinals.With the game tied at 2, manager Joe Maddon called on Carl Edwards Jr., and the rookie was charged with five
CHICAGO -- Pedro Strop was on crutches. Héctor Rondón was nursing a sore right triceps. The two Cubs relievers were missed in the eighth inning on Saturday against the Cardinals.
With the game tied at 2, manager Joe Maddon called on Carl Edwards Jr., and the rookie was charged with five runs on one hit and four walks as the Cardinals ended the Cubs' winning streak at 11 with an 8-4 victory at Wrigley Field.
"That's an example of what the team looks like without Strop and Rondon," Maddon said. "I felt really good about C.J. in that moment. He's been outstanding."
Edwards had given up five earned runs over 23 2/3 innings in his career before Saturday. The big blow in the eighth was a grand slam by birthday boy Randal Grichuk off Joe Smith.
"I'm just missing, and when I miss, they seem to hit it over the wall," Smith said. "I haven't had that problem in my career. Sometimes this game is crazy and doesn't go the way you want it to go. I've had people roll over that ball hundreds of times. I just have to keep going and keep working. I'll figure it out.
"I'm not worried -- it's just aggravating. When you come to a new team, you want to do well and you want to do well off the bat and show what you can do. It hasn't gone that way."
In five games with the Cubs, who acquired him Aug. 1 from the Angels, Smith has given up three earned runs on six hits -- including three homers -- over 3 1/3 innings.
"On the [radar] gun, it looks right," Maddon said of Smith. "Part of the deal is the Cardinals have some good low-ball hitters, and that might be feeding into it a little bit."
Strop won't be back for at least four weeks after undergoing arthroscopic surgery on his left knee to repair a torn meniscus, but Rondon should be available Sunday after being sidelined with tightness in his right triceps.
Edwards had a big moment in the eighth Wednesday against the Angels, when he retired Mike Trout, Albert Pujols and Andrelton Simmons. Teams were batting .098 against him in his 18 previous outings, so Saturday was a surprise and also a teaching moment.
With the game tied at 2 and one out, Stephen Piscotty walked, Matt Carpenter singled and Brandon Moss walked to load the bases against Edwards. Yadier Molina struck out but Piscotty scored on a wild pitch. Jhonny Peralta walked to load the bases again, and Edwards walked Jedd Gyorko to force in another run. Smith then replaced Edwards, and Grichuck launched his second pitch into the left-center-field bleachers for his 14th homer.
"Part of leaving [Edwards] out there, too, is to learn how to get out of that moment," Maddon said. "If he does, and he walks off, he's learned another lesson. It didn't play out that way."
Maddon won't hesitate to call on Edwards in a tough situation again.
"The way he's been pitching, nobody's perfect, but I think he's been outstanding," Maddon said.
Chicago starter Kyle Hendricks, who matched a career high with 12 strikeouts, knows all the ups and downs of the game.
"A lot of times you learn more from the negative [outings]," Hendricks said. "[Edwards] knows that's going to happen in baseball. You can't be perfect all the time. He'll learn from it and be back. Nobody's worried about him."