Carrasco's strong start leads Indians over Reds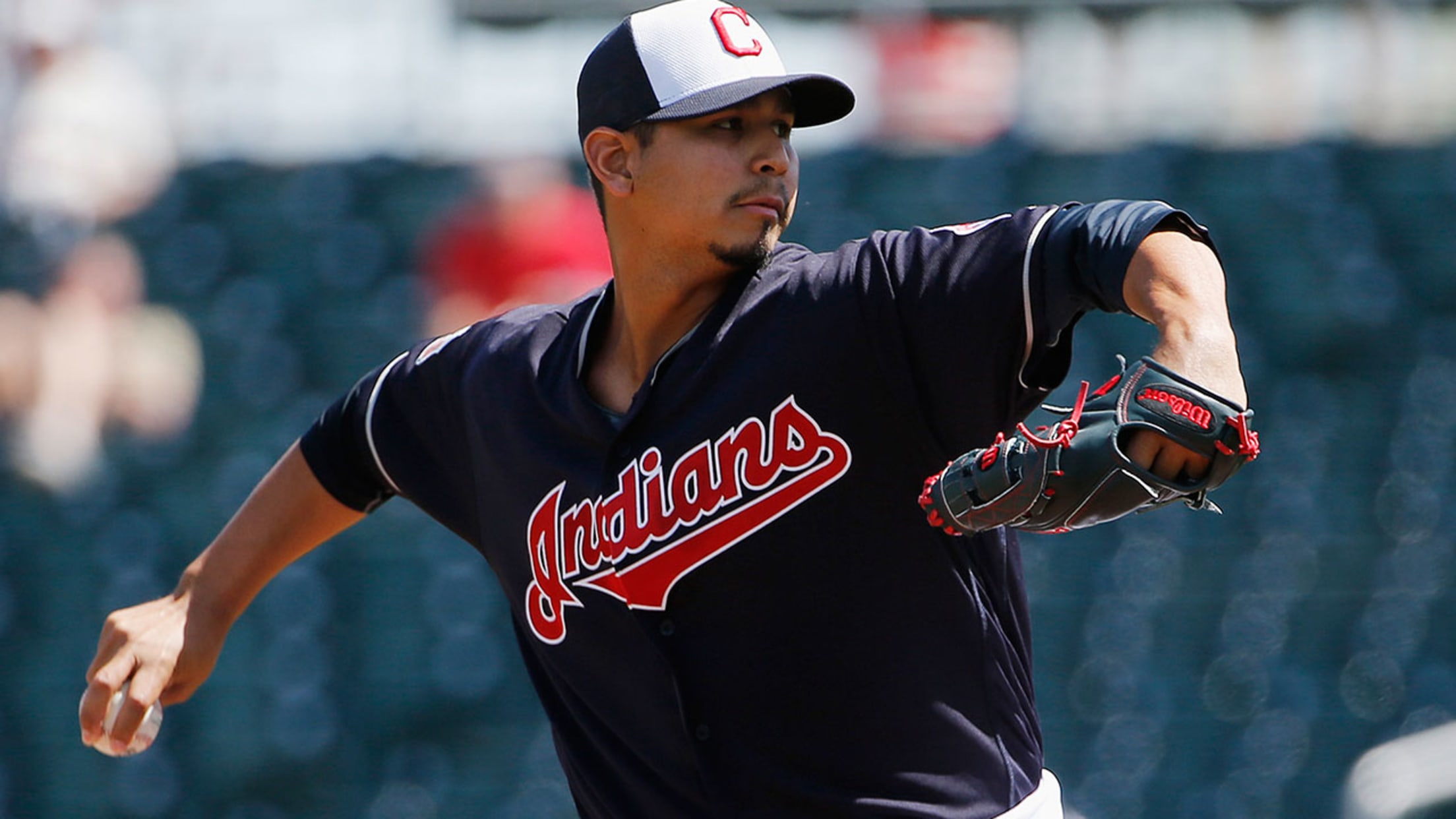 Right-hander Carlos Carrasco threw 6 2/3 innings on Thursday, striking out six and allowing just one earned run against the Reds. (AP)
GOODYEAR, Ariz. -- The final Battle of Ohio of the spring was won by the Indians over the Reds, 3-1, on Thursday at Goodyear Ballpark behind 6 2/3 innings of five-hit, one-run ball from Cleveland starter Carlos Carrasco.Both teams broke camp after the game for their final exhibition contests before
GOODYEAR, Ariz. -- The final Battle of Ohio of the spring was won by the Indians over the Reds, 3-1, on Thursday at Goodyear Ballpark behind 6 2/3 innings of five-hit, one-run ball from Cleveland starter Carlos Carrasco.
Both teams broke camp after the game for their final exhibition contests before opening the season on Monday. The Reds head to Indianapolis to play the Pirates and the Indians to Arlington, Texas, to face the Rangers.
The Reds started left-hander Cody Reed, the organization's No. 3 prospect according to MLBPipeline.com. He went 4 1/3 innings, allowing two unearned runs on three hits with four walks, six strikeouts and a wild pitch. He's expected to start the season at Triple-A.
"He was really working his changeup today, and I was impressed by that," Reds manager Bryan Price said. "It was one of the goals we set for him when we sent him to Minor League camp -- to improve and utilize his changeup. And he spent a lot of time on that pitch today, way more than he had when he was in big league camp. That was good to see."
Three of the walks were issued in the third inning as the Reds scored twice by virtue of an error by third baseman Eugenio Suarez and a passed ball.
The right-handed Carrasco tuned up for his first slated start of the season Wednesday night in Cleveland against the Red Sox. He allowed one run, coming in the second inning on a base-hit by Billy Hamilton that scored Devin Mesoraco. Overall, Carrasco walked two, struck out six and hit a batter.
"I think Carlos is fine," Indians manager Terry Francona said. "He's strong. He's understanding pitching. I mean, he's always been strong and he's always had the ability. Now that he understands, you're seeing him starting to figure out some things. I think that bodes well because as good as he is, there's probably more. "
• Hamilton to start season at bottom of Reds order
He left with two out and nobody on in the seventh, his longest outing the spring. Carrasco also closes the Cactus League schedule with a 3.28 ERA.
"We probably let him get a little more stretched out than the other guys, because he had been like one start behind. But he's good to go," Francona said.
Up next for the Reds: Following their departure from Arizona and a couple of nights in Cincinnati, the Reds will play one final exhibition game Saturday at 1:35 p.m. ET vs. the Pirates in Indianapolis. Veteran Alfredo Simon will get his last tune-up start on the mound following an abbreviated spring camp, having signed with the Reds on March 17.
Up next for the Indians: The Indians travel to Arlington, Texas, for a two-game exhibition series against the Rangers at Globe Life Park. It's a 7:05 p.m. ET start on Friday with Cody Anderson going for the Indians against Colby Lewis for the Rangers in a battle of right-handers. Opening Day is Monday against the Red Sox at Progressive Field.