Nats duo offers glimpse at Futures Game
Kieboom plays shortstop for USA; Garcia draws walk for World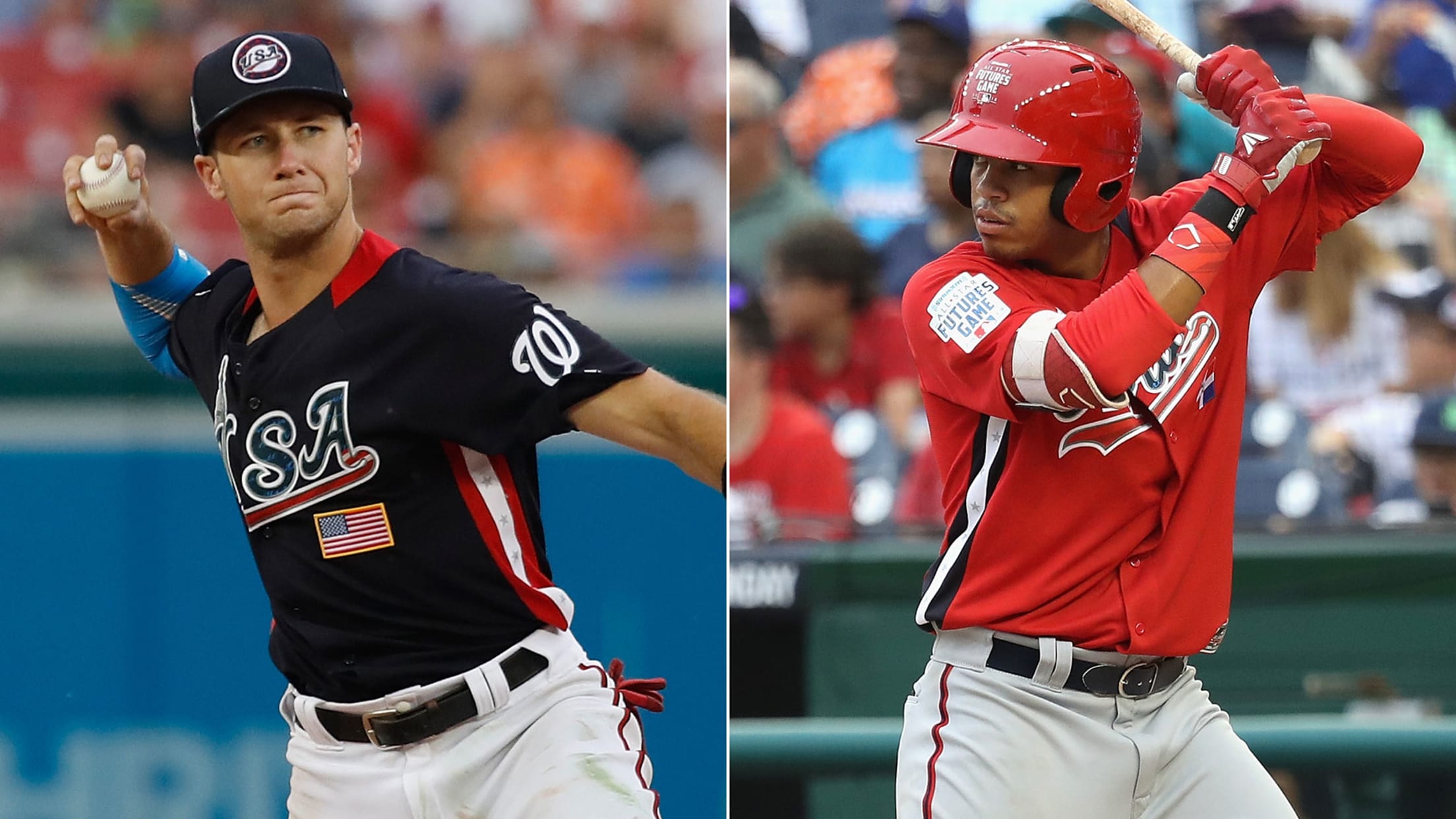 WASHINGTON -- Members within the Nationals' organization reject the notion that their window is closing. Even with a few key players approaching free agency and some of their stars aging, the Nats point to the talent the team continues to churn out as proof.Talent such as Carter Kieboom and Luis
WASHINGTON -- Members within the Nationals' organization reject the notion that their window is closing. Even with a few key players approaching free agency and some of their stars aging, the Nats point to the talent the team continues to churn out as proof.
Talent such as Carter Kieboom and Luis Garcia -- the club's second- and fifth-ranked prospects per MLB Pipeline, respectively -- who represented Washington in the SiriusXM All-Star Futures Game on Sunday. Kieboom's Team USA outslugged Garcia's World squad, 10-6.
The crowd at Nationals Park gave Kieboom a rousing ovation when he was introduced before the game and during his first at-bat in the seventh inning, when he struck out against right-hander Adonis Medina. Kieboom struck out in both of his at-bats, while Garcia walked in his lone plate appearance.
:: 2018 Futures Game coverage ::
"It's awesome," Kieboom said about the fan reaction. "It's really cool to see the fans come up around you and applaud like you that, that's always fun."
Kieboom, the club's first-round Draft pick in 2016, enjoyed a fast start that earned him a promotion to Double-A Harrisburg. In 81 games between Class A Advanced and Double-A, Kieboom posted a slash line of .300/.380/.480 with 13 home runs. He attributed his success at the plate to keeping his approach simple.
Kieboom, whose brother Spencer Kieboom is a catcher on the Nationals roster, is starting to knock on the door of the Majors, and although he said he did not set a timetable for himself, he was excited to walk into the Nats clubhouse -- one he hopes he can call home soon.
"It's special," said Kieboom, who replaced Bo Bichette at shortstop in the top of the fifth inning. "Walking in any big league park is awesome, but to walk into this one and to be in the nation's capital, I think it's a little extra special."
Garcia, who just turned 18 in May, was the youngest player on either roster Sunday. He has a slash line of .302/.339/.402 in 87 games between Class A Hagerstown and Class A Advanced Potomac. Garcia replaced Luis Urias at second base in the bottom of the fifth.
The Nats have reaped the benefits lately of their international signings. Juan Soto has hit to become the everyday left fielder in D.C. much sooner than expected, and top prospect Victor Robles is on the way back from an injury. Garcia offers another example of the strides the Nationals have made in that market and one of the next wave of prospects who could keep their window open for much longer.