Friday's top prospect performers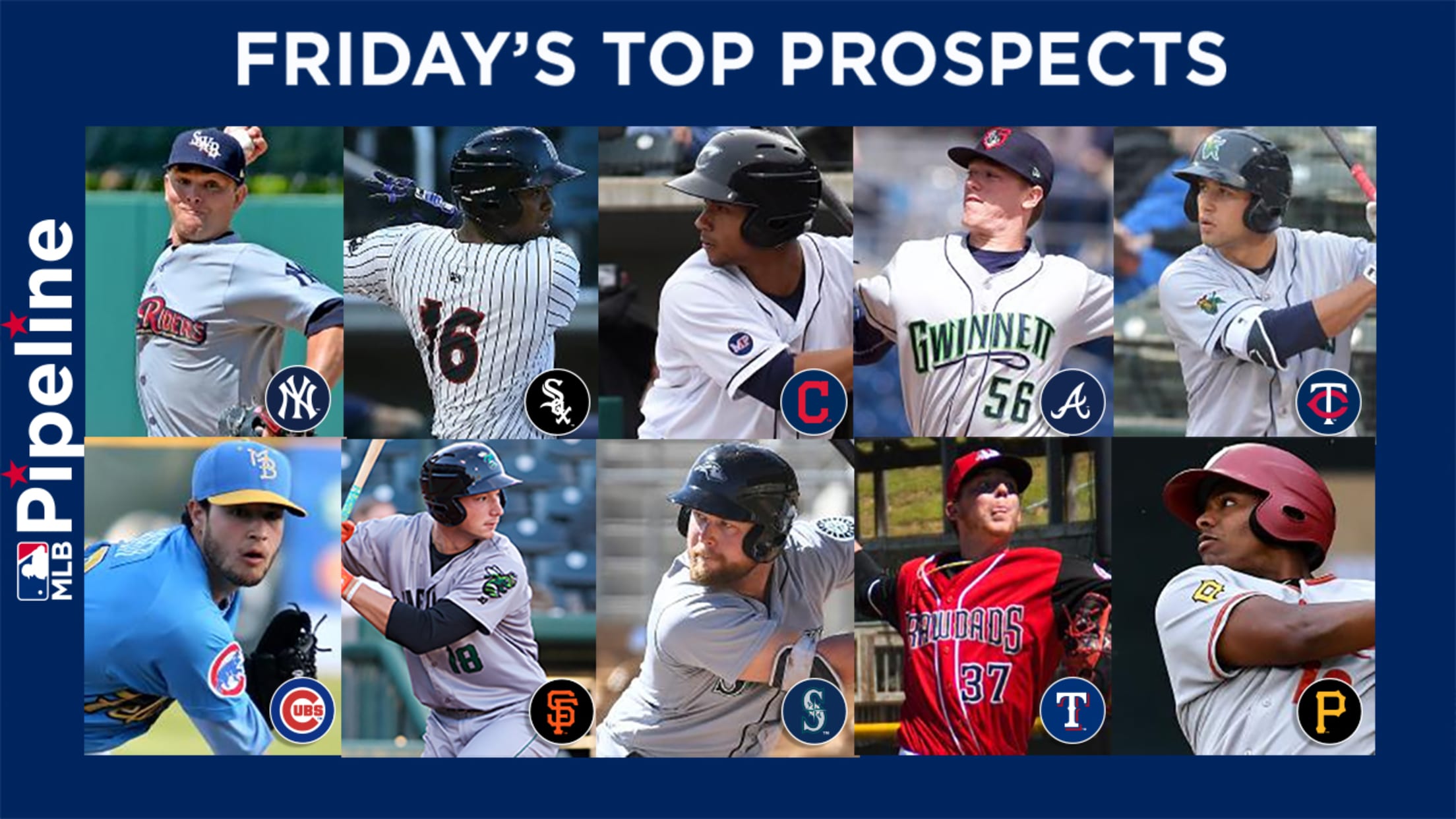 Here's MLB Pipeline's roundup of the top prospect performances in the Minor Leagues on Friday.:: Complete prospect coverage ::Chance Adams didn't make it out of the first inning in his last start, but that appeared to be a distant memory as he led Triple-A Scranton/Wilkes-Barre to a 4-0 win over
Here's MLB Pipeline's roundup of the top prospect performances in the Minor Leagues on Friday.
:: Complete prospect coverage ::
Chance Adams didn't make it out of the first inning in his last start, but that appeared to be a distant memory as he led Triple-A Scranton/Wilkes-Barre to a 4-0 win over Indianapolis on Friday night.
The Yankees' No. 5 prospect (No. 68 in MLB) turned in his third scoreless outing of the season and struck out seven over 5 2/3 innings. Adams scattered four hits, struck out the side in the second and allowed just two runners to get into scoring position.
The strong start was much needed for the 23-year-old as he'd given up eight runs over 3 2/3 innings in his last two starts.
Billy McKinney, the Yankees' No. 17 prospect, helped seal the game with a solo homer, his third in four games, in the eighth.
Other top prospect performances from Friday's action:
• No. 3 overall prospect Eloy Jimenez (White Sox No. 1) wasted no time extending his hitting streak to 11 games for Double-A Birmingham. The 21-year-old tripled in the first and added a single in the third, finishing 2-for-4. Jimenez is hitting .335 through 39 games and was named the White Sox Minor League Player of the Month after hitting .374 in 26 games in May.
• No. 12 overall prospect Francisco Mejia (Indians' No. 1) provided all the offense for Triple-A Columbus in a loss to Syracuse. Mejia put the Clippers on the board with a two-run homer, his fourth, in the fourth, but he finished just 1-for-4. Mejia does have a five-game hitting streak going, but he has been having a tough season and is hitting .190 through 44 games.
MILB Video - Title: Mejia goes yard - Url: http://www.milb.com/r/video?content_id=2108481683
• No. 51 overall prospect Kolby Allard (Braves' No. 6) spun his seventh straight quality start for Triple-A Gwinnett. The 20-year-old lefty threw 62 of his 91 pitches for strikes, walked one, struck out two and gave up one run on five hits over seven innings. Allard, who has a 2.00 ERA through 10 starts this season, has completed at least seven innings in four straight starts.
• No. 100 overall prospect Alex Kirilloff (Twins' No. 6) hit his ninth homer of the season for Class A Cedar Rapids. The 20-year-old, a first-round Draft pick from 2016, hit a solo shot in the sixth and added a single and a double to finish his night 3-for-5.
• Braves' No. 9 prospect Cristian Pache set a career high with five RBIs as part of a huge night with Class A Advanced Florida. The 19-year-old, who finished 4-for-6, drove in two with a double in the seventh and hit a three-run homer in the eighth.
• Cubs prospects Thomas Hatch (No. 7) and Jason Vosler (No. 30) helped lead Double-A Tennessee to a win over Mobile in Game 1 of a doubleheader. Hatch picked up his fifth win as he fired seven innings of one-run ball, striking out three and giving up six hits. Meanwhile, Vosler put the Smokies on the board with a two-run homer in the first and added a two-run double in the fourth before finishing 2-for-4.
• Indians' No. 28 prospect Eli Morgan picked up his second straight win for Class A Advanced Lynchburg after throwing 6 1/3 scoreless innings. Morgan, who struck out six and gave up just three hits, has allowed one run over his past two starts (13 1/3 innings).
• Mariners' No. 12 prospect Eric Filia was a perfect 5-for-5 with five RBIs in his third game with Double-A Arkansas. The 25-year-old outfielder missed the first 50 games of the season, but he has shown no signs of rust. He has at least one hit in each game he's played, hitting .615 (8-for-13) overall.
MILB Video - Title: Filia hits second double - Url: http://www.milb.com/r/video?content_id=2110250583
• Pirates' No. 4 prospect Ke'Bryan Hayes stayed hot with another multihit barrage of extra-base hits for Double-A Altoona. Hayes, who went 4-for-5 with three doubles, is 6-for-8 over his past two games and has multiple hits in five of his past seven contests.
• Rangers' No. 16 prospect A.J. Alexy added to his impressive strikeout total as he fanned eight over five scoreless innings for Class A Hickory. Alexy, an 11th-round pick of the Dodgers in the 2016 Draft, has struck out 53 over 38 1/3 innings this season. The right-hander walked three, but yielded just one hit in his outing.
• Rays' No. 19 prospect Ronaldo Hernandez set a career high with five RBIs as he went 3-for-5 for Class A Bowling Green. Hernandez, like the rest of the Hot Rods, did the bulk of his damage in the 10-run fourth, hitting a grand slam for his fourth homer of the season.
• Red Sox pitching prospects Alex Scherff (No. 8) and Jake Thompson (No. 13) put together strong performances for Class A Greenville and Class A Advanced Salem. Scherff turned in his second scoreless outing of the season while giving up five hits over six innings. Thompson, meanwhile, rebounded from a rough outing and struck out five while giving up one run over seven innings.
• Royals' No. 3 prospect Seuly Matias hit his third homer in as many games as part of a 1-for-3 performance in Game 1 of a doubleheader for Class A Lexington. The 19-year-old has been on a power surge all season and has 15 homers through 38 games after hitting 15 homers over the first 110 games of his career in 2016 and 2017.