Chase Field hosts 23 for Pitch, Hit & Run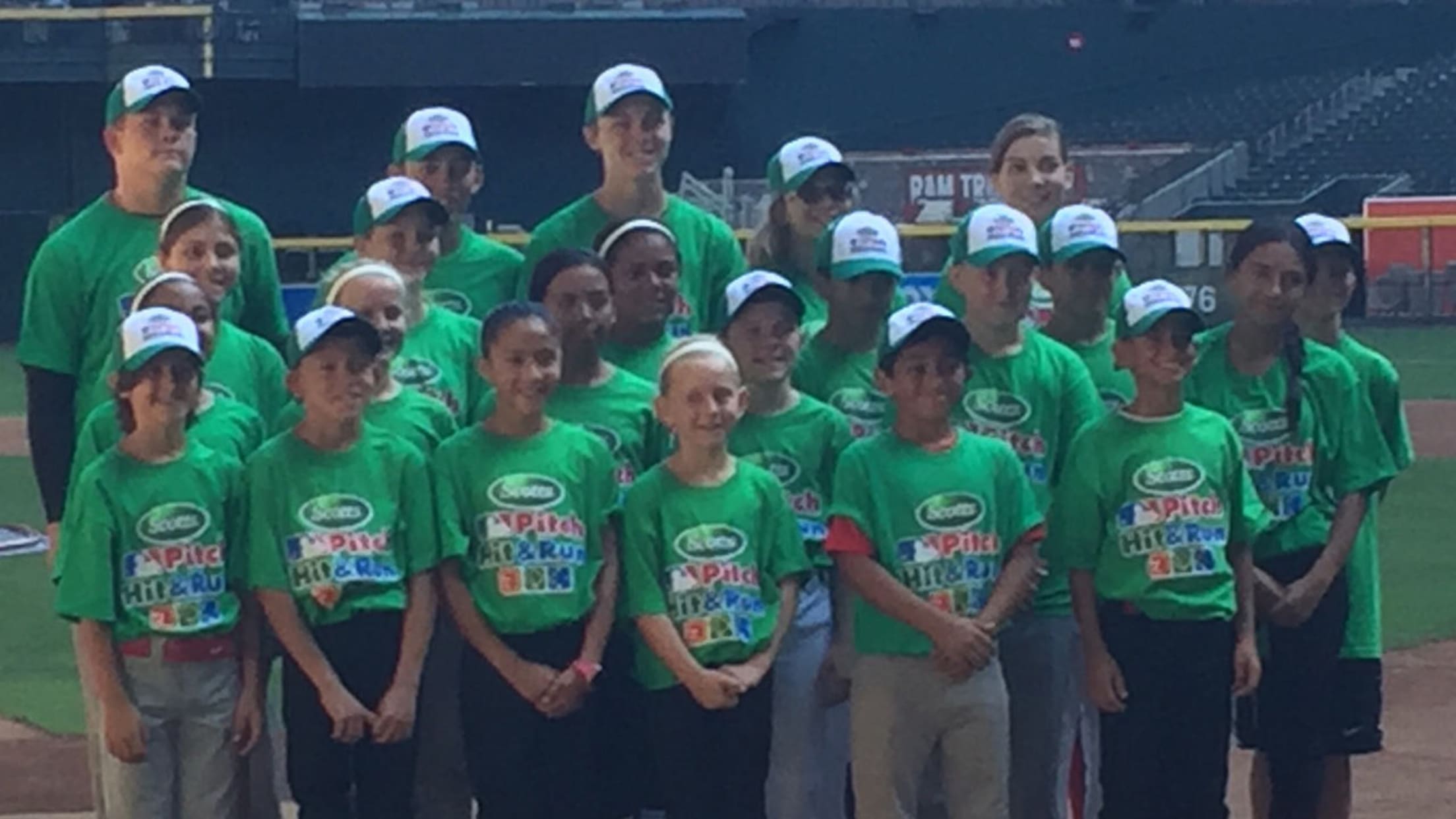 Chase Field hosted 23 Pitch, Hit & Run competitors on Sunday. (Justin Toscano)
PHOENIX -- Sunday morning marked the culmination of a seven-year journey for Isaac Horstman, who has participated in Major League Baseball's Pitch, Hit & Run competition since he was 7. He reached the sectional competition five times and won it four, but finished second in his only trip to Chase
PHOENIX -- Sunday morning marked the culmination of a seven-year journey for Isaac Horstman, who has participated in Major League Baseball's Pitch, Hit & Run competition since he was 7. He reached the sectional competition five times and won it four, but finished second in his only trip to Chase Field during that span.
The 14-year-old Albuquerque, N.M., native finished the job this time, as he took first place in the 13/14 Baseball division. Horstman was one of 23 kids from Arizona and New Mexico who participated in the 2017 Scotts Pitch Hit & Run MLB Team Championship at Chase Field.
"This time, I was less nervous," Horstman said. "The first time, I was younger and it was a huge ballpark and stuff."
The other winners were Mya Lopez (7/8 Softball), Lexi Vasquez (9/10 Softball), Jasmine Garcia (11/12 Softball), Emily Reilly (13/14 Softball), Derek Wilson (7/8 Baseball), Branson Hughes (9/10 Baseball) and Yonathan Hernandez (11/12 Baseball).
The Pitch, Hit & Run competition consists of three skills challenges. Kids hit balls off a tee, are timed running from second base to home plate and try to throw strikes, as their family members cheer them on from the stands behind the dugout.
Most kids dream of setting foot on a big league diamond from the moment they pick up a bat. Pitch, Hit & Run allows them to do just that ... if they make it far enough.
"Going all around places and experiencing this ballpark, it's fun because it's playing baseball," Horstman said. "But it's really cool to just be on the field in the batter's box at Chase Field."
Horstman's father, Gerhardt, is a baseball coach back in New Mexico who organizes local Pitch, Hit & Run competitions. His mother is a physical therapist who has worked with D-backs first baseman Paul Goldschmidt and former D-back Aaron Hill. Isaac said he played well in his baseball game on Saturday, describing himself as being "in the flow."
Isaac has always been around the game, but Pitch, Hit & Run has been a unique experience.
"He's had a great life with baseball," Gerhardt said. "But for him, this is like, 'Wow.' He accomplished something."
Competitions like the one at Chase Field are held in each of MLB's 30 ballparks. The first-place winners from those competitions are pooled together and the Top 3 scorers from each age division will receive an all-expenses paid trip to MLB All-Star Week in Miami. During their stay, the finalists will compete in the National Finals on the field at Marlins Park prior to the Home Run Derby.
"[Pitch, Hit & Run] is like a dream for these guys, it really is," Gerhardt said.
If Isaac's score is high enough, another one of his dreams will come true -- as he'll be headed for Miami.
Justin Toscano is a contributor to MLB.com.