Ellis among top prospect performers Tuesday
Braves' No. 13 prospect hurls 6 2/3 innings without allowing a hit for Double-A Mississippi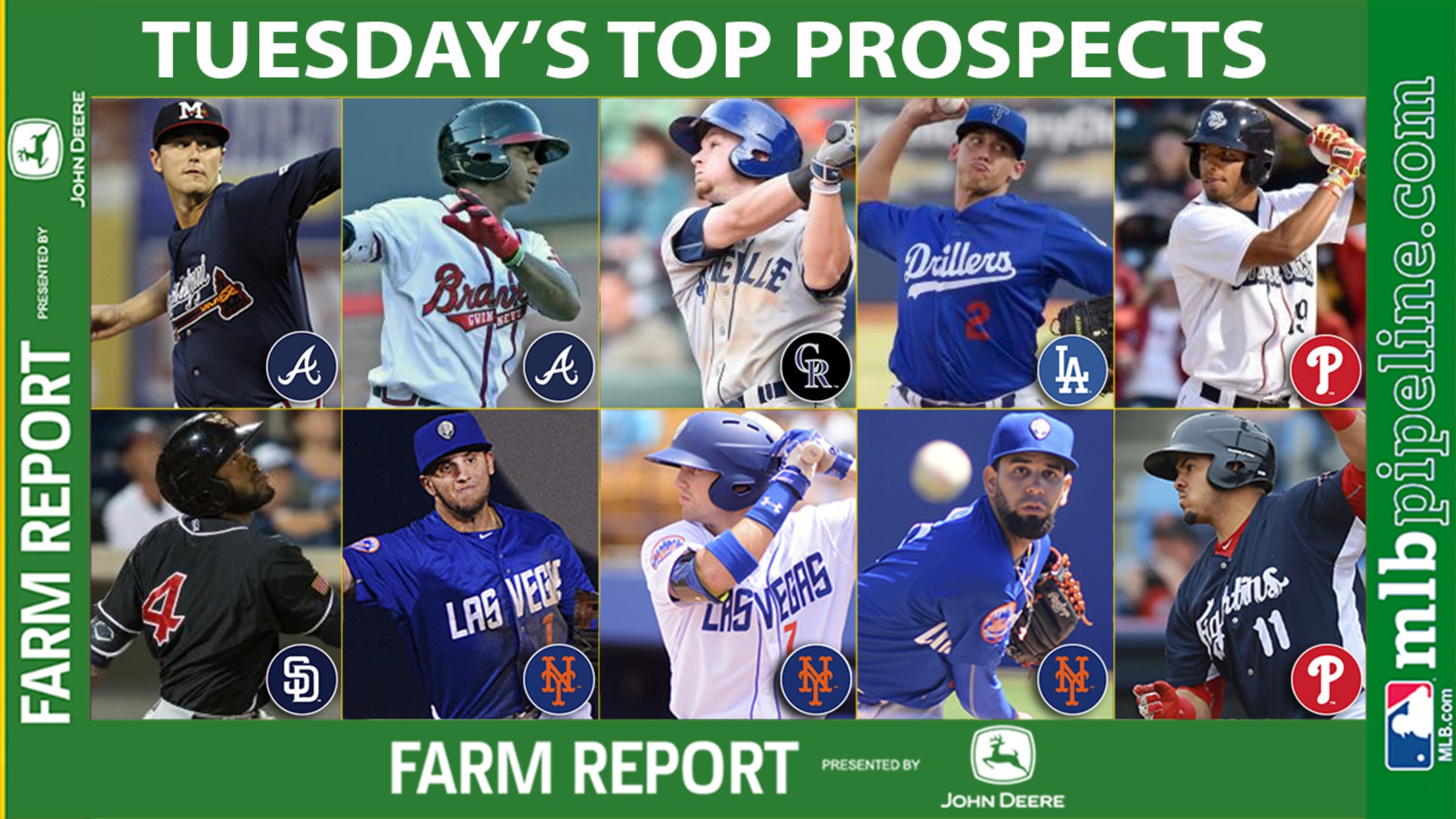 (Paul Sancya/AP)
Better command would have allowed Chris Ellis a chance to finish his bid for a no-hitter, but the Braves' No. 13 prospect still put together one of his best starts this season for Double-A Mississippi Tuesday in its 5-1 win against Tennessee.Ellis twirled 6 2/3 hitless innings and gave up
Better command would have allowed Chris Ellis a chance to finish his bid for a no-hitter, but the Braves' No. 13 prospect still put together one of his best starts this season for Double-A Mississippi Tuesday in its 5-1 win against Tennessee.
Ellis twirled 6 2/3 hitless innings and gave up one unearned run. The right-hander was lifted after throwing 104 pitches, 63 of which went for strikes. Ellis struck out four, but his pitch count was elevated because he issued five walks, a season-high.
MILB Video - Title: Ellis fans fourth hitter - Url: http://www.milb.com/r/video?content_id=788017083
The Braves acquired Ellis in an off-season trade with the Angels for Andrelton Simmons. Through 12 starts, Ellis is 7-2 with a 2.85 ERA.
The rest of the best performances from top prospects Tuesday
• Rockies' top prospect Brendan Rodgers put together a three-hit game for the fourth time this season. The No. 10 overall prospect scored a run and went 3-for-5 with two doubles as Class A Asheville topped Hagerstown in 12 innings, 6-5.
• No. 25 overall prospect Ozzie Albies (Braves' No. 3) nearly hit for the cycle, but came up a homer shy as he went 3-for-4 in Triple-A Gwinnett's 11-6 loss to Lehigh Valley.
MILB Video - Title: Watch: Albies launches RBI double - Url: http://www.milb.com/r/video?content_id=789421883
• With the way he pitched Tuesday, it's hard to believe Dodgers' No. 2 prospect Jose De Leon was out for more than a month. Then again, there's a reason the 23-year-old right-hander is regarded as baseball's No. 20 overall prospect. In his first start back from a stint on the disabled list, De Leon threw three perfect innings and struck out six in Triple-A Oklahoma City's 7-1 win over Round Rock.
• Padres No. 1 prospect Manuel Margot extended his hitting streak to 10 games, going 3-for-5 for Triple-A El Paso in a 7-1 loss to Fresno. While a double-digit hitting streak is impressive, Margot isn't just picking up one hit a night. The No. 40 overall prospect has eight multi-hit games during the streak, including four three-hit performances.
• No. 59 overall prospect Nick Williams (Phillies' No. 3) went 3-for-4 with a double and two RBIs at the plate. Williams also stole his fifth base in the IronPigs' 11-6 win.
MILB Video - Title: Watch: Williams drives run in - Url: http://www.milb.com/r/video?content_id=789420883
• A trio of Mets prospects had their fingerprints all over the box score as Triple-A Las Vegas routed Tacoma, 13-2. Gavin Cecchini (Mets' No. 3) and Brandon Nimmo (Mets' No. 4) provided plenty of offensive firepower, while Gabriel Ynoa (Mets' No. 13) kept the Tacoma bats at bay. Cecchini, baseball's No. 81 overall prospect, went 3-for-4 with two runs and a double, while Nimmo homered and drove in three runs in a 3-for-5 performance.
The outing bumped Ynoa's record to 7-1 and the right-hander has gone at least six innings in his past 11 starts. On Tuesday, Ynoa went seven frames and gave up two runs on six hits.
• No. 90 overall prospect Jorge Alfaro (Phillies' No. 6) continues to have a big season offensively as he drove in another four runs Tuesday, his second four-RBI game of the year. Alfaro went 2-for-4 with his fifth homer in Double-A Reading's 11-1 rout and raised his average to .324. Phillies No. 19 prospect Rhys Hoskins went 3-for-5 with his 13th homer and No. 22 prospect Dylan Cozens hit his 16th homer in a 2-for-4 performance.
MILB Video - Title: Phillies prospects go back-to-back-to-back - Url: http://www.milb.com/r/video?content_id=787341283
• Jaycob Brugman (Athletics' No. 21) and Ryon Healy (Athletics' No. 17) each homered in Triple-A Nashville's 13-4 win. Brugman went 2-for-6 with a season-high four RBIs, while Healy was 3-for-5 and is hitting .351 at Triple-A.
• Braves No. 6 prospect Touki Toussaint set a career-high for strikeouts as he fanned nine in Class A Rome's 4-2 loss to Charleston. The 19-year old right-hander threw six scoreless frames and gave up two hits in what was his best start of the season.
MILB Video - Title: Watch: Touissant notches K - Url: http://www.milb.com/r/video?content_id=788950383
• Peter O'Brien (D-backs' No. 7) has done nothing but drive in runs over the past two weeks. O'Brien went 2-for-3 with an RBI for Triple-A Reno and has driven in a run in nine straight games. The 25-year old has collected 21 RBIs in that span and has 52 in 50 Minor League games.
• The way Willie Calhoun was swinging the bat for Tulsa, he may not have objected to another playing a third game Tuesday. The Dodgers' No. 15 prospect went 4-for-7 with two home runs and four RBIs across a doubleheader. Calhoun hit both his homers in the second game of the twin bill, marking his first multi-homer game of the season and the second of his Minor League career.
MILB Video - Title: Calhoun hits his second homer - Url: http://www.milb.com/r/video?content_id=787468183
• Orioles No. 19 prospect Mike Yastrzemski broke up Rays prospect Jaime Schultz's perfect game in the seventh on Monday and followed it up with a 3-for-4 game with a homer and four RBIs on Tuesday in the Tides' 7-3 win over Durham. Yastrzemski is hitting .309 in 54 games between Double-A Bowie and Triple-A Norfolk.
MILB Video - Title: Yastrzemski rips a three-run homer - Url: http://www.milb.com/r/video?content_id=788233183
• Rangers No. 26 prospect Connor Sadzeck had everything working in six solid innings in Double-A Frisco's 3-2 win against San Antonio. The 24-year old allowed a pair of unearned runs, surrendering four hits, while walking none and striking out eight.