Herrmann excited for new opportunity with A's
Veteran catcher expected to platoon with either Phegley or Hundley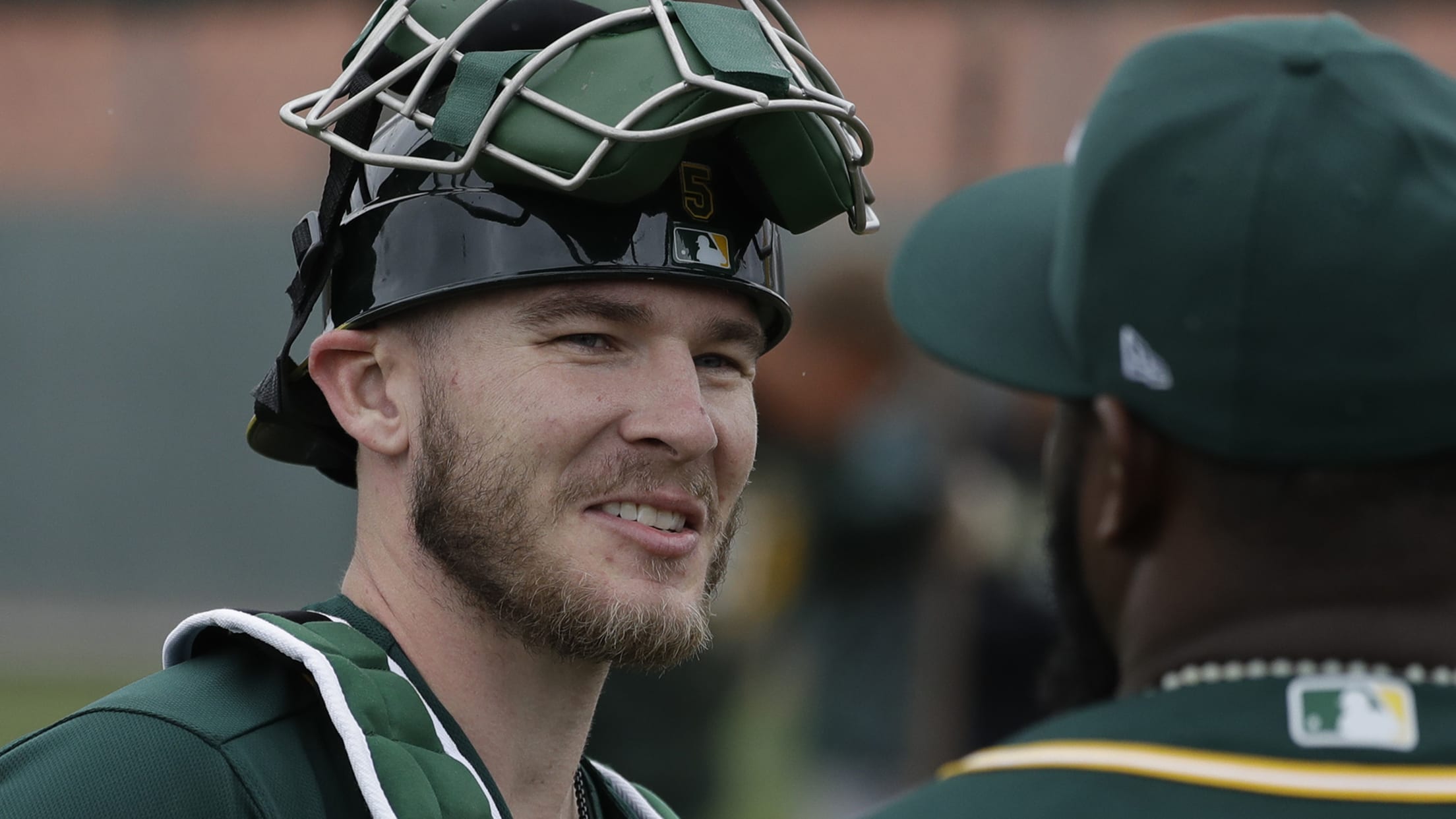 Oakland Athletics' Chris Herrmann at their spring baseball training facility in Mesa, Ariz., Thursday, Feb. 14, 2019. (AP Photo/Chris Carlson) (Chris Carlson/AP)
MESA, Ariz. -- Let it be known that Chris Herrmann is considering a return to using a quintessential 1980s song, A-ha's "Take On Me," as his walkup music.This development should make the boisterous A's fans in right field at the Coliseum happy. After all, in Herrmann's Arizona Diamondbacks days, some
MESA, Ariz. -- Let it be known that Chris Herrmann is considering a return to using a quintessential 1980s song, A-ha's "Take On Me," as his walkup music.
This development should make the boisterous A's fans in right field at the Coliseum happy. After all, in Herrmann's Arizona Diamondbacks days, some in the Chase Field crowd would sing along to the high-pitched vocals part of the song's chorus.
"My wife told me I should. We'll see," Herrmann said Monday at A's Spring Training. "It is a good song. It's my wife's, and I have a little son and he always dances to that song. So it's kind of like part of the family now."
:: Spring Training coverage presented by Camping World ::
Herrmann has a new baseball family this year after signing with the A's in December. He's slated to platoon at catcher with either Josh Phegley or Nick Hundley, who Oakland recently signed, this season.
After playing 36 games with the Mariners in 2018, Herrmann was claimed by the Astros, who allowed him to become a free agent. Oakland sought help at catcher, approached Herrmann and the two sides agreed to a one-year contract.
"This opportunity this year for me is going to be a really good one," Herrmann said. "There's a lot of great players in this camp, and from what I'd seen last year when I was in Seattle playing against this group of guys, I was super excited about coming here. It's kind of funny how it worked out, but it worked out in the right way."
The A's have three primary Major League options at catcher in camp -- Herrmann. Phegley and Hundley. If nothing else, they could decide to keep all three on the roster, as they will be allowed to carry 28 players for the two regular-season games they will play against the Mariners in Japan on March 20-21.
For his part, the left-handed-hitting Herrmann is pleased that he'll only play catcher. He's been a utility player throughout his big league career, which started in Minnesota in 2012.
"This is going to be sort of a different experience for him. Last several years, he's been more of a utility guy, the third-catcher-type thing and plays different positions, swings the bat well," A's manager Bob Melvin said. "I know he's excited about getting an opportunity to just catch. Who knows where a 15-inning game goes, or something like that, but we're looking for him to get most of, if not all, the at-bats against right-handed pitching. That's why we brought him in. This is probably the best opportunity he's had to get some consistent playing time, and behind the plate, where it seems like that's what he enjoys the most."
For the moment, the A's don't plan to make Herrmann play a variety of positions. And he has already learned a great deal in a week of Spring Training while working with Oakland's bullpen coach, former catcher Marcus Jensen.
"I feel like every team in the league knows I'm capable of playing different positions," Herrmann said, "but at heart, I do want to be a catcher. I want that to be my primary focus, I want to be the best catcher I can possibly be.
"For me, being a left-handed hitter and being a catcher is going to help me stay in this game for five, six more years."
Watching from behind the plate or the opposing dugout, Herrmann was always impressed with Oakland's young talent and all of the lineup combinations that Melvin has fielded. Herrmann hopes to be part of a team that builds off last year's postseason appearance.
"It's not like they had an 'A-squad' lineup and then on Sunday a 'B-squad.' No," Herrmann said. "All these guys are ready to play, they're prepared and they're dangerous."
Jose M. Romero is a contributor to MLB.com.