Sale vs. Altuve a matchup of stars taking off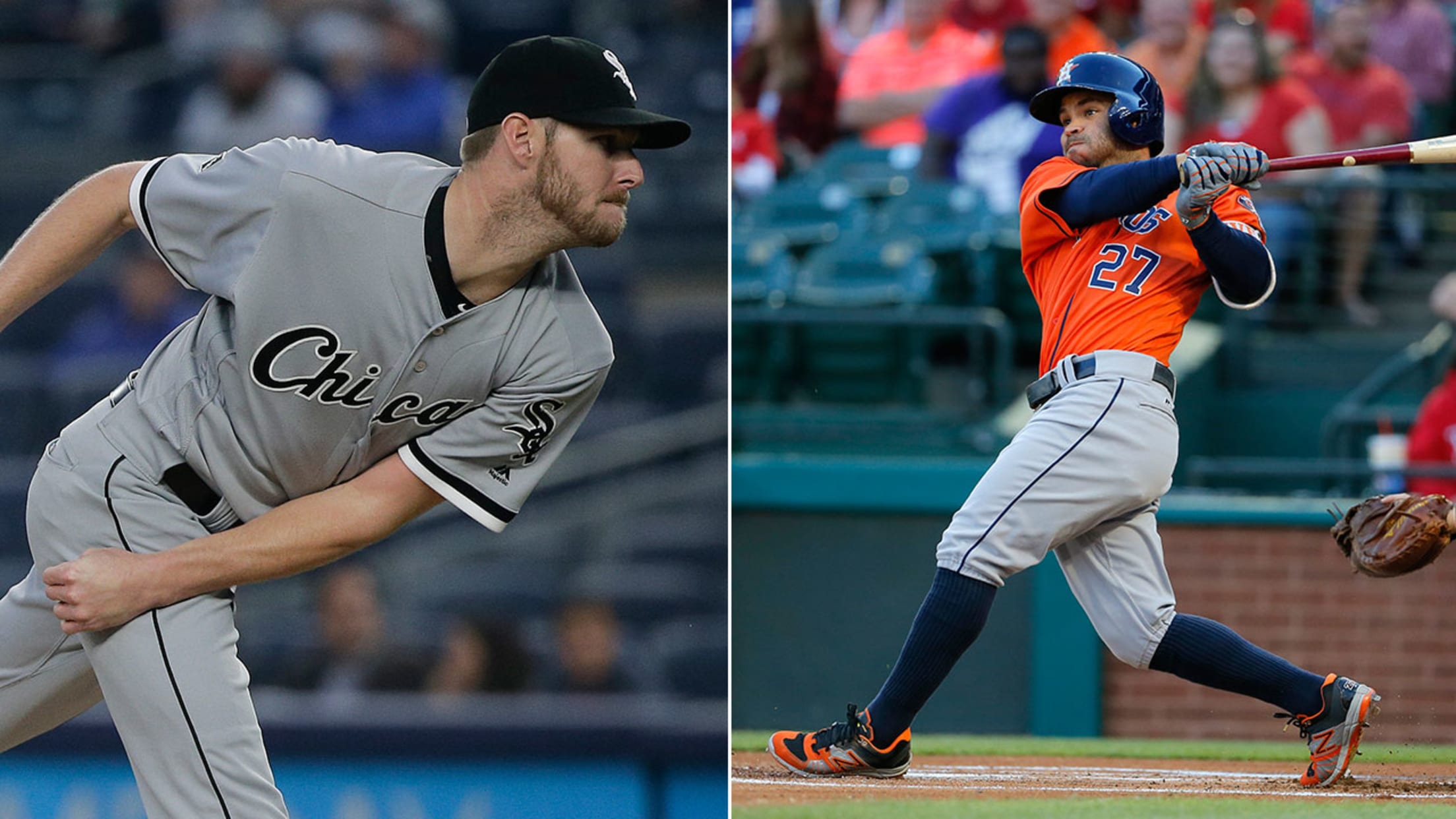 CHICAGO -- Baseball never stops being a game of adjustments, even for its high achievers.Jose Altuve won the American League batting title in 2014, but he spent last season getting comfortable with a mechanical change designed to help drive the ball over the outfield more often. Chris Sale set a
CHICAGO -- Baseball never stops being a game of adjustments, even for its high achievers.
Jose Altuve won the American League batting title in 2014, but he spent last season getting comfortable with a mechanical change designed to help drive the ball over the outfield more often. Chris Sale set a franchise record for strikeouts last season, but he went to Spring Training working to pitch deeper into games, even if it meant sometimes pitching to contact.
When Altuve faces Sale in Thursday's series finale between the Astros and the White Sox, he'll do so as one of the early frontrunners for the AL Most Valuable Player Award. Sale, 8-0 in eight starts, goes to the mound well positioned to win the AL Cy Young Award that's been predicted for him for awhile now.
This is one of those matchups that only comes around every night. But no matter who Altuve is facing, watching him lead off games is one of the best parts of A.J. Hinch's job. He praises Altuve's "superhuman powers'' as well as his effervescent personality.
"He's as fun of a player as I've ever been around, in any role,'' said Hinch, the Astros' manager. "As a teammate, now as a manager. Watching him evolve as a hitter has been really, really exciting for me and everybody around us.''
Altuve enters Thursday batting .348 and near the top in the Majors in runs (38), doubles (17), stolen bases (15) and on-base percentage (.437). But what's especially exciting is that he had nine home runs, only six fewer than the career high of 15 from last season.
"The excitement that he brings when the lineup rolls around, the power he's developing, shows he's not a one-track hitter,'' Hinch said. "He's a guy who is known for getting hits, but he's evolving into one who can do damage as well. That's a pretty exciting offensive player to have at the top of the order.''
Altuve stands only 5-foot-6. He brought back parallels to Wee Willie Keeler when he batted .341 in 2014 to give the Houston franchise its first batting champion.
Conventional wisdom would have had Altuve working on reaching base more often so he could use his speed to torment opponents. But he wanted to drive the ball better, forcing opposing outfielders to play him deeper.
Altuve developed an understated leg kick as a pitcher got close to his release point.
"Not too much, just a little," Altuve told Eno Sarris of Fangraphs last year. "I wanted to do an early step, not a big leg kick."
The results have been impressive. Not only has Altuve begun to hit for the kind of power that Jimmy Rollins did in his prime -- the 5-foot-7 shortstop hit 30 homers in 2007, when he won the National League MVP Award -- but says he's recognizes pitches earlier than he once did, which allows him to avoid the kind of soft contact that had neutralized him somewhat in the past.
Let's see how that works against Sale. The 27-year-old lefty can hit the high-90s from a three-quarters arm slot and throws strikes with a slider and a changeup, both of which can be devastating.
Sale has a 1.67 ERA while, appropriately enough, holding hitters to a .167 batting average. He's struck out 53 and walked 10 over 59 1/3 innings, compiling an 0.76 WHIP.
There's nothing surprising about Sale's success, of course. He's finished between third and sixth in AL Cy Young Award voting in each of the past four years and in that time ranked behind only Clayton Kershaw, Max Scherzer and David Price in WAR.
Nobody in baseball, including Kershaw, has had stretches as dominating as Sale. He was in a stretch at the start of last summer that in some ways was better than his fast start this season.
In nine starts between May 28 and July 11, 2015, Sale compiled a 1.59 ERA while striking out 103 and walking only nine over 68 innings. But he was only 5-2 in that stretch, with the White Sox winning only six of nine.
One thing Sale has never done is pile up innings, throwing 200-plus innings in only two seasons. He concluded that he was hurting himself with too many strikeouts and is dialing back his velocity and, at times, movement this season to deeper into games.
"For starting pitchers, the most important thing is innings,'' Sale said. "If you rack up a lot of innings, it means you're out there doing everything it takes to get those innings. You're saving the bullpen, taking a little stress off the guy who is starting the next day.''
Sale is thrilled his strikeout rate has dropped from 11.8 per nine innings to a career low 8.0. He is averaging exactly one more inning per start than he did in his first eight starts in 2015, and he has reduced his pitches per inning from 15.8 to 14.4.
"Strikeouts are cool,'' Sale said. "I get it. Everyone's fascinated with strikeouts and home runs. But on the flip side, if you hit 50 homers and hit .150, that won't play too well. I want to get as many innings as I can, take stress off relievers and just get deep into games.''
Altuve is a .357 career hitter against Sale. He's done a good job putting the ball in play (three strikeouts in 14 at-bats) but has never hit a home run off him.
Altuve faced Sale only once last season. He was 2-for-4 with a double and two strikeouts in a 3-1 win for the White Sox on June 8 at U.S. Cellular Field.
Sale mostly went at Altuve with sliders and changeups, throwing only three mid-90s fastballs among the 14 pitches he threw him. Can't wait to see what happens this time around, especially if Sale is still around to face Altuve with the game on the line in the ninth.
Phil Rogers is a columnist for MLB.com.