Woodward guiding Rangers' renewed approach
After hefty K totals, Texas skipper spearheading new process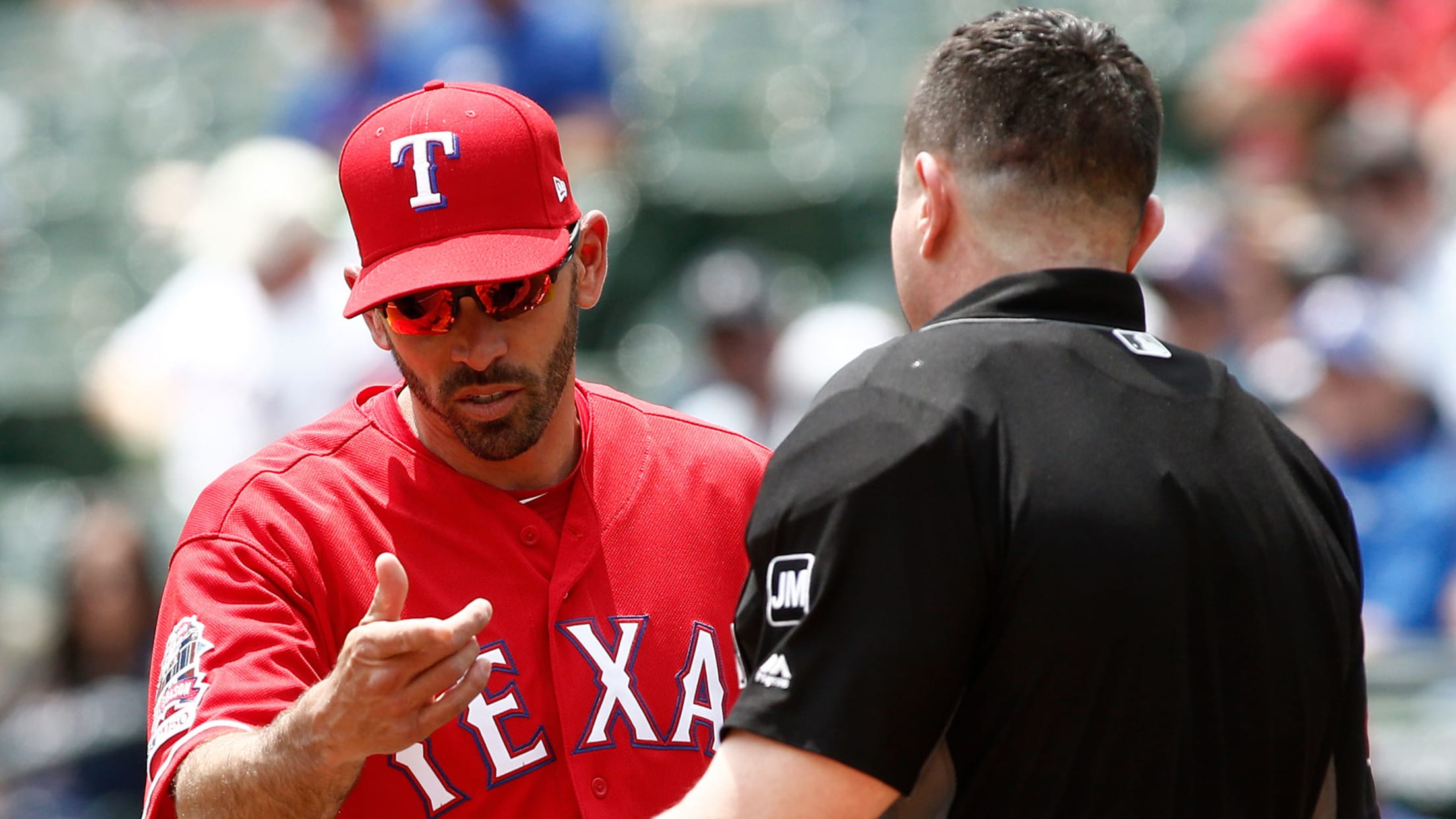 HOUSTON -- The Rangers are trying to change the image and reputation of an offense that struck out a combined 2,977 times in 2017-18, the second most by any team in the American League during that span. The battle for manager Chris Woodward is to keep his players from becoming
HOUSTON -- The Rangers are trying to change the image and reputation of an offense that struck out a combined 2,977 times in 2017-18, the second most by any team in the American League during that span.
The battle for manager Chris Woodward is to keep his players from becoming frustrated if they haven't earned respect for being more disciplined at the plate. Disciplined hitters get the benefit of the doubt from umpires on close pitches, Woodward said. It can be the opposite for teams that don't enjoy that reputation.
That's what the Rangers are fighting right now.
"I have total respect for all umpires," Woodward said. "It's not an easy job. They are going to make mistakes. But I've just noticed we have a reputation … Joey Votto takes a pitch just off the plate, it's a ball. Joey Gallo takes that pitch and it's a strike.
"It shouldn't matter who is hitting, what team it is, it shouldn't matter. Just because one team is supposed to be better than the other, doesn't mean they are better and close pitches should go their way."
Despite Woodward's concerns, the Rangers may be making progress. According to research by Statcast analyst David Adler, the Rangers have had "borderline" pitches called balls 53.3 percent of the time. That's the third highest among all Major League teams.
Gallo is also making progress. He has had borderline pitches called balls 61.2 percent of the time, the fifth highest among 132 Major League hitters with at least 100 borderline pitches taken in 2019.
"We have a reputation the last couple of years of chasing pitches," Woodward said. "So we have to fight an uphill battle to earn that right in the league for people to say, 'These guys are stubborn in the strike zone, they don't swing at balls.'
"We have a long ways to go. Obviously, we are better and have done a good job up to this point, but I've got to back our players when it comes to [the fact that] they are getting hurt by doing the right thing. I don't want that to snowball into, 'Well, I've got to swing.' I see that a lot. We have to stay strong and keep up what we are doing."
Woodward backs Mathis
Catcher Jeff Mathis was off Friday night as the Rangers continue rotating him and Isiah Kiner-Falefa behind the plate. Mathis went into Friday's game with a .148 batting average, but Woodward still believes the 15-year veteran is a major asset to the Rangers.
"The value he provides behind the plate and the clubhouse and his preparation is so valuable," Woodward said. "Obviously, if Kiner-Falefa gets hot with the bat, you might see him catch a little bit more, but at this point, it's still not cut and dry. I don't think [Mathis] is going to stay at that [average]. Little bit unlucky, every time he hits the ball hard it's an out. I fully back him. He is too valuable in what he does to give up on him from an offensive standpoint."
There is precedent for staying with Mathis. His .148 batting average would be seventh lowest in the AL if he qualified, but second baseman Rougned Odor went into Friday hitting .136. That would be the fourth lowest in the league.
Rangers beat:
• Woodward has set the rotation for the three-game series against the Royals next week. Shelby Miller will start Tuesday. The Rangers will use Monday's off-day to give Mike Minor and Lance Lynn an extra day of rest. They are scheduled to start Wednesday and Thursday, respectively, against the Royals.
• Right-hander Cole Winn, the Rangers' first-round pick from the 2018 MLB Draft and the club's No. 3 prospect per MLB Pipeline, is scheduled to make his professional debut with a start for Class A Hickory on Thursday at Greenville. He has been working out in Arizona since being drafted by the Rangers.
• Right-hander Tyler Phillips, who was the Rangers' Minor League Pitcher of the Year in 2018, has been promoted to Double-A Frisco. He is 2-2 with a 1.19 ERA in six starts at Class A Advanced Down East.