Villanueva extends hitting streak to 9 games
Update on slumping Padres; notes on Maton, Yates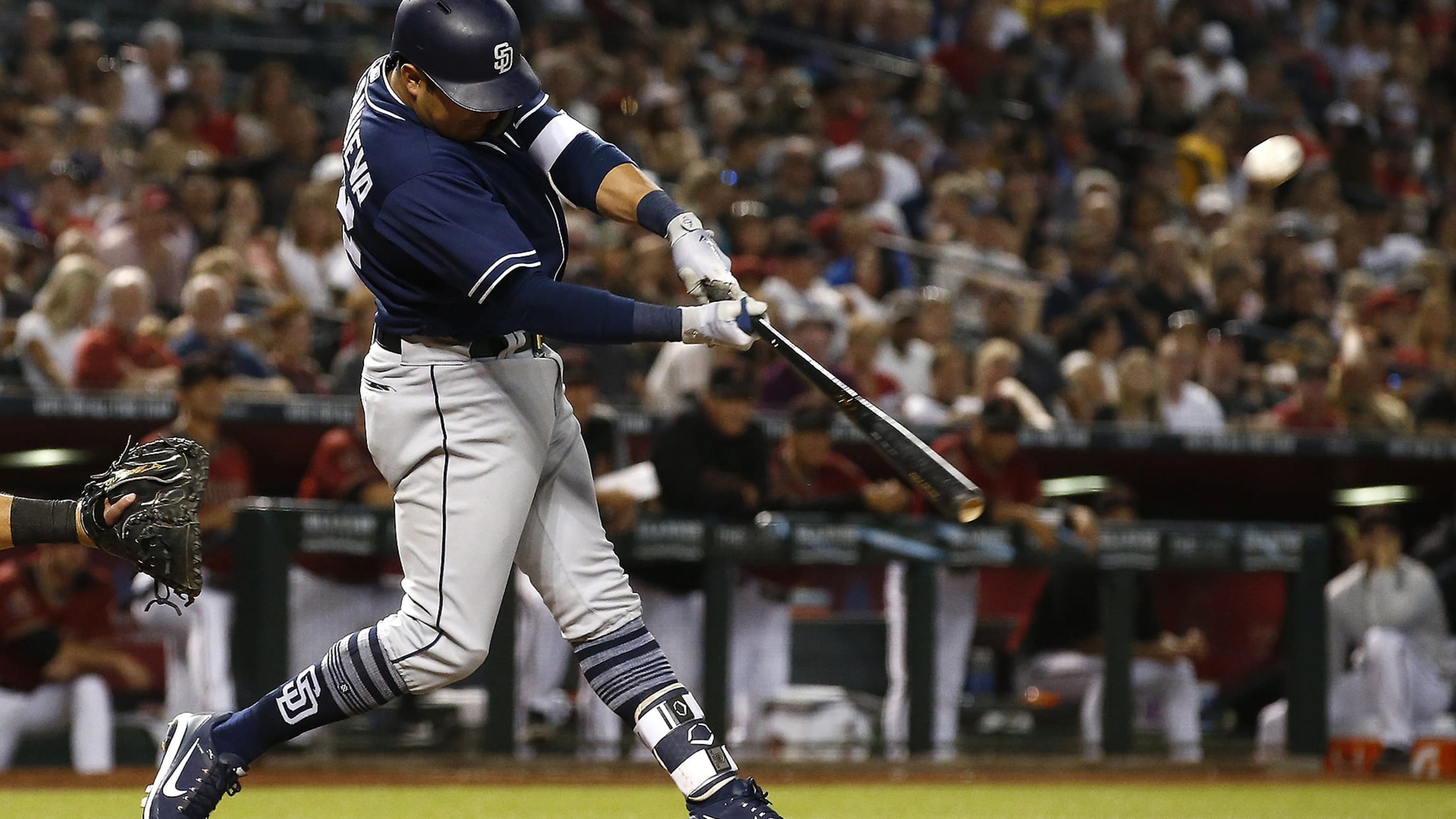 San Diego Padres' Christian Villanueva connects for a two-run home run against the Arizona Diamondbacks during the sixth inning of a baseball game Sunday, April 22, 2018, in Phoenix. (AP Photo/Ross D. Franklin) (Ross D. Franklin/AP)
Bill Center, longtime sportswriter for U-T San Diego, is an employee of the Padres.As a team, the Padres are struggling offensively.As an individual, third baseman Christian Villanueva is on a tear.Going into Monday's opener of a three-game series at Coors Field, Villanueva has hit safely in nine straight games --
Bill Center, longtime sportswriter for U-T San Diego, is an employee of the Padres.
As a team, the Padres are struggling offensively.
As an individual, third baseman Christian Villanueva is on a tear.
Going into Monday's opener of a three-game series at Coors Field, Villanueva has hit safely in nine straight games -- and in 12 of his last 14 starts.
During the streak, Villanueva is 15-for-29 (.517) with three doubles, four homers, 10 RBIs and nine runs scored with six walks (and two hit-by-pitches) - giving him a .622 on-base percentage and a 1.034 slugging percentage for a 1.656 OPS.
NOTEBOOK:
• Updates on several slumping Padres: SS Freddy Galvis is 2-for-25, dropping his batting average from .316 to 244; C Austin Hedges is 3-for-32 with 11 strikeouts since April 11; 1B Eric Hosmer is 3-for-32 with a homer and 11 strikeouts since April 12; Jose Pirela is 1-for-25 over his last six games.
• RHP Phil Maton hasn't allowed a run since returning from Triple-A El Paso on April 4. In seven appearances, the right-hander has allowed five hits and three walks with nine strikeouts in 7 1/3 innings.
• RHP Kirby Yates pitched a scoreless inning Friday night in his return from the disabled list. In six appearances this season, Yates has allowed a hit and a walk with seven strikeouts in 4 2/3 innings.
• Triple-A El Paso C-1B Brett Nicholas has been named the Pacific Coast League's Player of the Week for April 16-22. Nicholas was 10-for-27 (.370) with eight walks, two doubles, four homers and 14 RBIs. He had .469 on-base percentage and .889 slugging percentage for 1.358 OPS.