Yelich (back) 'trending toward the Mets series'
Peralta to return Thursday vs. Colorado; Fields opts out of contract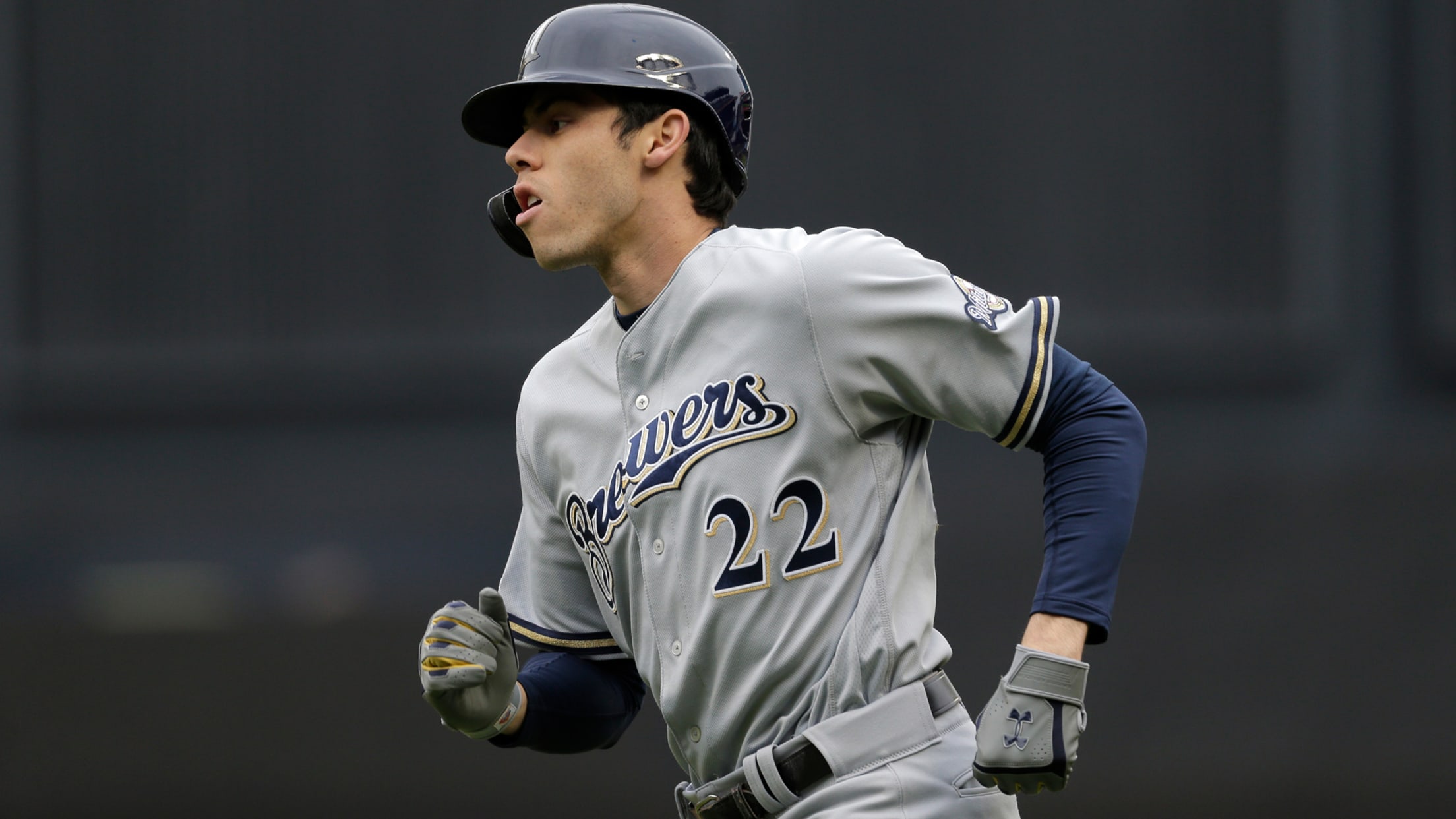 MILWAUKEE -- Christian Yelich didn't appear on the field at all during batting practice on Tuesday afternoon at Miller Park, still sidelined by the low back discomfort that cost him a chance -- barring a Kirk Gibson moment off the Brewers bench -- to become the first player ever to
MILWAUKEE -- Christian Yelich didn't appear on the field at all during batting practice on Tuesday afternoon at Miller Park, still sidelined by the low back discomfort that cost him a chance -- barring a Kirk Gibson moment off the Brewers bench -- to become the first player ever to hit a 15th home run before the calendar turned to May.
And it might be a few more days before Yelich's name appears on a lineup card.
"I'd say we're probably trending toward the Mets series," said manager Craig Counsell, referring to Milwaukee's three-game set against New York that begins on Friday.
No Christian Yelich tonight for the Brewers. Still sidelined by back stiffness. If he's to become the first player to hit 15 home runs before May 1, he'll have to do it off the bench (and Cody Bellinger will have to not get there first).

— Adam McCalvy (@AdamMcCalvy) April 30, 2019
The Brewers held Yelich out of all baseball activities on Tuesday afternoon while he received treatment. Eric Thames made his first start of the season in right field as Yelich's replacement.
"He felt better leaving [Monday] night, so I think we're headed in the right direction," Counsell said. "Look, we're going to be cautious with this."
If Yelich's March/April is over, it was among the biggest months in Brewers history. His 14 home runs (including four in the four bonus games in March that count toward his total) set a club record for any month, topping Prince Fielder's 13 in May 2007. And Yelich's 34 RBIs tied his own output from last September/October for the third best "month" in franchise history, behind Cecil Cooper's 39 RBIs in July 1983 and Greg Vaughn's 35 RBIs in June 1996.
Last call
• Right-hander Freddy Peralta will start Thursday afternoon's series finale against the Rockies after recovering from a minor shoulder/chest injury, according to Counsell, though the manager would not say what that would mean for the rest of the starting rotation. Thursday would have been Brandon Woodruff's regular day to pitch. The Brewers could just bump their other starters back a day, but Counsell declined to say whether that was the plan.
• Veteran reliever Josh Fields exercised an out clause in his contract and was released Tuesday. A late-Spring Training signee after he was let go by the Dodgers, Fields was tagged with earned runs in four of his eight appearances for Triple-A San Antonio. While he allowed no runs on one hit in his final three games, it wasn't enough to garner a callup, so Fields opted to take his chances elsewhere.
• Jake Gatewood, No. 28 on MLB Pipeline's list of Milwaukee's top prospects, has been cleared to play in extended spring games as he continues his comeback from left ACL surgery last August. Gatewood shared his excitement on social media:
Annnnnnnnnndddd we're back! Officially cleared to play the game I love again after 8 long months!! Time to rock😎🙌🏽

— Jake Gatewood (@Jake_Gatewood2) April 30, 2019