Reds Caravan is off and running
Five-state tour runs through Sunday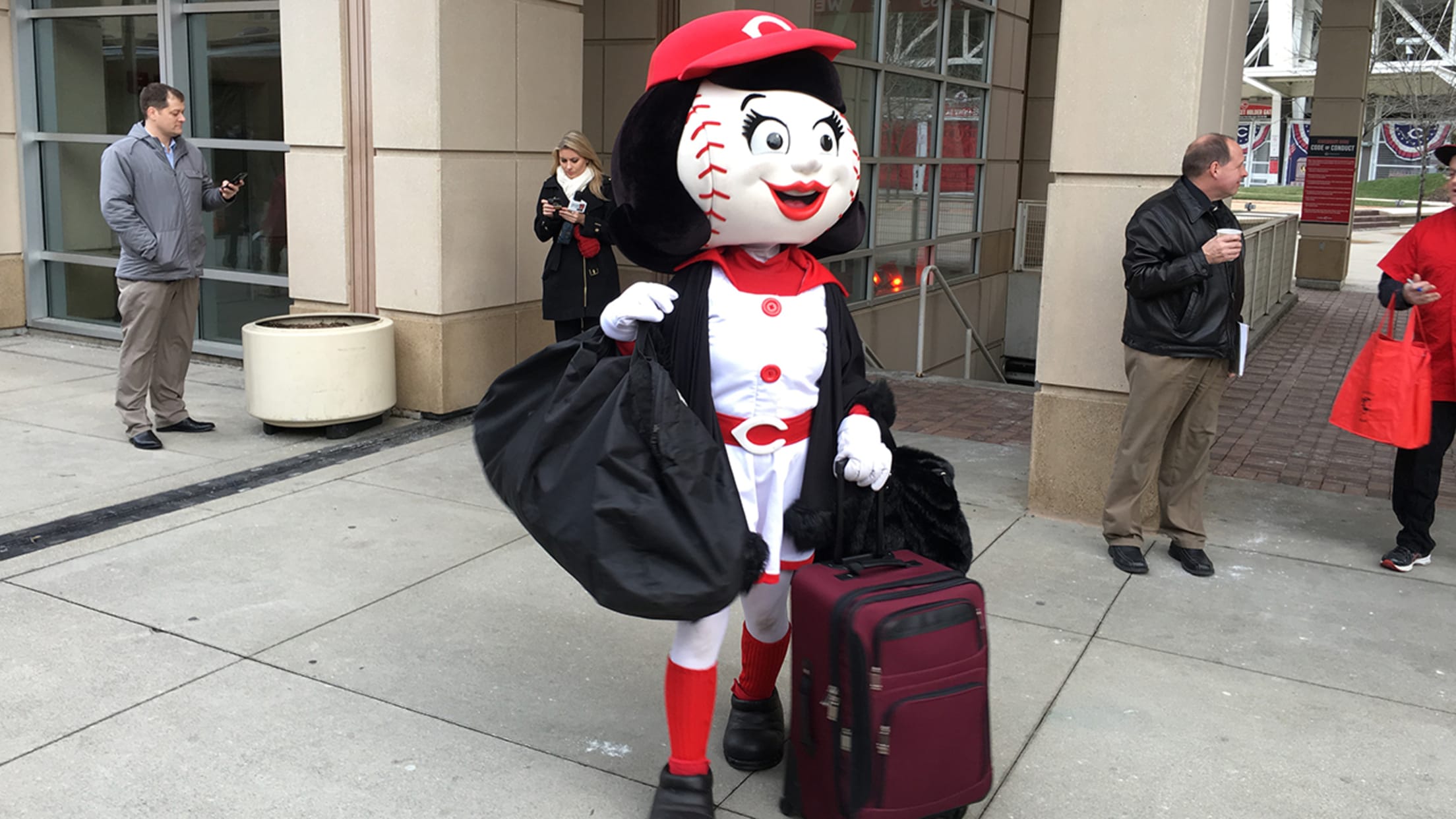 CINCINNATI -- Cold days, but warm receptions. That can be anticipated for just about every edition of Reds Caravan.While the degree of chilly weather can fluctuate, the turnout of fans is always solid. As the 2016 Reds Caravan set off Thursday morning from the Reds Hall of Fame, the team
CINCINNATI -- Cold days, but warm receptions. That can be anticipated for just about every edition of Reds Caravan.
While the degree of chilly weather can fluctuate, the turnout of fans is always solid. As the 2016 Reds Caravan set off Thursday morning from the Reds Hall of Fame, the team is bracing for a rebuilding season following two disappointing years. Nevertheless, radio broadcasting icon Marty Brennaman expected large gatherings at each of the fan stops through Ohio, Kentucky, Indiana, West Virginia and Tennessee.
At each of the 17 stops, fans will have a chance to see current and former Reds players, top Minor League prospects, broadcasters and members of the front office.
• Complete Caravan itinerary
"It's unbelievable," Brennaman said. "You wouldn't know, based on the overwhelming interest that fans have wherever we go, whether they won 98 games last year or lost 98 games. They always turn out. If there's ever any question as to whether there's interest out there two, three or four hours away from Cincinnati, there's no doubt about it.
"You expect it when the club has a great year. But you're amazed by the number of people that show up even when the club is coming off of a terrible year like this one is."
Reds Caravan features four tour buses that spread out in different directions of the region to make a combined 17 stops. The trips will cover five states and approximately 3,300 miles on the road.
"It tells me they're out there," Brennaman said. "They want this club to be successful. It's a hell of a lot tougher being in a market where you're essentially a regional franchise. This club's success and failure derives from how well they draw from outside of Cincinnati like West Virginia, Kentucky, Indiana, Virginia, Tennessee. There is a stop in Nashville. That indicates how far-reaching this club is. These people want the club to win. There's no question about that."
There are stops at radio stations, malls, universities, a car dealership and the National Museum of the U.S. Air Force.
All of the caravan fan stops are free and open to the public. There are question-and-answer sessions and opportunities for autographs.
• Reds Spring Training Info
Reds catcher Tucker Barnhart viewed the caravan as the final checkpoint of the winter, which means baseball season is just around the corner.
"When I get back home on Monday, we're about a week out from going to Arizona," Barnhart said. "My wife and I will drive out there. This brings the offseason to a close, and it's a good way to finish it by seeing all the fans and stuff. It gets you in the right frame of mind to get ready for Spring Training."
All four of the different caravan tours will convene again at 11 a.m. ET Sunday for a finale stop at Florence Mall in Florence, Ky.
"It's awesome," Reds center fielder Billy Hamilton said. "I've been doing it for a few years and every year, I think it gets better for me. It's always good to go out and meet someone. You see these people out early and freezing and a big turnout. You give appreciation back to the people who appreciate you."