Hamels to start Monday amid trade uncertainty
Indians' Francona comments on Bibens-Dirkx; Bush at least two weeks away from throwing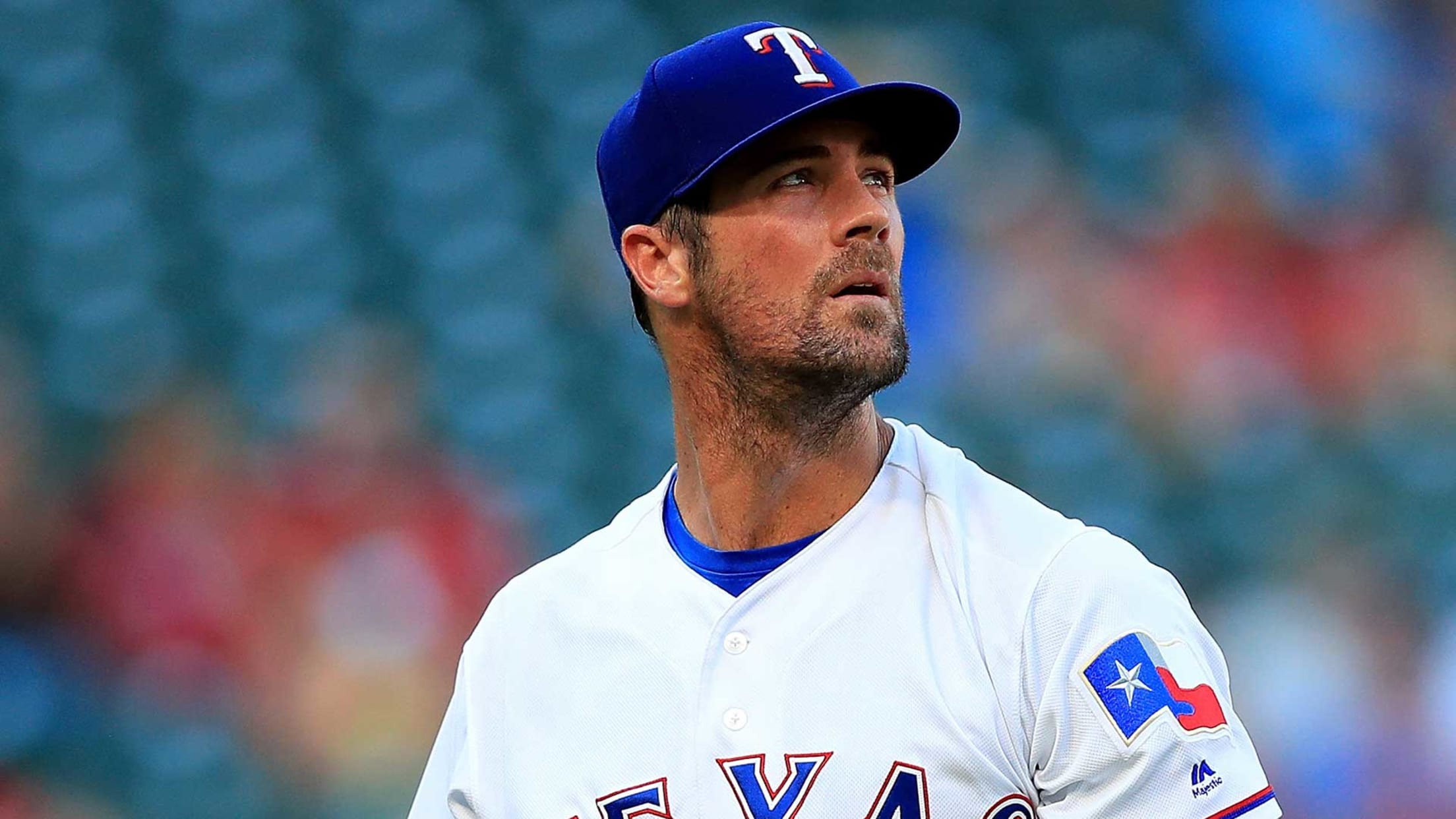 ARLINGTON -- Cole Hamels will start for the Rangers on Monday night against the Athletics in what has to be a difficult situation for anybody in his spot. There is just over a week before the July 31 non-waiver Trade Deadline and Hamels remains a constant subject of speculation.That has to
ARLINGTON -- Cole Hamels will start for the Rangers on Monday night against the Athletics in what has to be a difficult situation for anybody in his spot. There is just over a week before the July 31 non-waiver Trade Deadline and Hamels remains a constant subject of speculation.
That has to be a challenge for anybody, and Hamels is 1-2 with a 9.53 ERA and 1.88 WHIP in his last four starts.
"Yeah, it seems to be a recurring question," Rangers manager Jeff Banister said. "The answer to that is, they are all human beings. I think there is some effect, how much is based on the experience level and have they been through it before? I believe Cole is able to compartmentalize what the situation is."
The Rangers are clearly in a rebuilding mode and are trying to gauge interest in players who may not have a long-term future with the club. Hamels fits into that category. Hamels is making $23.5 million this season with a club option of $20 million against a $6 million buyout for next year. He also has a partial no-trade clause.
The Rangers are willing to pick up a significant portion of the financial obligations if it means a higher value on the players they get back in return. The Rangers are interested in talent more than saving money.
The trade market for starting pitching remains undefined. The first big deals took place over the All-Star break, with the Dodgers acquiring shortstop Manny Machado from the Orioles and the Indians getting relievers Brad Hand and Adam Cimber from the Padres. Relief pitching has been a hot commodity, as Orioles reliever Zach Britton appears to be getting much play lately. The Rangers have received considerable interest in their own relievers.
Clubs still need starting pitching. The Yankees and the Mariners have not been shy about their desire to add another starter, and the Red Sox rotation has been hit by injuries. The Astros may be the only team that clearly doesn't need rotation help. The Phillies would seem to be a team looking for rotation help and Hamels would welcome a return to Philadelphia. But Phillies general manager Matt Klentak told reporters on Friday his club is trying to steer away from that.
"Starting pitching has been the strength of our team this year," Klentak said. "We're very encouraged about not only the five here but also what we have in Triple-A, and we're hopeful that's going to mean that we can stay out of the starting pitcher trade market at the Deadline, because if you can avoid it, that is definitely a market to avoid."
Blue Jays left-hander J.A. Happ and Rays right-hander Chris Archer could be the most coveted starters, although it's not clear if the Mets are willing to talk seriously about Jacob deGrom and Noah Syndergaard. It may go down to the 3 p.m. CT deadline next Tuesday, as it did last year when the Rangers worked out a deal with the Dodgers for Yu Darvish only in the final hour.
"There is so much out there, it's tough to get away from it," Banister said. "It's up to each individual how they handle it. Being through it before allows you to handle it differently."
Francona on Bibens-Dirkx
Indians manager Terry Francona sympathized with the Rangers' having to use Austin Bibens-Dirkx for four innings in relief on Friday night, even though he was getting hit hard. The Rangers kept Bibens-Dirkx out there to keep from overusing the rest of their bullpen in a 16-3 loss to the Indians.
"That guy's a starter," Francona said. "The hardest thing for me is when you have a reliever and you know you're going to send him [to the Minors after the game]. You still can't hurt somebody. It gets to the point where, out of respect [you can't leave him out there].
"We've sent a lot of guys down and I've shortened their outings. Like, 'He's not going out there for another inning,' because it's just not a good way to do it. That kid's a starter. He's thrown over 100 pitches and they tried to get him through the end and they couldn't."
Bibens-Dirkx took over for Colon with two outs in the fifth inning. He ended up going four innings and allowed 11 runs, a club record for one game for a reliever. Bibens-Dirkx finished with 87 pitches as his ERA went from 3.71 to 5.92.
"It's very tough to do," Banister said. "Extremely tough, especially in that situation when it's not going the way you want it to go. When you are in that spot, you do what you can. In my opinion, he did a heck of a job."
Rangers beat:
• Matt Bush, on the 60-day disabled list with a strained right elbow, said his arm has reacted well to rest and stem-cell treatment, but he is still at least two weeks away from resuming throwing.
• Adrian Beltre got the day off on Sunday. His home run on Saturday was the 467th of his career, one behind Chipper Jones for 33rd all-time.