Hamels on schedule, set for bullpen session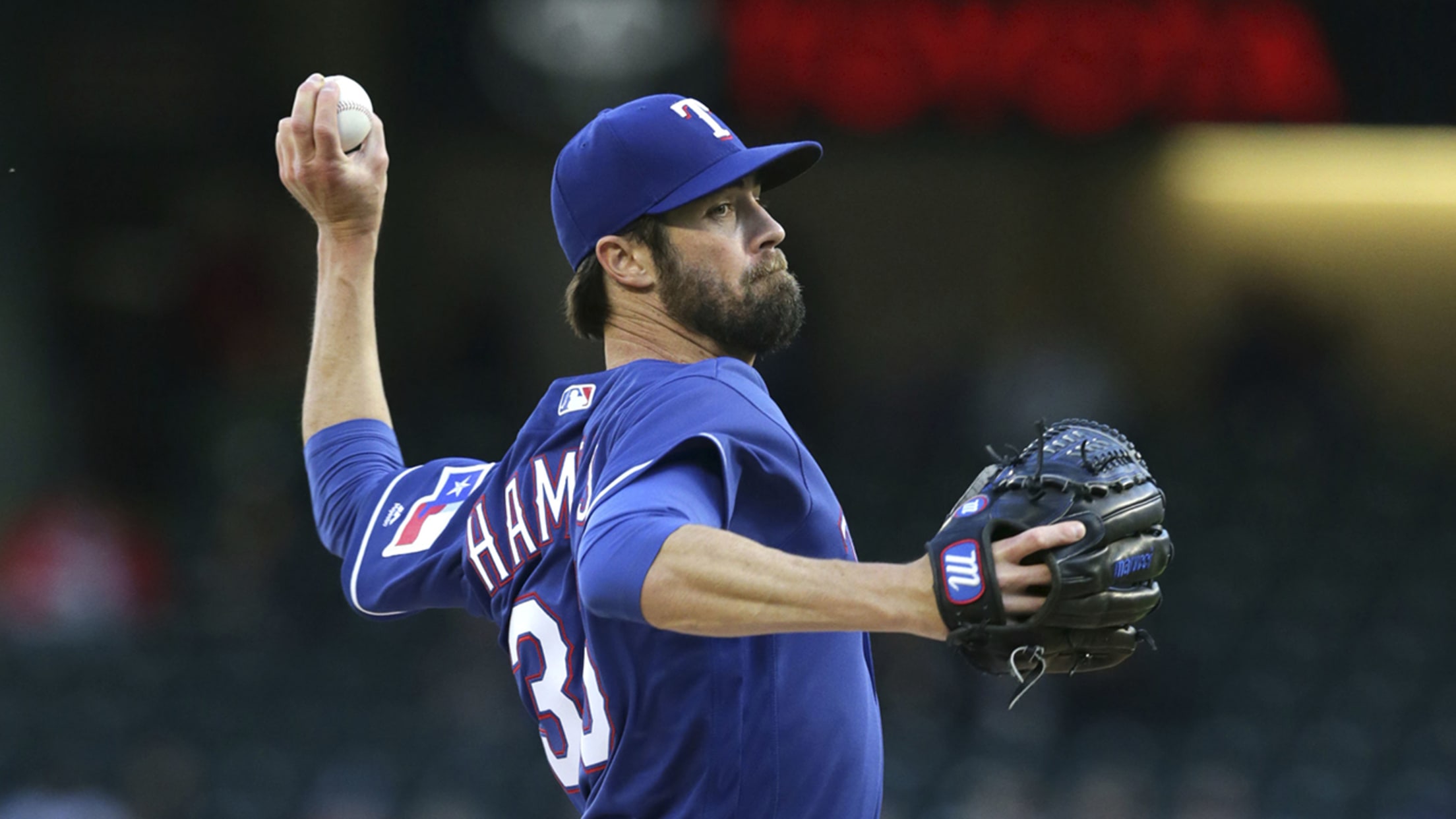 Before heading to the disabled list, Cole Hamels was 2-0 with a 3.03 ERA in five starts. (AP) (LM Otero/AP)
ARLINGTON -- Rangers left-hander Cole Hamels is scheduled for a bullpen session on Sunday, and it'll mark the first time he has thrown off the mound since going on the disabled list with a strained right oblique muscle.Hamels has been playing catch, so this will be the next significant step
ARLINGTON -- Rangers left-hander Cole Hamels is scheduled for a bullpen session on Sunday, and it'll mark the first time he has thrown off the mound since going on the disabled list with a strained right oblique muscle.
Hamels has been playing catch, so this will be the next significant step in his recovery.
"Playing catch is one thing," Hamels said. "You can throw a baseball without fully engaging. The tell-tale sign will be the bullpen, the slope and the distance and emulating the pitches."
Hamels hasn't thrown off a mound since he was scratched from a start against the Astros on May 2. Hamels felt the muscle grab him while warming up in the bullpen for that game.
The original diagnosis was Hamels would be sidelined eight weeks. He is closing in on the halfway point. Hamels said there is no specific number of pitches planned for his first session.
"It will be touch and feel once I get on the mound," Hamels said. "See how it feels and get a better understanding the next day, see how we read it and see what we need to build up."
Once Hamels gets comfortable throwing off a mound and starts rebuilding arm strength, the next steps will be throwing live batting practice and then a rehab assignment in the Minors. The hope would be to get Hamels back by the All-Star break.
"We are where we [expected] when we had first had the injury," Hamels said. "I'm going off [the trainers] giving the right feedback and moving accordingly. As a player, you want to make sure there are no setbacks."
Austin Bibens-Dirkx is currently filling Hamels' spot in the rotation, but that could change soon. Tyson Ross, who is recovering from offseason shoulder surgery for thoracic outlet syndrome, could be ready to return from the DL as early as next weekend against the Nationals in Washington.
Ross went 5 1/3 innings and threw 93 pitches for Triple-A Round Rock on Saturday night, allowing two runs on five hits, with four walks and two strikeouts. He is expected to return to Arlington on Sunday to be re-evaluated, and if all goes well, his next start could be for the Rangers.
"That is ultimately what we would like, all things being equal, and he is ready to go," Rangers manager Jeff Banister said.
The Rangers are currently undecided for Tuesday's starter against the Mets. That's Nick Martinez's day to pitch, but the Rangers need him in the bullpen as their long reliever on Saturday and Sunday. Dillon Gee is the Rangers' long reliever, but he threw 47 pitches over four innings on Friday night and will be down for a couple of days.
Yu Darvish pitches on Wednesday against the Mets, followed by Andrew Cashner and Martin Perez in the first two games versus the Nationals. Ross could make his first start for the Rangers in the series finale.