College World Series has Big League ties
Future Major Leaguers begin battle for NCAA crown this weekend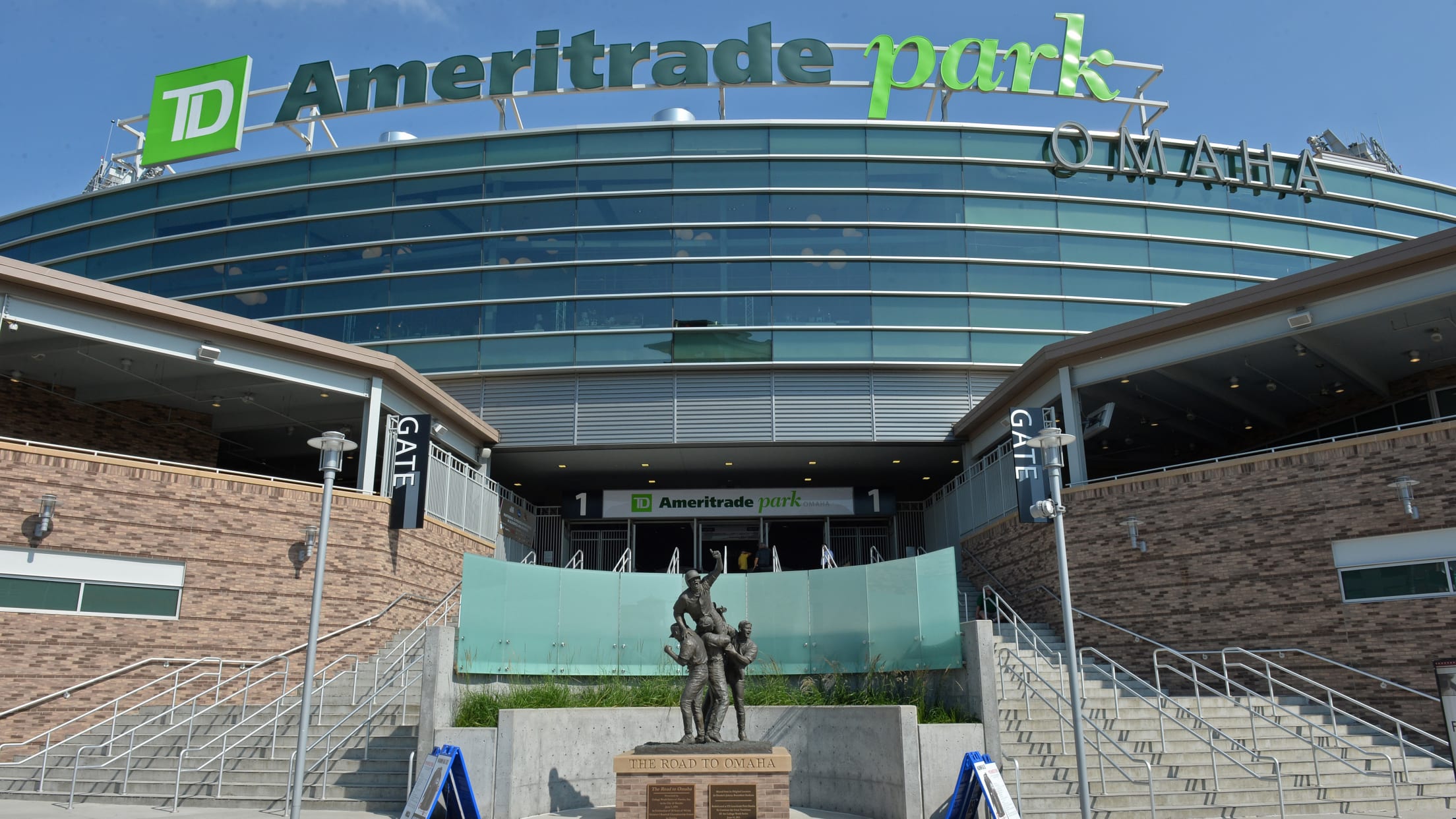 TD Ameritrade Park Omaha is the home of the College World Series, which kicks off this weekend. (Getty Images) (Peter Aiken/Getty Images)
When the 2016 College World Series begins on Saturday in Omaha, 55 players recently drafted by Big League clubs will be among those taking the field at TD Ameritrade Park Omaha.Oklahoma State, which will battle UC Santa Barbara in the first game of the annual event, boasts the greatest number
When the 2016 College World Series begins on Saturday in Omaha, 55 players recently drafted by Big League clubs will be among those taking the field at TD Ameritrade Park Omaha.
Oklahoma State, which will battle UC Santa Barbara in the first game of the annual event, boasts the greatest number of recent draftees with 11, while top-seeded Florida is a close second, featuring eight players recently chosen.
Led by Oakland A's sixth overall pick AJ Puk, the Gators enter the double elimination tournament with an NCAA-leading 52 wins on the year, just two shy of breaking an all-time program single-season record.
As the tournament, which will determine a national champion by June 29, gets underway, many current Major Leaguers will keep a close eye on the events unfolding in the Cornhusker State.
Despite being fierce rivals on the field in the National League Central, college teammates Jake Arrieta and Matt Carpenter will undoubtedly come together to pull for their TCU Horned Frogs, who begin play Sunday afternoon against in-state rival Texas Tech.
"My college career was a huge part of my life," said Carpenter, who was married in 2011 with Arrieta by his side as a groomsman. "I spent five years at TCU, and there's no doubt that I wouldn't be the player I am today if I hadn't had that experience. Fort Worth is a second home to me."
Well before Arrieta and Carpenter became good friends at the now-Big 12 school, current Big League skippers John Farrell and Robin Ventura were lacing up four hours north at Oklahoma State in Stillwater.
The two played for the Cowboys from 1981-88, despite never being on the same team, and reached a combined seven College World Series in eight years. Farrell earned All Big-Eight Conference honors during his senior year for his work on the mound. Ventura, meanwhile, was one of the greatest players in NCAA history; the three-time All-American recorded a 58-game hit streak in '87 and took home the Golden Spikes Award in '88.
LEGENDS OF OMAHA

May 29, 1987: Oklahoma State's Robin Ventura extends his NCAA-record hitting streak to 57! #CWShttps://t.co/FjAjDrEeqc

— NCAA Baseball (@NCAACWS) February 16, 2016
Even though he is removed from his playing days, Ventura, now in his fifth year as the White Sox's manager, is not as separated from the college game as you might think.
His organization selected Zack Collins with the 10th overall pick this year. But before he enters the team's Minor League system, third-seeded Miami will square off against Arizona in Saturday's second game. The script is similar to 2015, when the South Siders had drafted Vanderbilt star Carson Fulmer eighth overall just weeks before he took the team to the College World Series finals. The hard-throwing right-hander is now the White Sox's top prospect and the No. 33 prospect overall in baseball.
"Going to the World Series, you're with your best friends. You dream about going there all year, and it's an unbelievable experience," said Fulmer, who won the 2014 national championship with the Commodores. "It's the best baseball experience I've ever had, and some of the greatest moments of my life."
Oklahoma State and UC Santa Barbara get this year's College World Series underway at 2 p.m. ET Saturday.
Drew Casey is a contributor to MLB.com.