Manfred visits Rays, talks new stadium
Commissioner: Time for facility discussion to move 'to front burner'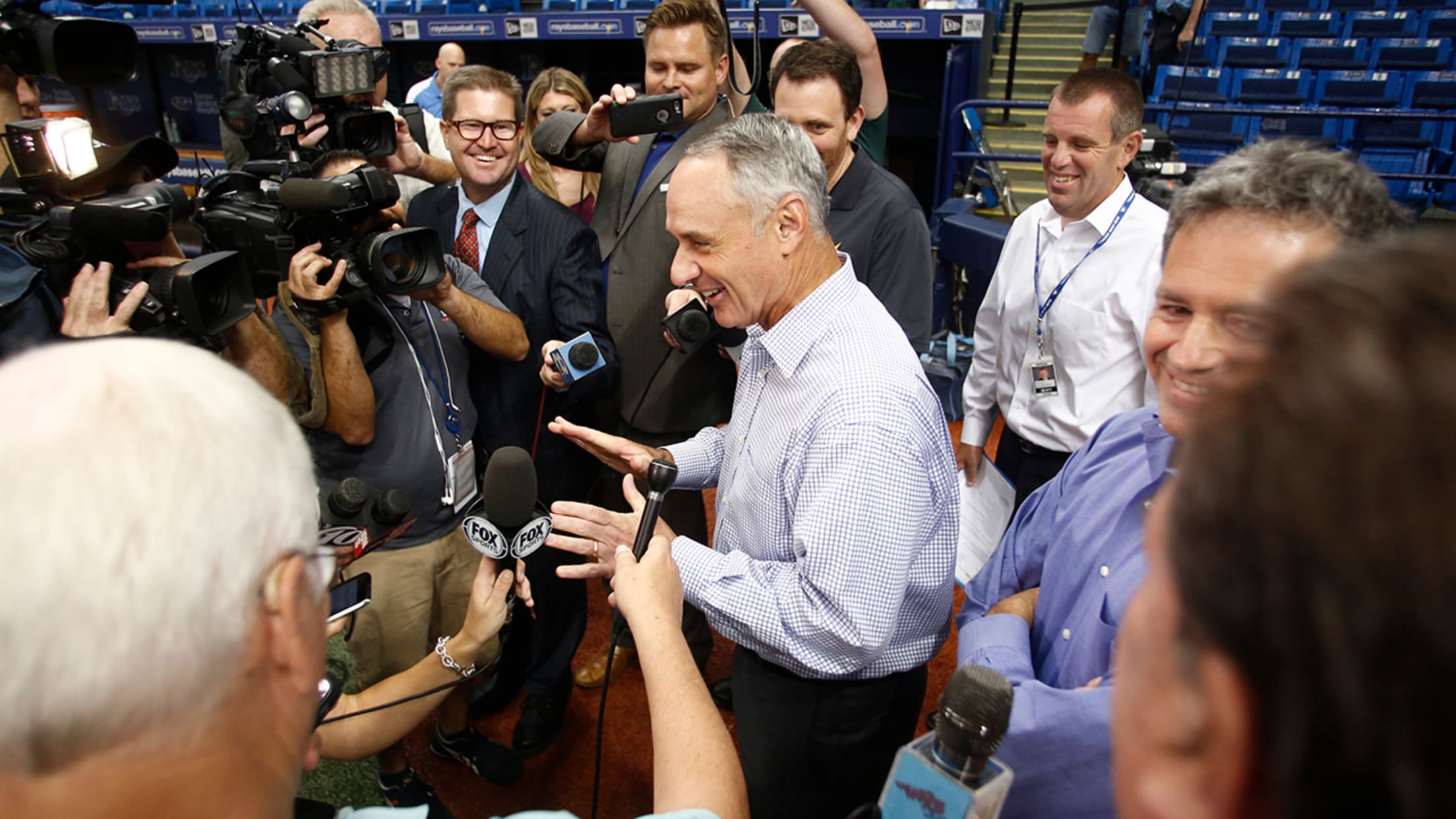 Commissioner Rob Manfred visited Tropicana Field on Wednesday, where the topic of discussion was a new stadium for the Rays. (Getty)
ST. PETERSBURG -- When Commissioner Rob Manfred stopped by St. Petersburg on Wednesday, he made it clear he had "no particular agenda.""Part of my practice is to try to get out and visit as many of our markets as I can during the course of the year," Manfred said prior
ST. PETERSBURG -- When Commissioner Rob Manfred stopped by St. Petersburg on Wednesday, he made it clear he had "no particular agenda."
"Part of my practice is to try to get out and visit as many of our markets as I can during the course of the year," Manfred said prior to the Blue Jays-Rays contest at Tropicana Field. "I came here from Detroit. I did a similar visit in Detroit yesterday. I've had a great day. I've had a chance to spend some time with [Rays principal owner Stuart] Sternberg, one of our best owners. [We] talked a little bit about what's going on here in Tampa, so it's been a really interesting day for me."
Manfred added that he and Sternberg had a "substantial discussion about a new stadium."
"I've been pretty clear that they need a new facility here," Manfred said. "A Major League quality facility in an A-plus location. We did talk about that. It's time to move that discussion to the front burner in Tampa."
The Rays' quest for a stadium has been ongoing since 2007. The city of St. Petersburg has granted the Rays permission to look outside Pinellas County, and Sternberg told reporters he was, "intrigued by sites in Tampa and in Pinellas as well."
"The intriguing thing is what makes for a great experience and that's most successful for our fans to get to," Sternberg said. "Things that will energize our fans and our corporate and business partners. And we think that we can work toward that. And wherever it happens to be, it's going to have to fit the criteria which we've spelled out in the past. ... Accessibility is a very important part of it."
When asked about the Rays' attendance, Manfred complimented the organization for doing a "phenomenal job putting an incredible product on the field."
"Given what an outstanding job they have done with their club, you'd hope they'd be closer to the average in Major League Baseball, which is around 30,000 fans," Manfred said. "It is a little disappointing and I hope it improves."
Manfred said the Rays and the area are not working with a time frame to get their stadium issues settled. However, he made it clear that something needs to happen.
"There comes a point in time, particularly given the amount of money from both Major League Baseball and from other clubs that flows into this market, that you have to look at your alternatives if nothing gets done," Manfred said. "I don't have a firm time table for that. I will tell you that it is a topic of discussion in the industry: the lack of progress in terms of moving forward with a first-class facility. ... I think it's fair to say we'd like the process to take on a little better pace moving forward."
Bill Chastain has covered the Rays for MLB.com since 2004.