Martin chased early as Astros' HR streak ends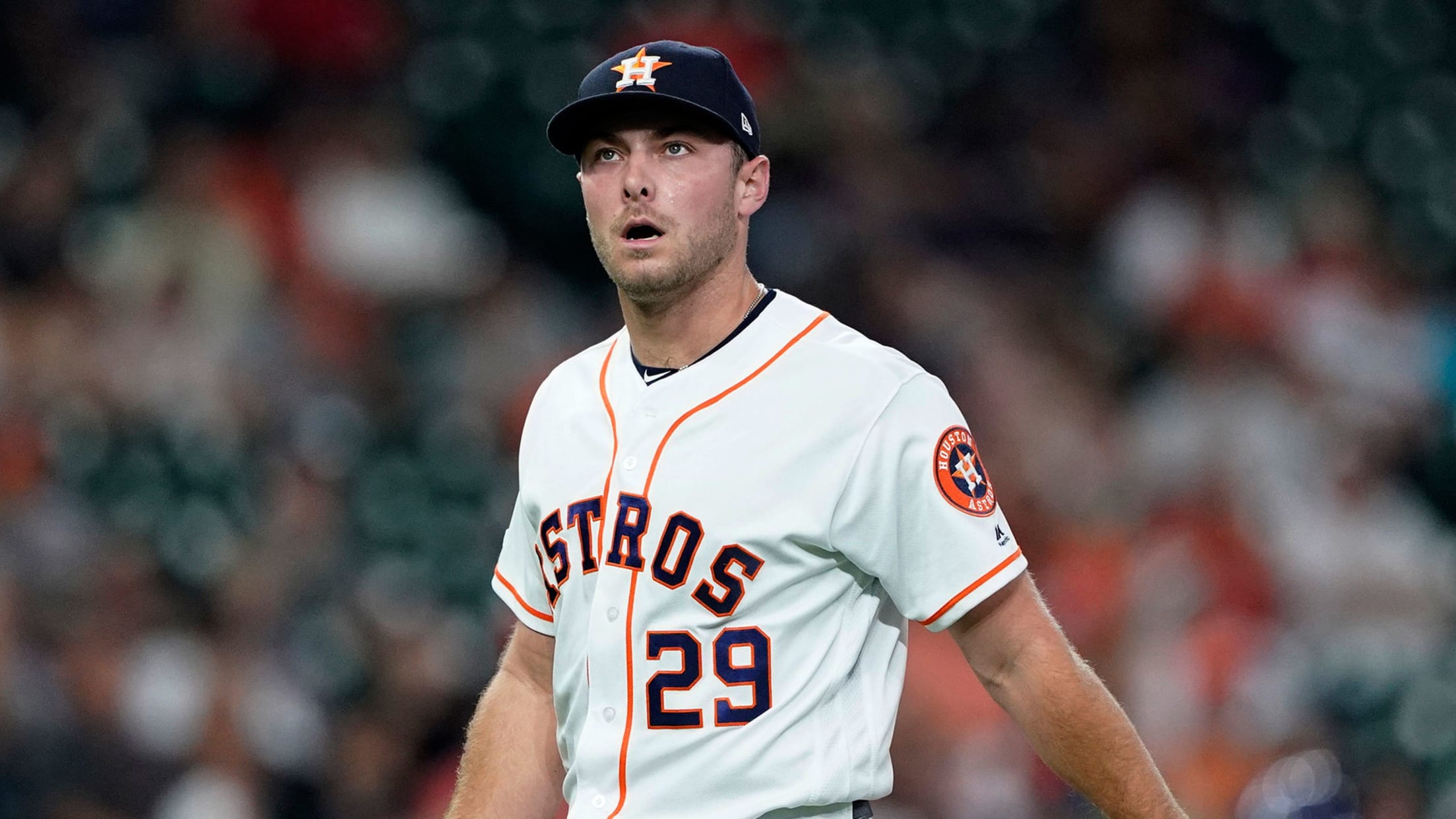 HOUSTON -- Few would have guessed a year ago right-hander Corbin Martin would have made his big league debut before Forrest Whitley, the No. 9 overall prospect in baseball, as ranked by MLB Pipeline, who has a 12.21 ERA in his first taste of Triple-A this year. Martin, the Astros'
HOUSTON -- Few would have guessed a year ago right-hander Corbin Martin would have made his big league debut before Forrest Whitley, the No. 9 overall prospect in baseball, as ranked by MLB Pipeline, who has a 12.21 ERA in his first taste of Triple-A this year.
Martin, the Astros' No. 4-ranked prospect, was one of the top arms in the Pacific Coast League to start the season, going 1-1 with a 1.48 ERA in five games (four starts) to earn a promotion to Houston, and he made a memorable nine-strikeout debut on Mother's Day against the Rangers.
His two starts since that debut, including Thursday's 4-0 loss to the White Sox at Minute Maid Park, haven't gone as smoothly. After walking four batters in four innings Saturday in Boston, Martin (1-1) lasted 3 1/3 innings against the White Sox, giving up four runs (three earned) and six hits.
"I was falling behind and everything was flying out," Martin said. "It's not a recipe for success. Getting behind Major League hitters is probably not the best idea. Through the first two innings I felt really good and my confidence was real up. In the third inning, I didn't try to necessarily baby the ball, but tried to be too perfect with it and it caught up with me. They took advantage of my mistakes."
White Sox starter Lucas Giolito countered with a four-hit shutout, snapping Houston's club-record-tying streak of 19 consecutive games with a homer. The White Sox earned a series split with Houston after losing their last nine matchups with the Astros.
Martin, who rushed his delivery because of anxiousness, fell behind repeatedly against the White Sox. He threw 41 of his 66 pitches for strikes as he relied heavily on his fastball, which averaged 94.2 mph. He fell behind 10 of the 17 batters he faced.
"I was watching him, like a lot of young pitchers, where they were carrying one bad pitch into the next bad pitch," Astros manager AJ Hinch said. "It's a learning experience for him. He'll be better. I know he gets frustrated, especially coming off the high-walk game in Boston. That's probably in the front of his head: 'I'm not going to walk guys.' Then as he started falling behind, he started going to the middle of strike zone and gave up a couple of hits."
Martin said Hinch told him during an extended conversation on the mound that he understood his frustrations.
"He said he wants me to focus one pitch at a time, and I think he's right," Martin said. "I started to think about the outcome before it even happened and I can't let that happen."
Martin took the rotation spot of veteran right-hander Collin McHugh, who began the year in the rotation before being moved to the bullpen. McHugh was placed on the disabled list Tuesday with right elbow discomfort, so Martin might remain the best rotation option.
"He's a guy who has an easy tempo and he'll maintain that through the stress next time," Hinch said.